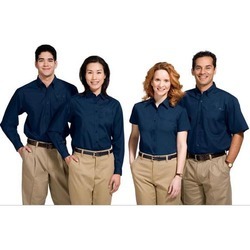 Innovation and creativity in this day and age is evident in everyday life. As humans, we try to find new and better ways to make our lives easier, as well as more exciting. Whether it is finding a quicker solution to complete a task at work or generating innovative budget ideas for a project. When we put our minds to it, we can accomplish great things. In the fashion industry, designers are constantly coming up with the latest designs to keep up with the ever changing demands of consumers. Whether it is creating pieces in line with the latest trends, or creating designs to set trends for others to follow. Depending on our sense of style and taste in clothing, we choose clothes that we feel the most comfortable in. It could be wearing a particular style that we associate and relate most to, or it could be wearing clothes for the sole reason of comfort. Now when it comes to corporate uniforms, dreary and boring workwear does not always have to prevail. Fashion allows incorporating style into synonymously dull work uniform much easier in Budget. Creating stylish uniforms will appeal more to your employees and can better represent your company.
Deciding to firstly implement a corporate uniform for your company is not only costly in Budget, but can take time to execute. Implementing corporate workwear can be time consuming, especially if your employees are not eager with the new uniform policy. Your employees may be happy with your current uniform policy which may not require corporate uniforms but just a standard dress code. Sometimes we don't like change, but change can be good. Especially if it enhances brand recognition and reputation. Implementing uniform policy changes don't always have to be sudden and all at once. It is important to ease your employees into the new policy and gain their feedback before fully executing the changes. A great way to slowly ease the new policy into your organisation would be to firstly inform your staff about the changes ahead and as mentioned before, listen to their feedback. Listening to your employees and knowing how they feel about the upcoming changes can help you implement the changes more efficiently and effectively. Using their feedback can prevent resistance to change and can quickly allow the new uniform policy to be accepted. Ideas that your employees provide can even be used to help create the type of corporate uniforms you want to implement for your company. After all, your employees will be wearing the uniform on the regular. Your female staff may suggest kitten heels for optimal comfort and efficiency while the men might suggest sleek looking suits and striped collared shirts. Implementing change does not have to be discouraging when your employees are involved in the process.
Today, many organisations implement uniform policies. Whether it is compulsory to wear the uniforms provided, compulsory to abide by the smart dress code or wear colours that match your company's brand and logo. Companies in different industries, ranging from hospitality, automotive, and even the manufacturing industry can have obligatory corporate workwear. The idea of dull and drab corporate workwear is not as prominent nowadays due to the ability to incorporate creativity and colour into workwear. There are endless possibilities when creating a corporate uniform for your company. Choosing from different styles of shirts, pants and jackets, to selecting different colours and patterns. Corporate uniforms can now be customised and tailored to suit a specific company and at Welborne Corporate Image, we welcome you to create your own corporate workwear with our vast selection of work appropriate clothing. Our corporate clothing Brisbane services are offered to our Australia wide clients as well as internationally. We have been a highly regarded and innovative clothing design manufacturer and supplier. You can choose from our stock line garments or have your workwear specifically designed with our custom made styles of corporate uniforms. Not only do we offer corporate uniforms for any situation, whether you are in need of hospitality uniform Brisbane or professional suits, we also offer promotional products such as notepads, coffee mugs and stationary.
Allocating the right amount of funds to purchase workwear can also take time when it comes to investing in quality pieces of clothing. Investing in high quality uniform is important for longevity and durability. You don't want to have to spend unnecessary funding on replacing your uniforms when you just recently purchased them. Allocating a budget for your corporate uniform is great for keeping track with the company's expenses. At Welborne Corporate Image, we can help you choose the item of clothing that best suits your organisation and is within your budget. Whether you want your uniforms custom made or select clothing from our stock line selection, we will cater to your specific needs. Implementing corporate uniforms does not mean you have to provide the whole outfit. It could be a few pieces for your employees to wear which will instantly make your team unanimous. If your budget doesn't allow for a total uniform look, create and implement a dress code. You can then spend your money on creating pieces that will give you the most value. A good start would be to create a custom shirt. The custom shirt could be the main focus of your uniform and this way you are only spending your budget on one clothing item rather than several pieces. Your dress code can specify the colours of trousers or skirts to be worn and what styles are allowed. Whether it is only black trousers and skirts allowed or grey coloured bottoms. The custom shirt can incorporate your company's colours that suits both men and women. You can have your logo embroidered onto the shirts to create a unique shirt. We provide excellent embroidery that grants your company the opportunity to build and enrich your reputation. If embroidering your logo on your shirts will not suit the industry you are in, you may want to stick to the colours of your company instead. You can opt to choose a base shirt colour that works with your brand and then choose a secondary fabric to incorporate a second colour. This not only adds a unique element to your shirt, but subtly incorporates your brands colours without the need to have your logo embroidered.
Creating stylish corporate workwear can easily be done by adding a few accessories. Investing in quality accessories rather than buying full work outfits to keep within your budget is a simple yet effective way of making your corporate uniforms fashionable. Paying attention to the finer detail by using coloured buttons can stand out on a standard looking shirt. If you opt for a embroidered logo on your shirt, the buttons could match the colours of your logo. Subtly incorporating colour into your uniform can mean the difference of dull and stylish uniform. Adding simple accessories to uniform can make a huge difference. An overlooked accessory is the belt. By adding a belt to a suit or dress, it will not only enhance and compliment a body shape, but will add a pop of colour (if you choose a coloured belt in line with your corporate colours). At Welborne, we have a range of quality leather belts that are made to order. We offer the option of our leather belts embossed with your company logo with gold or nickel buckles. Just by simply adding a belt, it can work wonders. It can make an outfit look more put together; adding a final touch. Other than belts, scarves and ties can accessorise and add style to a plain outfit. Scarves and ties are a perfect way to enhance the overall corporate uniform without adding too much colour. It creates a professional and formal look. A necktie for women can lengthen and slim the silhouette. We stock scarves and ties in various colours and patterns. Our experienced team are more than happy to help you decide on which tie and scarf that best suits your company's uniform in terms of colour and professionalism.
Following these simple steps can help you create a stylish corporate uniform without compromising your budget. Focusing on main pieces of clothing rather than multiples pieces to create a new outfit will significantly decrease your expenses. Implementing a dress code will work in line with your new corporate uniform. When focusing on one piece of clothing, such as a shirt, your employees can still wear the same trousers and skirts they were before, without the need to purchase trousers and skirts for everyone. Styling up your uniform with our simple accessories, and enhance the overall appearance of your employees, especially when they have direct contact with your customers. Adding colour to your uniform is a perfect way to create a unique look with your corporate uniform and stand out from your competitors. As a leading supplier of corporate workwear, we pride ourselves on our ability to provide you with the finest corporate uniform made to the highest standards. Achieve your desired corporate image with Welborne Corporate Image uniforms today!