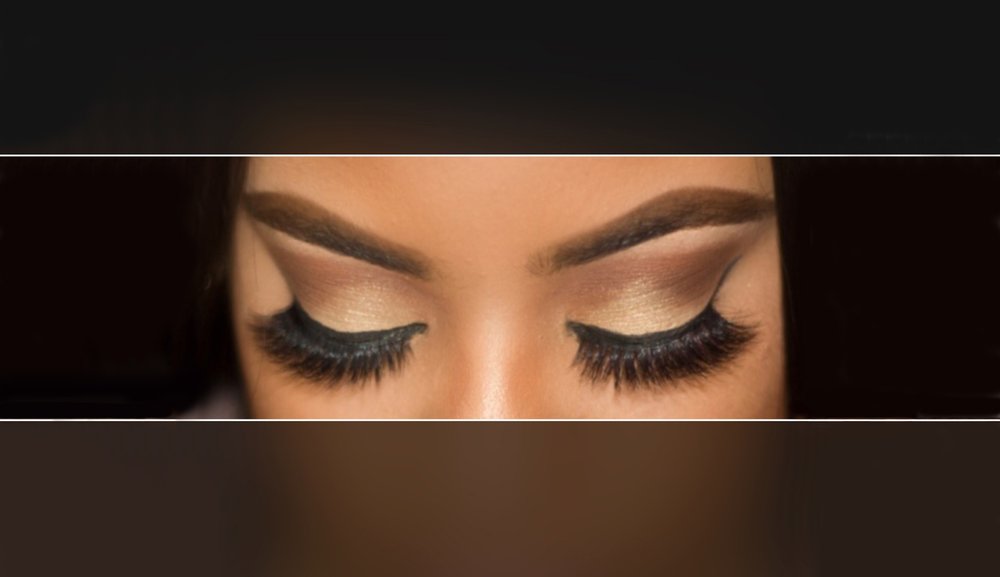 The world of false eyelashes is fascinating and once you enter it… you discover a new world! Different types of false eyelashes instantly enhance any makeup, make it look much more elaborate and add a professional touch. In addition, they make the eyes much larger and more expressive.
There are many types of false eyelashes and at first it can be a bit overwhelming, whole lashes, corner, individual, in groups, with a knot, without a knot… each type of lashes has an advantage over the rest. We are going to try to explain in a simple way the different types of false eyelashes that exist, their differences, and the advantages of each one.
Stop cruelty in the makeup industry by resorting to vegan eyelashes such as the one provided by Tigress Beauty. With our eyelashes you can easily emulate the look of natural eyelashes with extra volume that will help you achieve a beautiful doll-eyed look.
There are false eyelashes in a thousand different shapes and sizes, but we are going to classify them into 3 large groups:
Whole false eyelashes
Whole eyelashes are the most famous, the ones that everyone knows, even your boyfriend or your brother! They are the ones you have always seen, complete lashes that cover the entire eye from near the tear duct to the outer end.
They have a plastic strip, called a band, to which the hairs that are responsible for forming the eyelash are attached. This strip comes in a curved shape that allows the perfect adaptation to the shape of the eye. It can be more or less fine, and be transparent or not. The thinner the band, the better, because the more flexible it will be, the easier it will be to place the eyelash and much less likely it will come off with the passage of time. In addition, the thinner the strip, the more comfortable the eyelash will be once placed, since it allows you to gesture much better and without noticing so much that you are wearing them.
The thicker and more loaded the eyelashes (if they are fantasy or very dramatic, for example), the wider the band will be and the heavier they will be.
Whole false eyelashes are the type of false eyelashes with the greatest variety of models. There are whole lashes for all tastes, sizes and eye shapes. From the softest and most natural lashes to the fullest and most dramatic. And without forgetting the fantasy false eyelashes, very original models that are perfect for parties and costumes.
The most natural models imitate natural eyelashes, but providing more density or longer. You can choose the model that best suits your tastes and your eye because there is an impressive variety.
Half lashes or corner false eyelashes
These lashes, unlike the previous ones, only occupy half of the eye. They are about half the size of whole lashes, and are specifically created to be placed on the outer corner of the eye. The result is an almond-shaped eye with a more natural appearance than with a whole lash, since naturally our lashes are thicker and longer on the outside than the inside.
The main advantage they provide is that they are much easier to place, since they do not perform as much curvature and as it is a smaller strip we will have more precision to place them. Also, they are less likely to peel off precisely because they don't have as much curvature as integers. They are also more comfortable to wear, the corner false eyelashes are hardly noticeable once attached.
There are fewer models of this type of eyelashes, because they are relatively more recent than full false eyelashes. However, there are more and more models and you will undoubtedly find many that you love, as the variety is quite large.
Individual tabs in group
Individual lashes are the most versatile of all. These are small groups of eyelashes or "tufts" joined by a small knot that can be visible or invisible. The biggest advantage is that they are tremendously comfortable to wear, since you will not notice that you are wearing them. In addition, they are also very easy to place.
You can find them in 3 different lengths (short, medium and long) that you can use according to the intensity you need, and you can combine them as you want to create different effects.
They are very versatile because you can use them:
On their own, to thicken your natural lashes and create tailored lashes using the length you want and combining them with each other.
Along with the false eyelashes, to customise their thickness and length.
There are also different models of individual eyelashes, although they are usually quite similar. For example, there are individual lashes with or without a knot.
Individual knotted eyelashes are easier to apply due to their small surface area. However, it may be a bit appreciable if applied over makeup without liner to hide them. The knotless version of individual lashes reduces the possibility of them being noticeable but they are perhaps a little more difficult to apply. It will depend on your ability to place them to choose one or the other.
Eyelashes in trios
As a variety of individual eyelashes in a group we find the eyelashes in trios. It is a small strip of tabs made up of three groups of individual tabs. They maintain the advantages of the individual eyelashes but make it faster to apply them, as they are already joined 3 by 3.
Hair to hair eyelashes
Hair-to-hair lashes are usually used with long-lasting glue, as they are applied as an addition to your normal eyelashes and last up to 6 weeks. The result is tremendously natural since they are fine hairs that are placed next to our natural hair, imitating it but providing greater thickness in our eyelashes. They are usually placed by a specialist, given their greater difficulty.
It is important that you know that the different types of false eyelashes are suitable for all eyes, but you should choose one model or another depending on several factors. But we will explain this to you in another post, since it is an extensive topic that we will deal with calmly so that you know how to choose the right false eyelashes.
When you choose Tigress Beauty as your leading provider of vegan lashes, you can be sure you are using beautiful eyelashes that do not contain any animal-derived components.