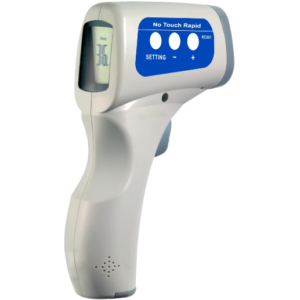 There are more and more measures and products that COVID-19 puts into place. From the distance of almost two meters to the face masks, passing through the sanitizing cabins and the protective screens, now come infrared thermometers: devices that allow measuring the temperature of a person without having contact.
No Touch Thermometer offers a unique solution to this problem. Many No touch thermometers feature a patented switchable dot-circle laser. The circle mode of a built-in laser thermometer creates a 12-point circle that clearly indicates the target area being measured. In laser point-to-point mode alone, it marks the center of the measurement area.
It came handy for the situation
Until a few months ago it could seem something strange and even uncomfortable: when wanting to enter a place, a person would stop us and point a kind of digital "gun" at us that, in a fraction of seconds, what he was actually doing was taking our body temperature. That, now, has already become another of the habits that the coronavirus brought with it.
The device is none other than an infrared thermometer, whose specificity lies in being able to measure the temperature of people without contact and in situations of movement or massiveness. According to experts in the area, the adoption of this measure is here to stay: in Asian countries and even in some of Europe, it is common and common what is called health police, which are people who use this type of devices, beyond the coronavirus.
This daily routine has already been installed in our country and these devices, such as the ones we offer. Most of these revolutionary thermometers do not require physical contact, logically, but is used in an optimal measuring distance of three to five centimeters. The important thing about this model is that it has the FDA and CE / ICR certification, which are the standards for safety in health protocols and medical devices in the United States and Europe.
The temperature measurement range of this infrared thermometer is from 32ºc to 42ºc, and it has an autonomy of 40,000 measurements per battery bank (it has two AAA), with automatic shutdown after 15 seconds. It is a very precise device, with a very basic and comfortable design, which allows exact monitoring and control.
It is also quickly turning into a massive product.
Due to the number of inquiries, reservations and orders, without going into what refers to public spaces, only in what has to do with the private sector, by the end of the year it could aspire to have between 10,000 and 15,000 of these devices already in place "
If the trend continues as it has been until now, the sectors or items with the greatest propensity to acquire this infrared thermometer would be "construction, transportation, education, banks, supermarkets, logistics centers, etc."
Undoubtedly, these new tools that are being incorporated into the uses and customs of Uruguayans are here to stay, since once the impression that someone points this digital reader at you is overcome, we understand that it offers an agile possibility to prevent and detect a possible case of coronavirus, thus reducing the risk of spread.
In the world today, there are, for example, brand watches for employees to enter a job that have remote temperature measurement. We are still far from that phase. But with these devices, like the thermometer, we are all taking a step to take care of ourselves. And it is an economically accessible device.
Fever without COVID-19: why not panic if you are 38 ° C
Although a SARS-CoV-2 fever cannot be differentiated with the naked eye from another caused by another virus, most of the time the symptoms that we think of coronavirus are something different.
Fever is a defense mechanism: the immune system is activated to produce cells and substances that protect the body from infection, and thus the body temperature rises, and viruses and bacteria fail to reproduce.
An infection, a normal reaction to a vaccine, trauma, heatstroke, or dehydration, among other things, can all be the causes of a fever. But today it seems that the only thing that can give you a fever is the coronavirus: is there a panic of having a fever?
According to the World Health Organization (WHO) mission report in China, in more than 55,000 laboratory-confirmed cases, 87.9% had a fever. But you cannot recognize a COVID-19 fever with the naked eye. The human body manifests itself in few ways and speaking of fever it can do so with hypothermia, normothermia or hyperthermia, depending on whether the temperature is low, normal or high.
The recommendations of the Ministry of Health include among potentially suspicious patients those who have, in addition to fever, some other symptoms such as sore throat, dry cough or lack of taste or smell, among others; and they have been in an area where there is an endogenous circulation of the virus.
The same symptoms can be produced by the flu virus, the cold virus, the adenovirus, the metapneumovirus or the parainfluenza. That's why when a patient appears who meets these criteria, we do a swab and they are admitted to a hospital or hotel. If you do not have coronavirus, you are discharged and what you have ends up being another virus.
84% of the patients hospitalized for suspected coronavirus gave a negative test result. Roughly, this same record is seen at the national level. A patient starts out with a fever, calls his doctor and answers a few questions. The doctor may tell you to take a paracetamol to see how it evolves. Many times, the fever does not return but if it is coronavirus, the symptoms are persistent. The flu picture with cough, pain when swallowing, lack of smell or taste, usually lasts more than three days. There are patients who have it for a whole week. That's why it's not a bad idea to take a painkiller at the beginning and see how the day goes on, and if that fever continues, see a doctor.
Find more information about out infrared thermometers in general and any detailed information you need about this technology here at No Touch Thermometer. Contact us now if you want experts' recommendations.