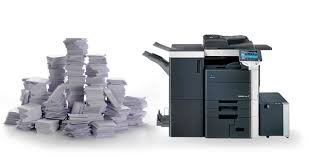 The idea of ​​a paperless office has existed for almost 40 years, however, during that time, the practice of printing documents has not only decreased, but has increased. With the advent of modern technologies, the amount of paper we use at work may have finally begun to decline, but it does not do so at a great pace. Why are we not meeting the goals of stopping printing documents that were proposed decades ago?
Exploring the main reasons why people do not stop printing documents, we find some barriers that prevent a company from going to totally digital processes. Barriers exist because paper has some characteristics that are really difficult to replicate digitally. However, most of what we like about paper we can replicate digitally, provided that there is a willingness to create new business solutions.
The disruptive innovation of mobile technologies offers an opportunity to change the behaviour we currently have in our companies. However, convincing people that their paper-based processes must be transformed into an optimised digital workflow requires adequate participation in the change. They want to make sure that the new processes are as easy and natural as possible.
Remember that printing advertising is a form of advertising used by the media for physical forms, such as magazines and newspapers, to reach consumers, companies and others. Advertisers also use digital media, such as banners, mobile advertising and social media advertising, to reach the same recipients. The proliferation of digital media has led to a decrease in advertising expenses in traditional print media.
Here at Morning Star Press we help you improve your image and branding consistently. Do not hesitate to contact us for top quality printing services.
Why print documents?
Either by necessity, preference or a combination of both, companies print documents in order to:
Read. Until recently there were good reasons why people preferred to read documentation rather than on the screen: portability, readability and annotation ability. But the increasing use of mobile devices is changing the way people see this. We have to take advantage of that tendency to make the availability of documents much more instantaneous.
Annotate. In an ideal world, where all mobile devices had the capacity to make notes on documents, would the tendency to want to write on paper still be maintained? There are probably some cases where yes, but only for very specific situations. Digital annotation will become the norm when digital writing techniques become very similar to manual writing, as they barely interfere with the act of reading.
Share. The digital is an ideal way to share and long used, however, the fact of printing documents to leave them on someone's desk to ensure they receive it is a widespread practice that costs to disappear.
Save. The technology to help store documents digitally is growing rapidly, however, many companies prefer to keep a paper warehouse with the most important documents such as invoices and contracts.
Digital disruption. The consumption of information technology, including the spectacular increase in technology in smartphones and tablets, and the world of mobile applications and cloud-based services, has introduced new capabilities and behaviours.
The tide of change has already begun to feel. However, the tendency of many people to use multiple devices, expecting them an elevated level of functionality when they are out of their office, will be even stronger in a short time.
Moving from printing documents to the digital world
The disruptive innovation of mobile technologies invites changes from the use of paper documents to electronic documents. The way in which employees manage their daily tasks and train them so that they can perform the same steps electronically must be examined. The key is to make the processes as easy and comfortable as possible, both for knowledge workers and for those who have less experience in technology.
Reading, writing down, signing, sharing and authorising are common behaviours in anyone who uses documents in their work. But they also appear in almost every step of other business process in which people need to intervene. A human resources process or a product life cycle management process, for example, will require some people to read, comment, add, organise, make decisions, distribute, authorise and save specific types of documents at specific points in the process.
But mobile technologies can now provide a user experience similar to that of interacting with paper, digitally. Therefore, workers are realising that they can begin to eliminate the role of their business and provide an equally positive experience for the user.
So, what do we change? First, it is essential to evaluate and understand the analysis of documents within a company in order to eliminate paper. It is important to identify how it is being used at this time. Otherwise, how can you provide a solution that allows the business to work more efficiently?
Second, it is important to provide intelligent information capture solutions. Currently, everyone is scanning, but one of the problems with scanning is that in some cases they move irrelevant data on paper creating a kind of digital dump. Smart capture recognises what is being scanned and understands that it is necessary to extract relevant information from it and then allow an action related to that image to be taken as part of a workflow process.
Organisations that take on the challenge of stopping printing documents have a lot to gain. Certainly, the change has risks and can be harmful, but there is a reason why people have waited anxiously for the paperless office for decades: the promise of a more efficient, productive, collaborative and sustainable work world.
However, printing solutions are essential for many purposes, specially for companies who rely on visual marketing as much. Remember that if you want a leading provider of printing services helping you establish your brand, here at Morning Star Press you will find it. Contact us today so we can help you achieve your goals as a business that wants to solidify its image in the market.