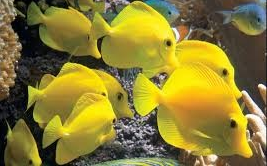 Every self-respecting aquarium has stones inside, it gives a colorful and beautiful image but this is not the only function it has, these elements are important for the daily life of the fish in the aquarium. If we think about how fish live at the bottom of the ocean or sea, we will discover that they also have stones there, they serve to hide from possible predators or simply to rest. This same function has in the aquarium, the fish that live in captivity without stones to hide in will have as a consequence a life in which stress will be their usual state.
Stones are also necessary for mating, the female will lay the eggs out of sight of other fish and the human eye. They carry out this action the same as when they are free in their natural environment.
The stones that will be inside the aquarium and will make it stand out for its decoration are based on the taste of each one, there are no better and worse stones, that we will take some recommendations before including them. If our choice is to buy them in the store there will be no problem but if on the contrary we decide to go out to the field and take them we will take into account a series of precautions.
We will not take those that have very bright colors, because they will probably have heavy metals, which when introduced into the water will begin to release part or all of their composition and this will have the consequence that our fish will be in serious danger and may even die.
Nor will we take those that are calcareous or limestone, because when immersing them in the water they will begin to dilute and will cause a change in the water parameters, if we realize it there will be no problem because we can regulate it, that if we will have to constantly be aware of the levels pH of the water, on the contrary we do not realize the consequence will be the same as in the previous section.
Clean the stones, when you pick them up in the field they will have traces of earth, herbs or animal excrement and will cause the pH of the water to change, to avoid this we will wash them with plenty of water even leaving it to soak and then clean them well with a brush .
Remember that you if you are looking for a good online shop where you can buy anything you need for your aquarium from the comfort of your house, here at Guppy's Aquarium Products you will find them. Contact us today if you want to learn more about aquariums and why corals are so important as well.
Another more common reason is that some rocks or gravel are made up of materials that can cause a change in the pH and hardness of your aquarium water, which in turn can be harmful to fish.
Some people will say that unless we are adept at identifying and composing rocks, it is best to go to a pet store and purchase rocks and substrates that are considered safe for use in aquariums. Others will teach you how to test rocks and gravel to discard hazardous materials.
We think that using rocks from nature is perfect, but only if before putting them in the aquarium we check that they will not be harmful to our fish. If you do not want to check it, it is best to go to pet stores to buy stones that are safe for your fish.
How to check if natural stones are dangerous for my fish?
Testing can be as simple as placing a few drops of vinegar or strong water on the rock or gravel you are considering using. If it foams, we should not use those rocks, as it contains calcium deposits. Another way to test rocks and gravel is to place them in a bucket with the same water that you use in your aquarium. We check the pH and hardness, and then let it sit for a week and check it again.
If there is a significant change, the rocks or gravel are likely causing problems.
What is safe and what is not safe to use in my aquarium?
The rocks to avoid are those that are highly calcareous, which means that they have a large amount of calcium. Calcareous rocks and gravel will alter the hardness and pH of the water.
Rocks that we should avoid in our aquarium:
Limestone: Very high in calcium carbonate.
Marble: Has an effect similar to crushed coral.
Geodes
Dolomite: Often found in crushed coral
Shells or crushed coral: Not ideal for most freshwater aquariums, but used for African cichlid tanks, where a higher pH and hardness is desirable.
The safest rocks for aquariums:
Granite
Quartz
Blackboard
Onyx
Sandstone (should always be checked before use)
Regardless of the type of rock or gravel, you should check them to be sure. Also, be sure to choose rocks that have smooth edges, as sharp-edged rocks can harm your fish.
Where can I find rocks in the open air?
Obviously, the outdoors is a major source of rocks, stones, gravel, and sand. However, it is also possible to buy rocks and substrates from places other than a pet store. The places that can be found rocks for aquariums are:
Outdoors: We should avoid river beds, as it can alter native habitat.
Garden nurseries.
Garden centers in department stores.
Landscaping companies.
All of these sources can provide you with inexpensive and very attractive rocks and gravel. Just remember to be careful when making your selections, and always test your rocks or gravel before using them in the aquarium.
Remember to consult with an aquarium specialist in our centre, Guppy's Aquarium Products which plants are the best for our fish. Call us for more information.