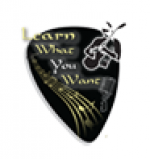 Ever wanted to learn how to play the guitar? Think you're too old to start to learn something new? Well good news my friends, anyone can learn to play the guitar  Musical Journey and you're never too old to learn new things! You don't need to be musically talented or need to learn to read music to play an instrument. If you've thought about picking up the guitar but haven't yet, anytime is a good time to start. If you're not a musician, becoming one is more fun and easier than you think. There are many people who doubt that they have the ability to play the guitar. You're hands aren't too small or too big and you're not too young or too old to play. No matter what you may think, everyone has their own challenges and if you put your mind to it, you can achieve anything, including playing the guitar! Many people assume that it's difficult to learn to play an instrument and takes a lot of time and effort. But in reality, if you're willing to learn and spend some time aside to practice and learn, then you will be playing some tunes in no time. If you don't have musical talent, that is no reason to stop you from learning. Playing the guitar is fundamentally teaching your finger to do things they aren't used to doing. All it takes is some time every day with the guitar and you'll be well on your way to playing some great songs. Those who've decided to learn the guitar have found it a quality and productive way to relax. By learning how to play an instrument, you'll enter a community of musicians who are looking to jam, sing and write. If some of your friends play instruments, you can join them and have fun jamming to your favourite songs in Musical Journey. Playing guitar can enrich your life and become a hobby you enjoy most. Not only will you get better the more you play, but listening to music will become more enjoyable because you'll start to pull apart the composition- in other words, you'll begin to understand what's going on, and eventually you may start making your own music! Once you've learnt how to play the guitar (or your first instrument), the next ones get much easier. All you need to do is have the willingness to learn and set aside the time you need to learn.
You may want to start learning the acoustic guitar first and then eventually move onto the electric guitar or bass guitar in Musical Journey. But of course, it is entirely up to you which type of guitar you want to start playing. Once you've decided to pick up the guitar, you'll need to learn the basics. You will need to learn how to tune your guitar, how to hold the guitar, and the parts of the guitar. Then you will need to get into technique, how to strum, how to make your first chords, and finally how to play your first song in Musical Journey. Reading the right information you need to start playing can be done within a few minutes. Learning to play the information on the other hand will take more than a few minutes and consists of finger shapes you must remember. You will have to teach your finger muscles to play chord shapes and after you've adequately practiced, your fingers will get used to playing the different chord shapes. To be able to progress, it is a good idea to sit down and practice and remember for about 30 minutes every day to practice the chord shapes. Once you have learnt the chords, you'll find it easier to learn new techniques. You can even experiment with adding and removing fingers once you become more comfortable. You'll find a lot of cool and interesting sounds and you'll continue to discover these for years to come. You can even multitask such as watching the TV or talking with others whilst practicing the chords. You don't have to spend hours and hours a day to learn specific techniques, as long as you're consistent in practicing, you'll definitely notice your progress. Once you learn to play some songs, it's also good to sing along. Try and keep up with the tempo of the changes in the actual song. Once you know these cords and a few basic strumming patterns, you will realise that you can play a lot more songs. Heaps of songs you hear on the radio are actually just a few chords with some basic strumming. You can even come up with your own strumming patterns too.
If you are someone who has already started to play the guitar but are in need of motivation and inspiration to continue to play, think back to the time when playing the guitar sparked your interest. Remember the time you got your first guitar and actually started playing it. For most of us, when we get our first guitar, we are usually clueless about how to play anything and where to start; total beginners. But somehow that didn't matter because we were just so excited about kick starting our guitar journey. That feeling and willingness to learn at the beginning of our guitar journey is something we develop through our excitement. However, over time, whether it is weeks, months or even years, your passion to play music might have weakened. You may still have some interest in playing and become a better guitarist, but you may not have the passion you once had. To get back your motivation to play, the most important thing to do is to recognise what made you feel less excited and motivated about playing music. Over time, some guitar players may begin to feel inadequate in their ability to reach their goals which they had set out at the beginning of their musical journey. A reason why some people become motivated is because they hadn't set out specific and clearly defined goals or strategies to reach their goals. It is important to remember long term goals can't be achieved in a short amount of time, hence the name long term. You have to remember that developing the skills to play doesn't happen overnight, it takes time and dedication to become better and better. Never compare yourself to other musicians and guitarists! Focus on yourself and strive to improve your skills and achieve your goals. In the end, just remember to have fun! You chose to play the guitar to have fun, so enjoy the journey while expanding your knowledge and skills!
Tips for playing:
1. Learn something new everyday
Find one guitar-related thing a day that you didn't already know. Learn and play it. Whether it is a chord, a riff, a scale, a song or anything else, you will gradually broaden your musical knowledge and become a better guitarist. By actively seeking out, learning and playing a new piece of guitar knowledge on a daily basis, it will ultimately help in your ability to perform effortlessly and boost your playing confidence. When you make this part of your daily routine, you will absorb more knowledge and progress in your musical journey.
2. Practice standing up and sitting down
Even though you may be a beginner and play the guitar as a hobby, you may never know and decide to play in front of an audience one day. It is easy to understand how difficult it can be for some to play the guitar while throwing into the mix of playing whilst standing up. Playing the guitar slung across your shoulder is a very different posture to sitting down. When sitting down, you tend to hunch over and try to see what your hands are doing, however, then you're standing up, everything changes. You'll find it much harder to see what your hands are doing. But with practice you will be able to play in both positions with ease.
3. Always use correct fingering
Over the centuries of guitar playing, experts have found the best way to play certain chords and scales. Even though you may find an easier way to play these, don't be tempted to use shortcuts. Correct fingering isn't just about playing that chord or scale properly. Pay careful attention to correct fingering and your hand's position for the best technique.
4. Break down large tasks
We all know how easy it is to become overwhelmed by huge tasks and the vast expanse of things you still need want to learn. Minimise and organise by breaking down large tasks into smaller chunks. This way you won't be as overwhelmed and can work towards achieving those smaller tasks of learning new techniques and skills.
5. Try difficult chords
Don't shy away from difficult chords and spend that extra time to overcome those difficulties. If you avoid them, you'll eventually find them a mental barrier which can affect your ability to play. If anything, you should seek out the harder tasks and spend more time and energy on perfecting them.
6. Track your progress
No matter how good of a guitarist you are, there is always room for improvement. Your growth can be improved by the simple awareness of that growth. As you develop and progress by learning and practicing every day, it is important to track your progress. You can keep a log or a diary of your improvement in order to further maximise your growth. Keeping track of your progress will help you focus on future practice sessions as well as take the time to work on aspects you may need more improvement in.
These are just some simple tips you can use, but of course every guitar player is different and knows what works best for them. Take inspiration from this and get motivated to reach newer heights in your guitar playing skills! One of the best ways to continually improve your progress as a guitarist is to seek help and have private guitar lessons with a professional. If you are looking to start some second to none lessons, Learn What You Want teachers have years of training and experience as performers. Learn What You Want guitar teachers in Melbourne will get you started on the road on your very own musical performance journey with one on one lessons. Don't wait and pick up the guitar and jam to your favourite tunes!