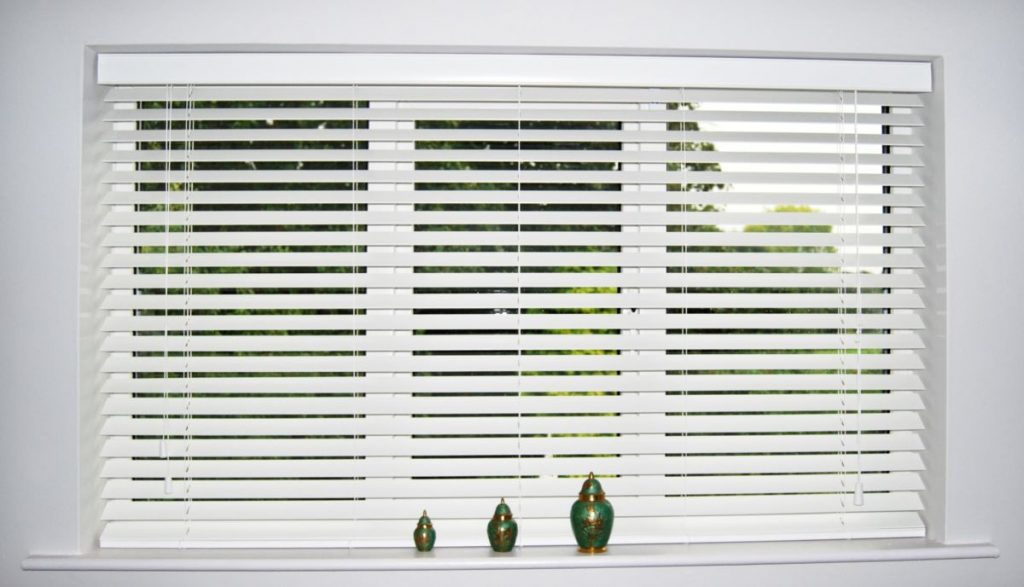 Venetian blinds have obviously stood the test of time and remain a functional and elegant option to cover windows in the home. Although many of the historical versions we have seen are Venetian blinds, Venetian blinds are now also made of aluminum and synthetic wood. These two alternatives are lighter and more profitable than wood, and will last even in areas with high humidity, such as kitchens and bathrooms, since they have no risk of deforming.
Venetian blinds feature a series of horizontal slats that are linked together by a cable pulley system. When they are completely raised, the slats meet at the top of the window. Revealing then the whole view from outside. When they are lowered and rotated, Venetian blinds hide the views from the outside and block out all sunlight. Venetian blinds can also be placed in various positions, depending on the amount of privacy and natural light we need.
Although the origin of the Venetian blinds is conjectural, it is believed that they come from the historical region of Persia and not from Venice. The Venetians – very good merchants – discovered these types of curtains during their trade exchanges in the Middle East and took them to their city of origin. It seems that it was the Venetian slaves who, once freed, carried this type of curtain to France. The French have always called the Venetians "Persian", showing their Persian origin.
Here at Sure Shade we can offer you top quality external blinds that will help you keep your house cool and comfortable for these hotter days.
Venetian blinds in history
After entering Europe in 1760, the curtains crossed the pond and arrived in the United States. In North America the Venetians became established as a symbol of high society, with a meaning very linked to power, so they could be seen in many public and government buildings. During that time the Venetian blinds appeared for the first time in a painting, "The visit of Paul Jones in the Constitutional Convention". A little later, a Philadelphia church was a pioneer covering their windows with them.
Throughout the nineteenth century, this type of curtains began to popularise and was used in all types of buildings due to the ease with which they regulate light and air. In 1930, the Radio City building at Rockefeller Center also adopted Venetian blinds. But, undoubtedly, one of the largest wooden Venetian orders in history was for the Empire State Building in New York, which entrusted it to the Burlington Venetian Blind Co.
After so long, venetian blinds made of wood and aluminium are still as popular as they used to be. Your secret? They are resistant, functional and decorative. Take a look at the options that Kaaten proposes, where you can find both cheap and custom-made or standard curtains.
Advantages and disadvantages of venetian blinds
Getting deeper into this subject, it is important to highlight the number of advantages offered by venetian blinds since they have been key in the process of solidifying their installation as a trend in interior design.
Venetian blinds date back to the 1760s, where they were mainly used in office buildings to regulate air and light. Over the centuries, window coverings have evolved and shutters have become more popular than they are today commonly found in many office and home environments. The range of Venetian blinds has expanded over the centuries, allowing owners to choose from a wide variety.
Venetian blinds are one of the most popular types of blinds and are ideal for almost any room and window size. They are made of horizontal strips (also called slats), joined one on top of the other and held in place with a rope or cords. The slats are manufactured using a variety of materials, such as bamboo, wood, styrene and aluminium and more.
If you are in the process of updating the decoration of your home, or renovating and considering custom Venetian blinds as a suitable cover for windows, let this blog inform you and help you with the ideal option of Venetian blinds, since that we will cover the advantages and advantages. disadvantages of venetian blinds, our range of venetian blinds, in addition to offering other considerations to consider.
Advantages
The advantages of venetian blinds are many, some are listed below:
They are versatile and suitable for any window size and can be used in both homes and offices.
They are affordable and durable.
It offers low maintenance and is easy to clean.
It allows you to control your levels of light and privacy.
They are available in various finishes, offering a variety of styles to suit the interior of your home.
Available in made-to-measure or tailor-made products.
Create a uniform appearance both inside and outside your home.
Disadvantages
Some disadvantages of Venetian blinds include the following:
The prices of venetian blinds vary depending on the material and the finish you have selected, so it can be expensive if you opt for high-end materials and finishes.
Operation and storage of the cable is required to ensure the safety of children who may become entangled. This is not an issue to worry about if you install external venetian blinds.
Depending on the size of your window and the type of Venetian blind selected, this can result in a large blind.
Dust accumulates on the horizontal slats; however, this is easily cleaned with a sock or blind cloth.
Light blinds can be easily damaged if they are not handled with care and damage the appearance and finish of blinds.
Unlike our range of roller shutters, vertical blinds are not motorised, and manual operation is required.
Types of venetian blinds
As mentioned above, Venetian blinds are made with different materials. Our range of Venetian blinds are:
Venetian blinds made of wood, made of linden.
Venetian blinds by Styro-Wood, a wood replacement alternative made of a polystyrene resin base.
Venetian blinds made of bamboo wood, an ecological option, resistant and durable.
Venetian blinds in aluminium, available in widths of 25mm and 50mm slats and even include a finish in an aluminium blind with a wooden appearance.
Contact us today to purchase blinds that will sure keep your house cool and protect you from excessive sunlight. We can lengthen the working life of your windows! Visit our website.