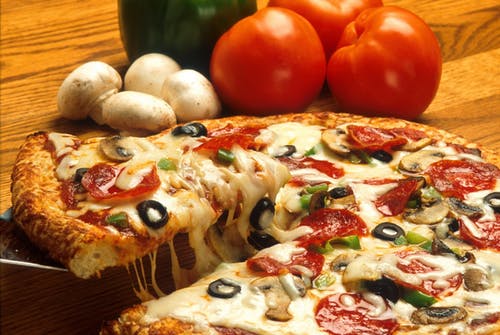 Margarita, barbecue, Hawaiian … no! As much as it surprises us, those are not the types of pizza that we have at our disposal. What determines the type of pizza is the dough, its baked and the way it is served and enjoyed.
Pizza is a white art, a baking product, which requires training and knowledge. A pizza maker, or 'pizzaiolo', as they are called in Italy, has a specific training that is far from the training of a chef "although now it is merging a lot what are the cooking courses applied to the pizzeria. Now that we are on the subject of pizza 'gourmet', not only talk about what is the basis, the mass, we talk about what is put on top. They are merging courses. The pizza maker has to be a good cook and a chef if he wants to work also bakery has to do pizza courses and baking.
But how many types of pizza are there? Are not all masses equal? No, each pizza has its dough and is cooked in a specific way. Every flour is studied for a type of pizza. They are flours milled differently and come from different wheats that give them strength. According to the product we want to make and the maturation, the time we need the dough to rest and the yeast to do its job.
Romeo's Woodfired Pizza where we prepare pizzas with the best ingredients in the market. A remarkable business that gives you the real traditional flavour.
1.- The Neapolitan – is the one with the very swollen edge and the black spots typical of the burns that the wood oven confers on it because it can only be cooked in an oven that reaches 480 ºC … and this can only be achieved in a wood or gas oven. It is baked in 90 seconds. Its mass is of high hydration and takes up to 24 hours of maturation at room temperature. It is usually kneaded with kneading fork that has a slower movement and so do not heat too much 'impasto' and using a medium strength flour W300 / 320 which adds more salt than normal also to give more elasticity to the kneading and a more golden colour. Its diameter may vary. If you serve portions of 250 grams or 300 grams of dough then its diameter must be 25 centimetres and 28 centimetres respectively with an edge whose thickness has to reach 3 centimetres in height as strictly defined by the 'Associazione Verace Pizza Napoletana' which it is the maximum exponent in this matter.
Neapolitan pizza is a soft, very digestible pizza that is eaten and which, according to Neapolitan tradition, has very few ingredients, 5 or 6; He has no more. Take tomato, which is the type 'San Marzano' that is broken by hand to not cut or crush the seeds and prevent them from generating acidity during baking. The typical mozzarella from Naples, from buffalo, and basil is also used; another version that simply takes tomato, garlic and oregano; and a third variant that is the one of 'Friarielli e Salsiccia' (grelos and sausage). As much they use anchovies, flowers of pumpkin and some typical fish of the Gulf of Naples that are called 'cicinielli'. Nothing else!
2.- The classic pizza is typical of the centre-North of Italy. It is the round one of 31 centimetres of diameter of average with the edge of less than 2 centimetres of height. It is usually cooked in an electric oven, a resistance oven that heats a refractory stone, at a temperature of between 300 and 330 ºC. It is what gives us the possibility to vary with the ingredients we put on top. The mass of classic pizza is what allows you to do acrobatics. It needs a maturation between 6 and 24 hours depending on the strength of the flours used and the consequences of the ripening times. It is blown and then spread on a work surface or in the air. With criterion and balance, it admits all kinds of ingredients. It is the type of pizza that fits more to the local taste. With this base you can make 'gourmet pizza', 'pizza dessert' … The finish must have a structure with a fairly crispy edge and base and once cut in triangles and gripped by the edge the rest of the body should remain practically straight. That is the "test of fire" … if it falls it means that it is a pizza that has not matured enough and will, therefore, be indigestible.
a) The pizza 'in Teglia' which is the pizza that is cooked on a tray. They are cooked at a lower temperature (280 ° C) in iron plates and served in aluminium. It needs a very hydrated mass, so that it can later be reheated. The dough is stretched, seasoned and baked in large iron trays, round or rectangular, and then displayed and cut into aluminium trays. It is sold in portions. The result of the dough after baking is quite spongy with a slightly crunchy base. On it, he admits, a wide variety of ingredients … provided that his selection is made with criteria and balance.
b) Finally, the 'Roman lingua' or 'Pinsa Romana' is typical of Rome. It is a pizza, usually large, with a very high hydration. Its mass has between 80% 90% of hydration. We usually use mixtures of different types of flours with different strengths since we can reach 72 hours of maturation with application of techniques of 'folds' as in baking and indirect kneading techniques and hence the different denominations that have been created according to the geographic zones of belonging. It is a pizza that is made to reheat and is exhibited on wood as well as wood is 'the shovel' on which it has been baked, that is why it is also called 'Pizza alla Pala'. When it overheats, it removes practically the same hydration that it has when it has just come out of the oven. They can be cooked in gas or electric ovens depending on whether they are cooked in trays or directly to the stone at temperatures of about 300 ºC. It is sold by cut or weight. With this type of pizza is creating one of the latest trends in pizza since it is used a lot to make 'gourmet pizza'.
Remember that here at Romeo's Woodfired Pizza you'll find an excellent selection of delicious pizzas made using only premium ingredients.