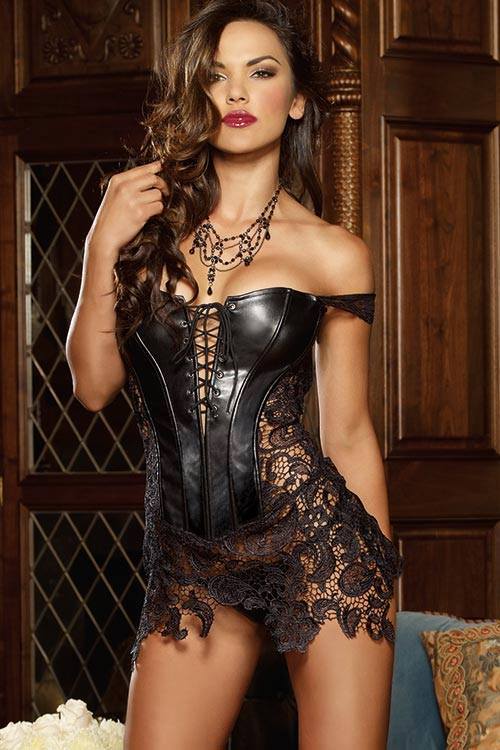 How many times have you dreamed of being the doll of an erotic story with your partner? Fulfill your fantasies! The first step to do it is to want it and the second is to have a babydoll in your drawer with which you will feel more sensual than ever from the first moment you use it. Best of all, no one can resist the charms of this erotic and sensual garment.
But before you take action and go to your drawer to show off your babydoll, there are some interesting points about this garment that we recommend you know to get the most out of your erotic lingerie.
We sell excellent underwear pieces here at Mary's Secret Boutique, check our store!
What is a babydoll?
It is probably one of the favorite garments of seductive women and owners of their sexuality, just like you. A babydoll can be used to seduce your partner on a special date or simply to surprise on any day, but how do we identify it from other clothes?
A babydoll is a short and transparent type of dress that lets you see your underwear while the legs and arms are completely exposed, making anyone's imagination run wild. Due to their lace details and some ribbons in their designs, these models become a very sexy garment that we definitely recommend including in your drawer.
But the babydoll has not always been a garment that women use to look and feel sexier, in fact, its main use is to sleep much more comfortably, but over the years it was redesigned until it reached what we know today, showing more parts of the body and above all, it emphasises the curves of any woman to make you feel sensual and sexy at all times.
And now that you know what a babydoll is, are you ready to use it? If you do not have it yet, you can discover our online models to choose the one you like the most, make you feel comfortable and full of attitude. Find out the reasons why you should include a babydoll in your closet:
Reasons to wear a babydoll
1.- Is there a size for you: Girl, medium, large or extra large, what is yours? The important thing is that you choose the one that fits you perfectly, so you will not have any problem that it fits you big or on the contrary, it fits you very small and tight. Remember that the correct size in lingerie is always very important to feel safe.
2.- It adapts to any type of body: Another advantage of a babydoll is that they have multiple designs, some can highlight your curves and others can help you hide the chubby ones. The reason why you should wear them is because they make you feel comfortable all the time thanks to their perfect designs.
3.- Everyone likes it: A babydoll is such a sexy garment that no person could resist its charms. Meet our catalog of babydolls in the Vicky Form online store, fill yourself with an attitude to enjoy your body and surprise your partner without having to wait for a special day.
4.- Increase sexual desire and imagination: This is the moment when all your fantasies can come true. Using erotic lingerie, such as the babydoll, opens the way to imagination and creativity as a couple, so the relationship can be improved thanks to your sensuality and sexy underwear. You decide if you want to be a lion or a kitten in bed.
6 tips to wear a babydoll and not suffer at the moment
Do you want to seduce your partner but do not dare to wear sexy lingerie? Fulfill all your wishes! Take hold of your sensuality and fill yourself with an attitude with a babydoll. But before using it, we recommend that you read these tips to avoid uncomfortable moments when it comes to action.
It is also important that before opting for one model or another you know all there are to know how to choose the one that best suits you, here we tell you the benefits of using a babydoll and also, we recommend some moments when it is ideal to use it .
1.- Buy the size you are: Do not think that by buying a smaller size the clothes will help you reduce volume, on the contrary, by not choosing the correct size you will feel tight and very tight so you will be uncomfortable throughout the time you bring your babydoll on. In addition, springs and elastics can hurt your skin, here we recommend you know the benefits of using lace lingerie.
2.- Make sure the seams are soft: Likewise, keep in mind that you must remove labels and all the threads or seams that are on the outside as they can make you uncomfortable or even irritate your skin. Nobody likes to be with their partner in a sexy moment and feel itchy on the body.
3.- The bra must fit well: It is very important that the straps are not loose or tight while the breasts are perfectly supported by the bra. This will avoid the discomfort of being uploaded every time.
4.- Take into account your skin tone: The color of your babydoll is also extremely important to feel comfortable and safe with the garment you are wearing. In the case of women with brown skin, babydolls with white lace are ideal, for women with white skin, darker tones such as black are good.
5.- Consider your complexion: Corsets? Use them if you are a slim woman as it will help you enhance your strengths and mark your hip. In the case of babydolls, they help you hide the little chubby you may have, in addition to that if you are of medium or short stature it can help you look a little taller.
6.- Sexy, safe or romantic? You can have babydolls of different styles, so you can choose with the black babydoll that you feel better according to your attitude. A black babydoll for your sexiest days, if you feel more romantic you can choose a pink one but if today you are very sure of yourself and you want to dominate, then red is your color and if you prefer to look more natural you can choose a blue babydoll.
If you have never worn erotic lingerie, this is your chance! We invite you to visit our catalog on Mary's Secret Boutique so that you can make your purchases immediately and you can start enjoying your body and sensuality. Lingerie and corsetry can become a great ally for you, try it and share other tips when seducing our couples.