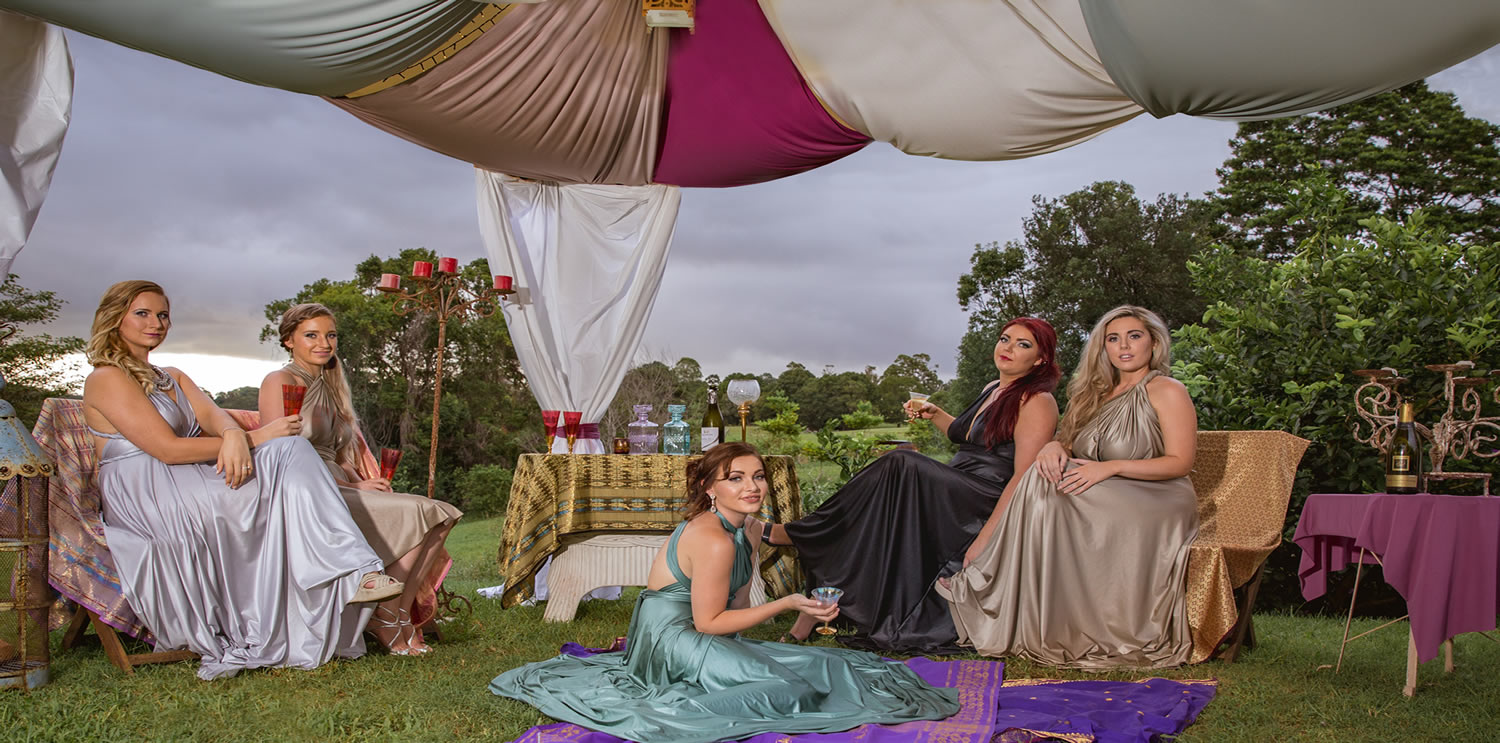 Buying a new dress is a complex process, especially if you are a perfectionist when it comes to personal look. And what woman is not one? If we are wearing a dress is probably for a special occasion and we want to make sure our outfit is perfect convertible for said occasion. Just for that purpose we can spend hours looking at showcases in malls, trying different dresses and looking for the smaller detail that could become an enormous concern in the middle of the event.
However, in most cases dresses are only worn a couple of times and then thrown away because we do not want people to see us wearing it again. Well, that is changing thanks to convertible dresses.
But what is a convertible dress? We call convertible dresses those dresses that do not have to be worn the same way all the time. As it happens with normal dresses, we can find convertible dresses in different lengths, depending of what we want to wear them for, but there is a key difference between normal dresses and these ones. The upper part of convertible dresses is usually composed by two bands that can be placed in different positions, having as a result what looks like many different dress by just changing one part of the design.
These dresses are the preferred ones and have already made a big impact in the fashion world due to their versatility and how it provides people with the option to have many different pieces of clothes for only one purchase.
Convertible dresses: a famous option among bridesmaids
For the aforementioned reasons, convertible dresses have become very popular among weddings guests. Buying a single dress and getting many different looks that are so different between each other people may think they are just different dresses with a similar colour. This way many women find a solution for those small headaches caused by a new upcoming event and have no idea what to wear.
In America, wearing these dresses for wedding have become a famous tradition. The reason behind it is that many brides pick this type of dresses for their bridesmaids, so they all get to wear the exact same dress but each one in a different way so they all look like different dresses. Versatility is the most calling feature offered by convertible dresses.
Long convertible dress
Due to its simplicity and versatility, long convertible dresses are excellent choices especially for more relaxed/bohemian/alternative weddings. Nevertheless, it is also a fact that due to the popularity gained by these dresses, each day they are made with more sophisticated and refined fabrics so pretty elegant models of long convertible dress are starting to be worn at formal weddings.
Short convertible dresses
Although it is true that the first ones to become popular were long convertible dresses, short convertible dresses have raised as excellent options for parties and other guests at weddings (short convertible dresses are not worn by bridesmaids due to their length). Versatility and originality offered by these dresses have been so well received that they are made in different lengths, with motives and varied types of fabrics.
Convertible dresses: simple dresses that are very versatile
In addition to their versatility, being able to be worn on different occasions without looking like you are wearing the same exact dress, these dress have become very popular because they allow women to give their outfit a certain degree of personalisation that traditional dresses do not allow since they are just one straight design that cannot be modified in any possible way.
If you are still not convinced about how much of an improvement is acquiring a convertible dress instead of a traditional one, ask yourself the following questions:
How many times have you seen a dress that is perfect in length for you but you do not think the neckline is the best option for you?
How many times have you liked the colour of a dress but there is a detail about the upper part that you do not think favours your body shape?
How many times have you liked a dress but you think is too covered and you would like it to have a sexier design, showing the back uncovered?
If you can recall many times where you would have liked to change one detail about that perfect dress you saw in a showcase, then a convertible dress is an excellent option for you.
Where can you buy a convertible dress in Australia?
Although convertible dresses are not a new thing and they have been in the market for many years, they could only be found in very few places. Currently and due to the fact that each time they have more fans due to the great amount of advantages they offer it is very easy to find convertible dresses in different lengths, sizes, colours and prices in some specific places that are dedicated to the confection of convertible dresses.
Nevertheless, not all places offer the same amount of quality, for this reason, you should come to the leading manufacturer of superior quality convertible dresses in Australia. Here at Lucy and Loo we take pride in offering an entirely Australian made collection of top quality dresses using the finest Italian fabric available in current market. The best thing about our dresses is that you will find the most competitive prices with us. Along with such a great quality of fabric that the feel on your skin will be simply additive.
Most of our designs will look like are an entirely different dress with only one modification. Totally impressive how different they can look by only changing one strip in the upper part of the dress.
It is not surprising that convertible dresses are becoming increasingly adept. Being able to change from a pronounced neckline to a one-shoulder dress, or to a dress with sleeves with a single dress, are more than enough reasons to consider a convertible dress. Start your own trend and buy a convertible dress!