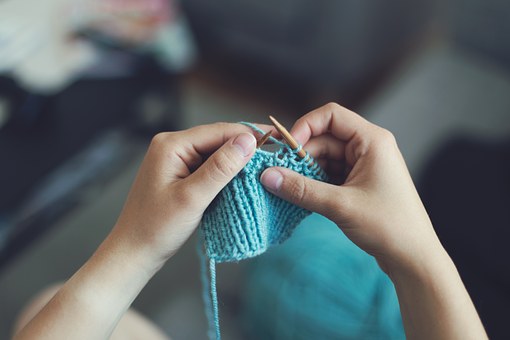 We love knitting, we like the touch of wool, the sound of needles, large and small projects, we like everything, but we must admit that before starting to knit our own clothes or  buying knitted clothes, it is normal to worry about the washing and drying process. But there is no reason to keep worrying any longer, we know it can be difficult to determine what to do if we have little or no guidance, so today we will tell you want to do in order to extend your wool clothes' life and make sure it looks completely clean and smells great.
The first thing you have to banish from your mind is that wool is a problem and that it will give you a lot of work. If you know how to take care of it, you will be able to enjoy it for much longer.
Find top quality wool and more for your creations here at Yarns on Collie. If you need more information to get started in the world of knitting you can contact us and we'll be happy to help you.
First recommendations
Pamper your clothes since the very first time, if you are buying your own wool to knit your clothes then make sure you keep the labels, read the composition well and if you specify some specific care that you should take into account. Always work on a clean surface. Store and transport your wool balls always in a bag.
You can wash your garment by hand, with water always at most 30º and with a detergent for delicate clothes.
You can also machine wash, in delicate/soft mode, with a special detergent for delicate items, cold or in 1 program with water less than 30 °. Important: keep your garment in a cloth bag before introducing it into the washing machine, in this way you will prevent it from becoming deformed or getting caught.
Do not use the dryer, if you do your garment will become part of the wardrobe background of Barbie.
Always put them on a surface, never hang your garment on a hanger or with tweezers, it would deform the cloth to unsuspected levels due to its weight.
Do not iron your garment, that removes fluffiness to the wool and the charm of the hand-woven garments disappears.
As a result of verifying that following these guidelines, caring for and washing hand-woven garments is not traumatic, nor will it give you more work than usual, just follow this recommendations and make your wool clothes last longer. There is no fear, neither to big projects (like our blanket), nor to the little ones, everyone is taken care of equally.
It is very rewarding to weave whether it is a quick project (perfect for impatient weavers) or a longer project, remember that once you finish it, it is important to keep it clean, it is the best way to combat the cold that is to come. Some wool pieces can  also becomes an object of decoration, making your living room or your bedroom a different, unique place, like you.
Well, you'll miss what we say, but we'll say it: you should not wash wool clothes so often. When the garment has a little dust or a spot, it is advisable to wipe the surface with a damp cloth. Of course, you decide when to wash clothes, but if you notice that it is not necessary to subject all the garment to washing, do not do it.
In case of removing stains on wool clothing, the ideal is to do so as soon as they occur, to prevent them from settling on the fabric. In case of difficult stains, it is probably best to take them to the laundry, since with one of their methods they can help to overcome the incident without damaging the garment.
Something else: if you go down the street with your bag of wool and a downpour falls that you could not get ready, then do not go to put it directly in the washing machine. Stop! It is best to put it to dry outdoors when it stops raining.
Other care for wool garments
Avoid, as it happens, the cleaning of knitted garments with hot water and be much more careful to twist the garments: knitted fabrics are very sensitive to these two things.
To wash knitted clothes use mild detergents and be sure to remove them well from the garment. Avoid hanging the wool garment from a clothes hook, because of the weight of the wet wool the fabric may give way and end up taking a shape that does not correspond at all with the original.
And finally, never, under any circumstances, put a piece of wool in the dryer, since the combination of heat and pressure can be a real disaster.
Machine-washing your wool clothes
If the label allows cleaning in the washing machine, always use a specific cycle for delicate garments -normally it will be the short cycle-. Do not use powdered detergents or fabric softeners (let alone bleach!), The softer the detergent is, the better. Once finished, look at the steps to dry it and save it in this same article, below.
Immerse it in detergent:
If you have doubts because there is no label or the same indicates hand washing, always use warm water and pour specific detergent for delicate items (that will suffice, forget about fabric softeners) and move the water so that it is well diluted and there are no gobs. You do not need to rub or twist the garment, simply immerse it for 30 minutes, do not leave it anymore or it could be damaged.
Make its colours lighter:
Once that half hour has passed, remove the garment, empty the tub and refill it with warm water again. Submerge the garment again with great care to proceed with rinsing. Do not twist the garment at any time, treat it with great delicacy, squeeze it with open hands against the bottom of the container to make it clear.
Plan it even more carefully:
To iron the garment do not squeeze the iron on it, steam it and with the heat emitted will dry. Anyway, keep in mind that excessive heat does not suit you.
Keep it in your closet:
No matter how pretty the knitwear in your closet hangs on hangers, they will hold their shape longer if you fold them well. If you do not have space to place them, hang them folded in the bottom space of a wooden hanger.
Here at Yarns on Collie you'll find second to none wool that absorbs and releases moisture to cool or warm the body.