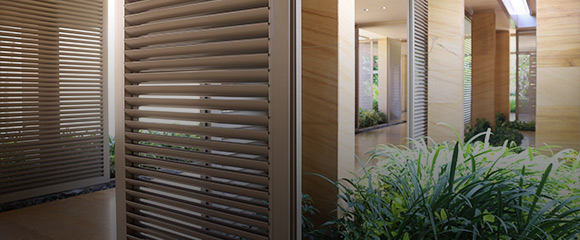 Today we are going to give a review of the diverse types and models of blinds for exteriors of homes, offices or commercial premises. We will see varied materials, some need less maintenance than others but will depend on the functionality that is pursued in each case as well as the aesthetics of the building. As a general rule, materials such as aluminium will be better in buildings with more urban, avant-garde and modern aesthetics, and other materials such as wood will look great in buildings with a more traditional or rustic aesthetic.
Now let's see the options you will find in the market. And remember that you can contact us today and acquire external venetian blinds of premium quality at a very competitive price
Aluminium external blinds
You can find this model of external aluminium blinds in many different brands. It has built-in automatic anti-theft insurance and allows optimal ventilation and vision. Made with extruded aluminium slats, it is a perfect option for premises or for doors and windows of houses that communicate to the street, patios, etc.
External stainless-steel blinds
This other model is usually provided by the same manufacturers of the previous one, it is an external roller shutter made of stainless steel whose design allows it to be adapted to any type of modern and modern architecture. It has self-cleaning properties and has a great resistance to wind.
External wooden blinds
This model is specially designed for the exterior, that's why its wood is specially treated to resist external agents. You will find it available in various colours and ecological varnishes. They are made according to your house's measures, so you will not have any problem to adapt it to your needs.
PVC external blinds
This is one of the most common types of exterior window blinds and windows. Its main advantages are that they are cheap external blinds, resistant and easy to clean and maintain. In this company you will find everything you need in terms of aluminium and PVC carpentry: windows, lattices, enclosures, screens, etc.
External roller blinds
This roller blinds are perfect for wet environments and for renovations in any building, since its installation is very simple and can be adapted to the previous exterior or interior drawer blind without work.
External tilting blinds
For residential areas, community, garage doors or large doors in general this is an excellent option that can be combined with
Electric external blinds
Electric external blinds are made of the highest quality steel. In addition to saving energy, they provide us with maximum light control, acoustic insulation and additional security to our home. The interior of its sheets is made of polyurethane to provide greater thermal insulation and durability. They are perfect for roof windows and other places of difficult access, especially in areas with a harsh winter.
External security blinds
This security blind incorporates a chain in the guides that allows it to be partially opened when it is closed. It allows the incorporation of one to four vents. Here you have more anti-theft blinds that will provide you with the security and protection you need.
Thermal external blinds
With this external thermal shutter with polyurethane filled slats you will achieve optimal thermal insulation throughout the building. This manufacturer offers maximum measures of 300 cm wide and 260 cm high.
External fabric or canvas blinds
A good system of exterior solar protection, in addition to privacy in your home, will allow you to save on the consumption of air conditioners and, without a doubt, you will make your home a more comfortable stay. In this company you will find all kinds of awnings and fabric blinds for your home.
External venetian blinds and why are they the most
An external Venetian blind is made of varnished aluminium slats for resistance and easy cleaning. You have it available in a wide assortment of colours and are fully adjustable. They can be combined very well for the exterior part of an office and for exterior windows of houses.
It will depend on each particular need the choice of one material or another and, as we will see, there are multiple options. This type of blinds has traditionally been used for offices, but they are increasingly used in homes and businesses. They are very practical, they allow to control the light coming in from the outside and it is easy to find a model that adapts to each style of decoration. In the next sections we leave you a summary of the different models.
Venetian blinds made of wood
They are made to measure, so depending on the size it is convenient or not to incorporate motor or crank drive. You have several wood finishes available.
Venetian sliding blinds
Venetian sliding blinds are very comfortable for places of much passage or for small spaces. These venetian blinds fit perfectly to your garden doors, porches or sliding windows.
External Venetian blinds
This model has a special profile that provides great stability and wind resistance. It is perfect for tall buildings or for very windy areas.
Venetian roller blinds
This adjustable Venetian blind is made of materials that make it suitable for very humid areas, since its slats and accessories are made of stainless steel. These custom Venetian blinds have a reduced diameter that allows them to adapt to any of the drawers of blinds that you have at home.
Venetian folding blinds
You can also find venetian folding blinds with materials of high quality. Its galvanised profiles and its careful manufacturing process make its products very robust and resistant to corrosion. They manufacture for different construction systems: folding, sliding, etc.
Changing your blinds to these new external venetian blinds is an excellent option to improve decoration and comfort in your house or apartment. With our outdoor blinds from External Venetian Blinds you can forget about mites and accumulated dust that usually attracts them. Contact us today for more information.