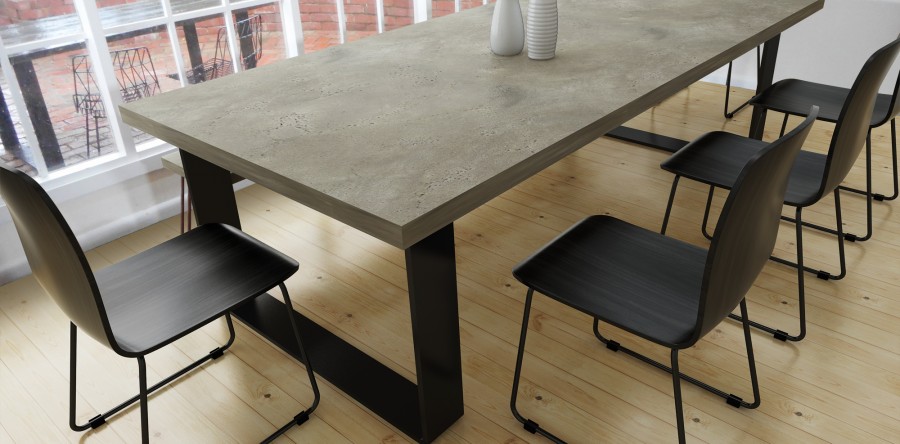 The modest timber dining table. A classic favourite, a way to bring people together and create happy memories. Some may even say that timber dining tables are a product of specific creative art, shaping a piece of timber, no matter the size into a masterpiece. I like to think of dining tables as a piece of furniture that not only adds practicality and functionality into a room, but also something that carries a form of personality as well as carrying yours. If we look past the dinner plates, cutlery, glasses, and delectable food sitting atop the often overlooked dining table lies something greater. We often overlook the small things, we often don't give appreciation to the things that deserve it the most, and that includes the natural beauty of timber. Much like a Zebra's stripes, a Cheetah's spots, or the fingerprints on our hands, the structure of each piece of timber is unique and can never be the same as another. Each vein, trail, gum pocket, or delicate ring boldly states it's unique composition, how it lived, how it once made its stance in nature. Each piece of timber tells its own story, a story that can be a welcomed addition to the stories and conversation happening around the dining table, a story we should all listen to. Strong, solid, and reliable, the timber dining table brings just that to the room. A sense of solidarity and unity accompanied with the style given to it by its creators. No matter which shape, size, or type of timber, each dining table delivers remarkable presence into any room.
When it comes to style and adding flare to your room, timber dining tables can be the perfect accessory to fit the decor of your living space, whether it be indoors or outdoors. And the best part? Timber dining tables are highly versatile, meaning they can take on modern and traditional decors effortlessly. I like to think of them as the superhero of the room. The star of any space. A classic and regal touch or a sleek and sophisticated look that will be admired and envied by many. I want to share a story with you (there is something in it for you if you read on, I promise). Last Sunday, received the keys to my first home. I had always wanted a double story home, one with those large columns on either side of the front door with some pretty plants planted along the footpath, and bingo! I had found the perfect place. I was so excited that I went to buy some furniture right away, even the things I didn't need like oversized ornaments, lamps, vases (I have no flowers as of yet), and my all time favourite, rugs (yes, I am a self-confessed shopaholic when it comes to home ware- and a few other things!) I was walking down the street with a handful of shopping bags, got into my car and started the drive home. In the frustrating bumper to bumper traffic, I found myself looking at a tree stump right near a construction site. It was like an ancient form of beauty that had been preserved for hundreds of years, something that was strangely captivating, something that had that all important story to tell.
Then it hit me, I needed timber furniture! But not just any timber furniture, something with character, something that would enhance the beauty of my home, something that suited my personality. I frantically started to search the Internet looking for the perfect addition to my new home, where I could make fond memories with the people who I loved the most. Eating, drinking, laughing, chit-chat, right at the dining table. I had to find it. Personally, I've always loved many different tones and types of timber, especially on dining tables as it creates a totally different style to any room. Clicking through countless styles, tones, and shapes of timber furniture, I still could not find what I was looking for. Something sleek, yet complex. Something simple, yet had that all important story to tell. A lot of contradictions, I know. But I had mentioned that timber carried a form of personality, and that table happened to carry mine. was something that I had finally stumbled across the perfect timber dining table, something that screamed "buy me! I belong in your dining room!" I could hear it calling my name. I could picture inviting all my loved ones for a quiet evening spent at my new home, enjoying roast chicken with a side of potatoes and seasonal vegetables (I am quite the chef, mind you) around my prized timber dining table.
It was perfect, it was called the "King Dining Table" but it sure made me feel like the queen of my castle. My personal recommendation? Drop what you are doing (after you finish reading this, of course!) and visit lumberfurniture.com.au They have an amazing range of timber furniture that will be sure to impress you as much as me. See, I told you that there would be something in it for you. Thank me later. I was truly impressed with the unique designs and original craftsmanship that blew every other timber dining table out of the water. Hands down, no question about it. Lumber Furniture had exactly what I was looking for; treating timber with the love and respect it deserved to keep its personality going strong, a functioning member of my new home, a long awaited addition, a great conversation starter. I could not wait for my King Dining Table to arrive. I did not even consider covering it with a pretty tablecloth like I usually did in my old house, the timber was the stand alone feature in my dining room. Gathering attention and compliments at lightning speed, it was a sure hit for my guests at my house warming party. Spacious, elegant, and simple, my timber dining table was just what I had been looking for to compliment my modern taste. I chose to welcome a piece of nature into my own home, a breath of refreshing air, a form of strength that preserved its unique story; I had finally found it.