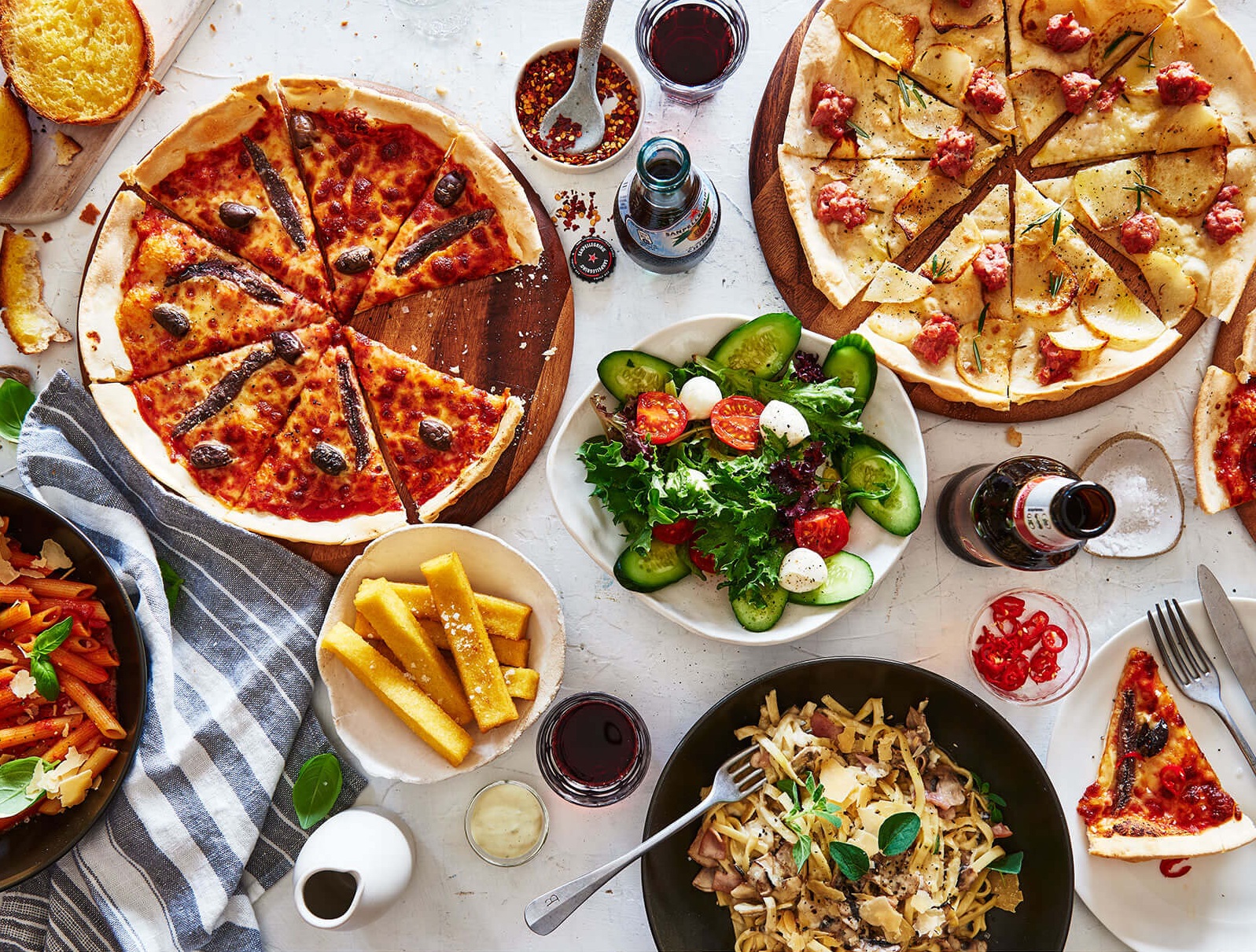 If there is something that characterizes recurring internet users, they are polarized opinions. In this sense, in the face of any debate, there seem to be only two possible options: you love it or hate it. There are many examples of this, Comic Sans typography, cats, movies, artists, among others. Today we bring you the story of one of the types of pizza that awakens the most passions among people: Hawaiian pizza.
While it is not uncommon to find pizza lovers, pineapple pizza is the type of pizza that awakens the most intense passions between diners who hate it and those who love it. Let's see its origin. And bear in mind that you can eat a delicious pizza here at Romeo's Woodfired Pizza and enjoy an excellent meal any day of the week.
This is the story of Hawaiian pizza
Sam Panopoulos is the father of Hawaiian pizza.
As we well know, Hawaiian pizza is a pizza consisting of a base of melted cheese and tomato that is seasoned with pineapple and ham. However, it is not uncommon to find variants of this pizza, in which bacon, mushrooms, onions and even cherries are added. Despite its name, as we will see later, pineapple pizza does not have a Hawaiian origin.
As a curious fact, the origin of the name of Hawaiian pizza, has nothing to do with the famous island of the Pacific Ocean. Actually, it is called Hawaiian pizza in reference to the brand of canned pineapples that was originally used to create this type of pizza.
A first history of this type of pizza, we can find it in a curious dish, quite similar, devised by a German television cook, named Clemens Wilmenrod. By 1950, Wilmenrod, created a dish consisting of a slice of bread, dipped in ketchup and accompanied by pineapple chunks, as well as ham. This dish was called Hawaii-Toast. However, this is not the true story of the origin of Hawaiian pizza.
Actually, Hawaiian pizza was invented about 57 years ago, by the hand of a man named Sam Panopoulos. That magical day, more than fifty years ago, Panopoulos made a decision that would revolutionize the world of pizza forever: he took a can of pineapple and threw the pieces of this fruit on a pizza; But let's go further back in history.
That's how pineapple came to pizza
Hawaiian pizza is about 57 years old.
The history of pineapple pizza began long before the year of 1962, when Panopoulos decided to emigrate from his native Greece to Canada in 1954. In the middle of his journey, the chef tried for the first bite of pizza; nothing more and nothing less than in the birthplace of pizza: Naples, Italy.
Later, when Panopoulos arrived in Canada, he opened a restaurant in Chatham, a Canadian city located near Detroit, Michigan. This restaurant, called Satellite, offered classic food menus in the beginning, selling hamburgers, pancakes, among others.
In this sense, the restaurant was dedicated to everything but pizza, since it was considered an exotic meal in Canada, despite its great popularity in Detroit. Thus, the restaurant Satellite, owned by Panopoulos, spent his days offering classic food, until the owner decided to get creative.
In this way, he began adding specialties to the menu, such as Chinese food and pizza. By that time, with the return of South Pacific troops, after serving in World War II, soldiers brought gastronomic influences from China to the United States, which represents a great inspiration for Panopoulos.
Panopoulos's goal was to create the perfect mix between sweet and savory flavours, which resulted in the inclusion of pineapple in a pizza.
Love or hate Hawaiian pizza
Hawaiian pizza has almost the same number of detractors as fans.
While Hawaiian pizza likes a lot of people today, at first, this type of pizza did not have the best receptivity. However, this did not last long, because as time went by, the Canadians ended up going crazy over Hawaiian pizza.
The secret was, precisely, in the novel mix between the salty and the sweet that, at the time, seemed crazy, because people were accustomed to simpler dishes.
Later, Panapoulos further improved the recipe by adding ham to the mix. Thus, little by little this type of pizza began to gain more and more fans, conquering Canada, the United States and most of the countries of the planet.
In this sense, as pizza franchises were consolidated at the end of the 20th century, Hawaiian pizza became popular until it became an essential menu item of any pizza restaurant that is respected. However, as fans won, Hawaiian pizza also won a negligible amount of death detractors.
Why hate towards Hawaiian pizza?
The most representative of Hawaiian pizza is Gudni Thorlacius Johannesson, president of Iceland.
Despite the great popularity that Hawaiian pizza has gained over the years, there are few people who feel a great disregard for this dish. In fact, Thrillist, a famous website that brings together online media about food, drink, travel and entertainment, ranked pineapple pizza as the worst type of pizza that could exist.
Additionally, there are millions of memes against Hawaiian pizza that can be found on any website. Perhaps, the strongest detractor against this type of pizza is Gudni Thorlacius Johannesson, nothing more and nothing less than the president of Iceland.
In this regard, in 2017, Johannesson said, jokingly, that pineapple pizza should be banned and illegal, becoming the face of all those who passionately hate Hawaiian pizza.
Most of the arguments that underlie this hatred revolve around the sacrilege of adding a tropical fruit such as pineapple to a typical Italian dish such as pizza. In this sense, it is alleged that adding pineapple to pizza is a sacrilege towards the Italian origin of the dish.
Beyond all this, there is no doubt that Hawaiian pizza is here to stay. Therefore, there is nothing left but to celebrate this incredible dish of Greco-Canadian origins, inspired by Chinese-American, Italian and oceanic cuisines.
Eat a delicious and healthy pizza here at Romeo's Woodfired Pizza and enjoy an excellent meal any day of the week with gourmet specialised people prepared to cook delicious pizzas with an unmatched flavour.