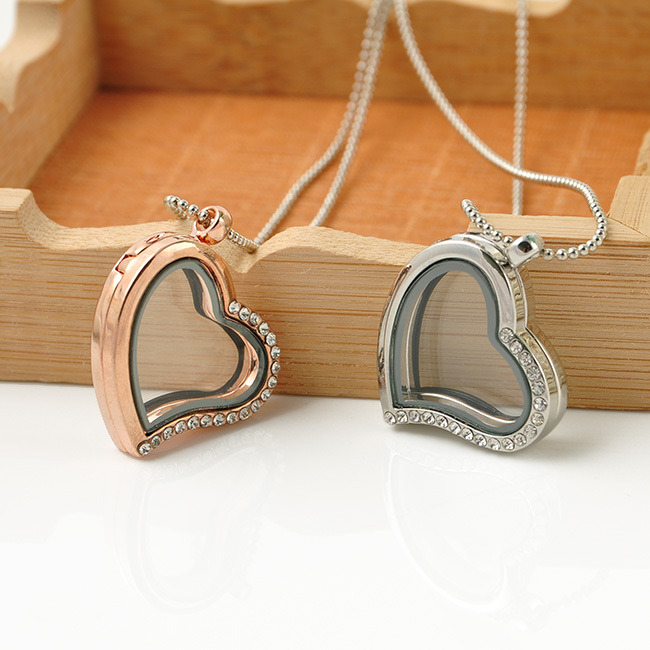 When choosing and buying a diamond pendant, it is not only important to choose the most exquisite pendant, it is also important to carefully choose a chain that really fits well with the diamond pendant.
The chains used in jewellery are used exclusively to decorate the body, for aesthetic purposes. You can wear jewellery chains around the wrists, the neck, the ankles and also the waist.
The use of chains as an ornament goes back to the stone age, where shells, bones and stones are used to make necklaces and chains for the body. Little by little, with the appearance of metals such as gold, silver or copper, they began to use chains in jewellery, along with precious stones.
You can see beautiful examples of chains of the Ancient Egyptians, clearly the elite knew how to distinguish themselves by the use of elaborate chains and jewels, and thought that they would be taken with them to the other life when they were buried directly with their treasures.
Here at Love Lockets we understand the importance of flashy accessories that are able to highly the best details of your outfit.
What are chains usually made of?
Jewellery chains are commonly made of precious metals such as gold and silver due to their optimal characteristics. They maintain their shape and strength, they are not very reactive, unless there is nickel in the silver, they are usually free of allergies. In addition, both gold and silver are easy to clean and maintain. Of course, other metals are used today, such as palladium, titanium, steel and platinum, but some of them require a different craftsmanship, since they can be more difficult to manipulate and shape.
Different chain styles
If you are looking to buy a solitaire diamond pendant, then it is better to buy a thin chain of links, it is uniform and discreet.
If you are buying a chain that only serves as a necklace or bracelet, then maybe you could opt for a string type Solomonic string that looks like two torsion bands or maybe the chain of snakes that is very bright and decorative.
There are actually a lot of chains to choose from, all named according to the pattern style, or for example, the diamond chain that is polished in a particular way that makes it very bright, or the model consisting of small metal balls or even the chain that is popular since it is a continuity of alternating round links.
How to wear Necklaces and Earrings properly
Normally we have several of these accessories in our possession but sometimes we do not know how to wear them, an easy way to locate is to put several together and observe the one that stands out from the others according to the look we want.
The collars, provided they maintain harmony, can be worn at any time and give an elegant touch, a rule that we must take into account is that the accessories draw attention to the part that we carry, so if we have defects that we do not want. Look, we should avoid wearing them.
There are necklaces of all sizes and shapes, but not all are for all, we must know is that there are necklaces and designs that are for specific uses, and also for each figure, always having to think about the neck and the type of neckline that we will wear, for it the best thing is to look at ourselves in the mirror.
The chokers are also an excellent accessory to complement the look, if you have a pint with the neck clear is the ideal accessory, you can also wear it with collected hairstyles.
The earrings are the ideal accessory to balance the shape of the face, with the right hairstyle, the rule is that the most favourable shape is the opposite of the face.
The selection of the earrings depends on the shape of the face, not the fashion, there are striking, discreet, large and sizes that make them look subtle.
The earrings of all kinds look very good in those with an oval face, otherwise we must wear those that look good with our characteristics.
Another rule that must be taken into account is that the size of the earrings should be in accordance with the height, for tall people are recommended large earrings, those of small stature look good with short earrings and small.
In short, the important thing is to wear these accessories in a harmonious way, remember that in these cases less is more, if you are going to give more prominence to your necklace try to wear small earrings and if on the contrary you are going to wear large earrings wear a necklace small if necessary.
Tips to choose the right necklace
They have always been fashionable. Necklaces are one of those classic accessories that every woman must wear on many occasions. They help complement a look and at the same time enhance feminine beauty.
Now, you have to know how to wear it and above all combine it well with the different clothes we wear. Wearing a necklace is an art, it can magnify our appearance or ruin it.
When choosing a necklace, you must take into account that it is a complement that emits a great visual force. Therefore, if you have a lot of breast and want to hide it, it is best to opt for a choker and avoid a necklace too big or "Y" shaped. If, on the other hand, you want to enhance your bust, choose more striking necklaces. Those that are lower do not opt ​​for too long necklaces, since they will shorten their silhouette.
Wear the one that suits you according to your neck
Women who have high and long necks fit short and tight. By having a stylised neck, they can also afford to wear long necklaces, giving them, several turns.
On the other hand, those women with a shorter neck should use long chains to stylise the neckline. In addition, they can choose long necklaces, since the longer the necklace, the more stylised the area will look.
Here at Love Lockets we love providing elegant charms, chains and necklaces at the most accessible prices.