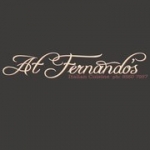 Congratulations! You're now engaged and getting married! There are so many emotions you may be feeling. Over the moon, ecstatic, and maybe even overwhelmed when you realise you have to start planning for your big day! There are so many things to think about and organise and one of the most important decisions is where you want to get married. Depending on the size of your guest list, you may want to have a massive celebration or on the other side of the spectrum, have a small intimate wedding for your close family and friends.
Weddings are not always about having extravagant celebrations with a long guest list. Sometimes is nice to keep things simple and elegant, gathering your nearest and dearest to witness and celebrate such a special occasion.
At Fernando's is the perfect place if you're looking for an affordable yet beautiful and unique venue to host your Sydney wedding reception. Unlike large wedding reception venues, At Fernando's offers an intimate ambience and a relaxed environment. No need to worry about hosting and catering your reception when the lovely staff will tailor their services to your specific needs.
With stunning heavy décor, this Leichhardt-based, Tuscan-themed eatery will make you feel that you could be in Europe. Celebrate your wedding with less stress and more fun! With simple, yet delicious meals, At Fernando's covers a wide range of appetites. Also, don't forget about the vino! Offered is a delightful wine list to compliment your Italian feast.
Indulge in impeccable food and wine and gorgeous décor surrounded by the people you love on your wedding day. Your special day should be something you will remember forever and the venue you choose is one of the most important wedding planning decisions!