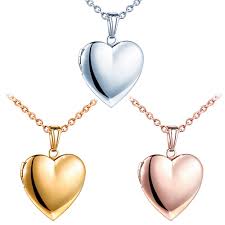 Whether symbolically, as an adornment for the body or as an amulet, since ancient times jewellery has been present in our lives and always will be, thanks to the combination of organic materials, metals and precious or semi-precious stones, with which they charge life the most beautiful jewels. Remember that here at Love Lockets you will find a handful of different options when it comes to accessories.
But, considering that our relationship with jewellery promises to be eternal, it is normal to ask ourselves: how much do we know about it? Discover below some curiosities about jewellery in the world:
Although it is a material resistant to corrosion, for its hardness of 2.5 on the scale of Mohs, pure gold is very soft and delicate to be used in jewellery. Reason why it is usually mixed or alloyed with other metals such as copper, palladium or silver; to give it greater hardness, wear resistance or change its colour.
Considered as the ultimate symbol of sporting excellence, the gold medals that Olympic athletes receive are not entirely made of gold. According to the rules established by the International Olympic Committee (IOC), they contain a minimum of 92.5% silver, 6 grams of gold and the rest of other metals. Although it was not always so, since in the Olympic games of Stockholm in 1912, the last pure gold medals would be granted.
As a way to honour our loved ones and always take them with us, the Swiss company "Algordanza" has developed a process by which we can convert the ashes of our loved ones and even pets, into real diamonds that can be set in a ring or necklace. Being currently a very popular practice in Europe and the United States.
Although the engagement ring has its origins in ancient Rome, the world's favourite engagement ring since 1886 is the Tiffany ring. Its main characteristic is the elevation of the diamond above the ring by means of six nails, thus allowing a greater illumination of the precious stone. The person responsible for introducing this design was Charles Lewis Tiffany.
The custom of wearing earrings comes from the Egyptians, who came to use them as protection to ward off evil spirits, which according to them could enter the body from the ears or nose.
The most expensive crown in the world for a beauty contest belongs to miss Russia, this particular jewel created in 2010 by the jewellery house Teatr Yuvelirny, is made in 18 carat gold and is finely decorated with 2358 diamonds in total 62 carats, in addition to 14 magnificent pearls, among which stands out one of 19 mm. Although its price has not been made official, the experts have estimated its value at one million euros.
These curiosities are only a small part of what exists and that some people do not know, of a world as big and fascinating as that of jewellery, and although it is difficult to assure that we need to know about it, what we can say is that will never cease to amaze us.
Types of Collars: Choose the One That Feels Better
One of the accessories, which has caused more furore since the history of mankind, both in men and women, has been the necklaces and although, this type of accessory does not distinguish between sexes, it is very well known that women are ideal for wear this type of garment. Likewise, many will wonder, what kind of necklace is the ideal, since, currently you can find all kinds of necklaces, ranging from short necklaces, to those where you need to give more than one round around the neck, also You can find those that are made with beautiful precious stones like diamond and we can even find more affordable options in the market, economically speaking, but just as beautiful.
The necklace is known to be an instrument that helps to highlight the beauty of the neck of the woman, but choosing the perfect necklace is not so easy, since, to make the perfect combination of clothes and accessories is a problem that attacks the girls daily , taking into account, of course, the fashion that is prevailing at that time and this is not all, the physiognomy, the length of the neck, the shape of the face and even the haircut, are factors that influence the time of choosing a suitable necklace.
Some of the variety of necklaces that can be found now, will be mentioned below and, moreover, the characteristics of each necklace and its quality are mentioned
Types of Necklaces: Choker
This type of collar is currently the smallest diameter that can be found in the market. Its length goes from 30 centimetres to 33 centimetres, thus having almost the exact measurement of the neck for this accessory to surround it perfectly. The use of the choker dates back to the Middle Ages and the Victorian era, when people of high birth and all important figures used these garments at meetings and important dances. Currently, this piece is still part of every girl's jeweller, as this type of necklace helps increase the attractiveness and beauty of the neck, apart from offering a touch of elegance to the person. It is recommended to use this type of necklaces with dark coloured dresses, preferably strapless and that expose the shoulders. Experts recommend that there be at least a distance of 1 cm between your neck and collar, to avoid a possible risk of suffocation.
Types of necklaces: Princess
This necklace is a little longer than the choker, having a length of 43 centimetres to 48 centimetres. This necklace is used in formal parties, because, this necklace brings a lot of elegance, especially if it is a pearl necklace. In turn, it gives the woman a slender appearance, giving her a figure with more curves visually and that is why it is recommended to those girls who have a slightly large mass, not to use them since it will make them look fatter and large, although this can be solved a bit, using a princess-type necklace with large pearls to counteract a bit the volume effect offered by the necklace. It should also be noted that it makes the neck seem longer, and therefore it is recommended in the same way to those girls of medium and short stature.
Types of necklaces: Matiné
This necklace has an approximate length of 50 centimetres to 60 centimetres and is a type of necklace perfect for all those girls who do not want to exaggerate with their image or for those who like simplicity, since, it can be worn daily and even It can also be used for special occasions. Fashion experts recommend that when combining this accessory with any other garment, that the two garments do not touch each other, and that they are far apart at a distance of 3 centimetres, because if they were touched they could simply ruin the look of the girl. This necklace can be used with any type of charm and even some object that has an emotional value because, this necklace helps to create confidence to all those girls who have problems of self-esteem and that increases the security of all those who wear it.
Here at Love Lockets you can find some especial accessories for that unique occasion, they will completely change your look and make your neck area look beautiful at any given time.