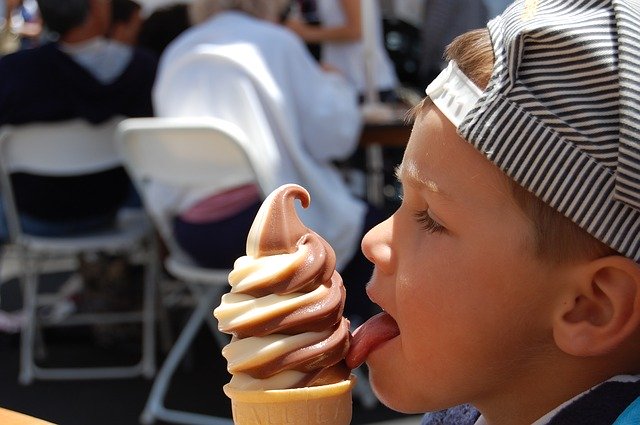 Ice Cream Soft or Soft Ice Cream, also known as Soft serve or Soft cream, is a type of ice cream with a lighter texture than normal ice creams, and is served at a higher temperature, making it easier to appreciate its flavor and creamy texture when taste it. Since the temperature is not as cold as in traditional ice creams, it is not necessary to add as much sugar to perceive its sweet taste.
In addition, soft ice cream is an ice cream with less fat, it can have between 7 and 12% less fat than normal ice cream, so its energy intake is reduced by both the lower amount of sugars and fats. To this we must add that its form of service makes this refreshing sweet, a fairly airy ice cream, but you cannot generalize about the percentage of fats, sugars or air that is introduced into soft ice cream, each manufacturer has its formulas.
We discovered soft ice cream not so many years ago, perhaps international fast food chains were the ones who introduced it to our market, as we know, this type of ice cream began to be marketed in 1938. The authorship of the Dairy Queen company is awarded the authorship, a chain of fast food restaurants that already in 1940 began to grow with the franchise system.
It tells the story of this company that is located in more than 20 countries, that Dairy Queen arose from a single product, and from a small store in Illinois, of the new semi-frozen dairy dessert that they created and that thanks to it, an industry has been formed of fast food restaurant service.
Surely most of us have had a soft ice cream on more than one occasion
Offered in our country even by one of the most popular ice cream brands, the truth is that they have been successful, perhaps you can point the same as us, to the children love them. This ice cream is served with a dispensing machine, achieving with it (among other things, such as the smoothie) a very striking presentation, whether in a glass, tub or cone.
It usually ends with some caramelized nuts, chocolate balls, fresh fruits, syrup or caramel syrups, chocolate, strawberry … all this enriches an ice cream that, although it is found in different flavors, the most common is cream, followed by soft vanilla ice cream, chocolate, stracciatella, strawberry…. In some countries there is more variety of this ice cream, from the coffee soft cream, to the sesame, to tea … it seems that in Asian countries many flavors work with this semi-frozen dessert.
They say that you cannot make this ice cream at home if you do not have the soft ice cream dispenser (there are some for domestic use), but surely, we can try to get closer to its characteristics. You can rent one of our soft serve machines to offer excellent soft serve ice creams in your party or special event.
Ice cream, gelato, sorbets … They are desserts that have always had a lot of outlet and in their different versions have been selling very well. The most classic flavors such as vanilla, ice brown, American cream will never go out of style, but business models are emerging today that transform ice cream into its shape and flavor.
Latest trends in the soft serve ice cream world
Below we will talk about two ice cream business models that grow every year
Ice cream roll
This type of ice cream was invented in Thailand and is made by hand on the spot. The ice cream roll or ice cream roll, is formed instantly with the help of a cold table and a spatula. Add a base or mix of ice cream and also additives or toppings that the customer wants to add. You can make ice cream roll of anything, we've seen croisant, energy drinks, oreo cookies.
ECO + TREND = WIN.
There are franchises that offer the opportunity to join these trends, but if you want to start a business of this type freely, it can be done if you take into account some things:
Market study: study the market to find out where there is a good turnover of passing people and there is not excessive competition. Remember that ice cream is sold on impulse, therefore, the more people pass in front of your store, the more ice cream you will sell. Now, don't put your ice cream parlor where people go to the gym. Tourist cities are the best option. It is clear that ice cream will always have competition in any city, but try to ensure that there is no ice cream of your specialty or that there is minimal competition. Find a location on the chosen site and start with the leasing and adaptation procedures.
Build a brand: Look for an attractive name that reminds us of the product we offer. It is time to look for a logo and the entire image of the company. If you have a good product, the image can take you to the highest levels in the market.
Get good suppliers: a good product is obtained with good raw materials. In the ice cream world, there is no more secret; consider quality as something sacred. Let's not underestimate people, leaving our customers with a good taste must be our religion, after all, people do not eat logos.
Conclusions
New trends are something that we can take advantage of and with ice cream it is very interesting, but we must maintain quality because it is the only way that a business is sustainable over time. With our tips we can start to start an ice cream business, but remember that Snow Flow is here to help you with your ice cream projects, if you need a soft serve machine or any other type of equipment you need for your party. Call us without obligation and we can advise you on your planning process.