Running or jogging can be a great way to build upon your current fitness levels, whether you are a fitness guru or a newbie to the running game. As many of the fitness experts and other health professionals have endlessly mentioned, running or jogging is a component of cardiovascular exercise which can greatly benefit general well-being, increase lung and heart capacity and promote the building of a stronger body in general. At Joggers World, we are dedicated to bringing only the best quality running gear for our valuable clients, placing an emphasis on finding the appropriate gear for your needs, especially running shoe gear in order to get the most out of your workout whilst preventing and reducing the likelihood of serious injury. So what are some of the practical benefits of running and joggers?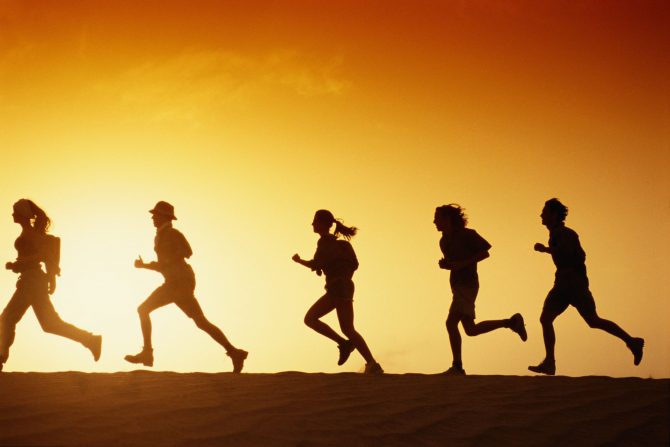 1. The world is your oyster.
One of the best things about running and joggers is that you can practically do it anywhere. Changing up your scenery in the outdoors or even beating your personal best at the gym, running is one of the most practical cardio workouts you can complete without needing expensive equipment or hiring out a venue for a session to take place. You might even discover some new places during your run whilst staying active, fit and strong. Win-win? Yes, we think so.
2. Running and jogging can actually keep more money in your bank account.
We just mentioned the fact that you do not need expensive tools and equipment, which also means you don't necessarily need to have a costly gym membership either. Besides, it can be a good chance to go outdoors and workout if you have been confined to four walls all day. Effective and free of charge? We don't see a lot of that these days.
3. It can be a great way to socialise with friends and even meet new people.
Instead of the traditional coffee and dinner catch ups we have with friends, family or even dates, running with someone you know can actually be really enjoyable and motivational. Much like a personal trainer, if someone is there with you during your workout, chances are you are going to get more support, thus run longer and harder which can then result in creating a new personal best. Running and jogging is also a great way to meet new people, especially if you go to local running events, competitions and join other groups that involve both running and jogging. What are you waiting for? Lace up your footwear, it's time to get your social on!
When taking into account the health and other practical benefits that running and jogging can offer to you, it really is apparent why it has remained to be one of the cornerstone workouts in anyone's routine. Ensure you have the right footwear for your running or jogging needs at the best prices when you visit https://www.joggersworld.com.au/ today, along with apparel and other workout gear that will compliment your fitness.