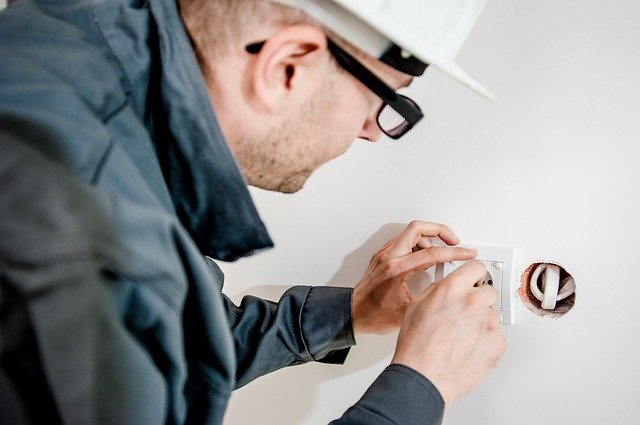 The risks in electrical installations can be divided into two types: The discharge through human beings and the production of a fire or explosion. Here at Westwire Electrics we provide second to none services and products required for excellent electric system installations.  
The danger of a discharge of electricity through human 
If the uninsulated individual touches one of the poles of a conductor, the electricity will discharge to earth through his body. On the other hand, if the contact is made simultaneously with the two poles of the conductor, the individual's body will serve to close the circuit. 
The magnitude of the damage produced by an electric shock depends on the intensity of the current (amperage), its duration and the path traveled in the subject's body. 
Since at the moment of electric shock the individual becomes part of the circuit, other factors such as its greater or less conductivity must be taken into account, for example, the state of moisture of the skin influences, since if it is wet its resistance to the passage of current decreases, that is, the subject becomes a better conductor. 
The danger of death is greater when the electric current passes through vital organs as it passes through the individual: heart (fibrillation), lungs, nervous system (respiratory arrest). 
The danger of fire or explosion 
It has been found that one of the phenomena that accompanies the passage of current through a conductor is the production of heat (Joule effect), which is greater the greater the resistance of the conductor. 
If this phenomenon occurs in electrical installations of great resistance and size, it leads to the increase in temperature in an area, which is particularly dangerous if it is itself highly flammable materials. Another danger is the production of sparks between two conductors. 
7 safety recommendations in electrical installations 
Power outages can be disastrous for a business if, for example, you use an electrical system to ventilate, cool, or heat buildings that house poultry, piglets, or other temperature-sensitive animals. Keeping the system running involves the intervention of workers, who must find the best conditions to carry out their work. 
The electrical installation is a fundamental element of the company. Make sure it is safe and reliable.

 
Have a competent person install residual differential devices (R

DD

s) in all electrical installations to reduce the risk of a short circuit.

 
Design, install, maintain and repair electrical installations should only be done by qualified electricians. Otherwise, the worker or the user of the installation is at serious risk of electrocution and death.

 
Third party inspections are good practice, and in some countries they are mandatory.

 
Keep the switchboard, plugs and switches clean, dust-free, dry and protected from weather conditions and improper use.

 
Label the switches on the control box so you can easily identify which one needs to be closed to isolate an area or equipment for maintenance or repair. Post your electrician's phone number. Control access to the panel and all electrical installations.

 
If you use an electric generator, keep it in good condition, perform proper maintenance and check that it works properly. Fuel must be stored in a safe place.

 
Electrician protection 
Electrical installations are essential in all types of real estate; Its design, construction and maintenance must adhere to current regulations and standards. Supervising and updating an installation is a guarantee of security, both for the installation technicians and for the users of said installation. 
Workers who manipulate electrical systems must be very aware that if they do not take the necessary care, they can severely risk their lives. So, they must rely on reliable tools, either to maintain an installation or to build it from scratch. Let's start by recognising some basic tools, necessary to safeguard our safety at work: 
The multimeter.

 They measure voltages, currents and ohmic resistance of both alternating and direct current. Gather three tools: the voltmeter, which verifies the electrical potential, the ammeter, which measures electrical current, and the ohmmeter, which measures conduction

 
Flexomet

re

.

 It can be made of wood or insulating material. These materials 

minimi

s

e

 the risk of electric arc and using a metallic one is risky. Voltage detector. It helps to verify that there is no tension in the installation in which we will work. There are some pen-type laptops.

 
Insulated tools.

 They provide protection against electric 

shock;

 they are made with resistant materials to protect the user in case there is contact with electricity. They have a steel base covered with a thick layer of high dielectric level, well adhered to the instrument. In addition, they have another plastic coating that gives the tool a better grip. These tools are subject to various tests: dimensional, impact, dielectric, penetration, adhesion, flame spread and mechanical. It is important not to lose sight of the fact that the dielectric material is the one that prevents the current from making contact with the user, thus the non-clamping parts do not have this protection. They can be pliers, pliers, screwdrivers, etc.

 
Basic personal protective equipment.

 It is necessary to have personal protection elements such as dielectric gloves, helmets, goggles and insulating sole shoes.

 
Pole.

 Helps maintain safety distance between workers and 

energi

s

ed

 lines – suggested distance is 8m

 

voltage up to one kilovolt, plus or minus one meter up to 44 kilovolts and two up to 115.

 
Recommendations to prevent electrical accidents 
Avoid contact with overhead cables. Not only with the body, but also with ladders or scaffolding. Stairs must not be made of metal, and when it is transported, it must be done horizontally. 
Use the correct cables.

 If the wire gauge is too small, it will overheat. 

So,

 we must take care of the size, type and insulation of the cables. Also, it is important not to expose cables with plastic sheathing, as they are vulnerable.

 
Deactivate the electrical circuits

. Before working, and check that there is no energy before starting. In addition, we must put signs or labels on the energy sources to let others know that we are working with the electrical circuit.

 
Do not overfill electrical boxes.

 The size of the box should correspond to the number of cables. If saturated, it is more prone to overheating, shorts and fires.

 
Do not leave connections without electrical boxes.

 That violates the connections because if a spark or heat occurs, it will not be contained and a fire could start in the property.

 
Signpost correctly.

 If the electrical installation is low, medium or high voltage. High voltage is used for the generation and transportation of electrical energy. In alternating current, they are those that are above 33,000 volts; Medium voltage is used to transport energy to low voltage transformer substations or banks, they are above 1,000 and up to 33,000 volts. The low voltage for domestic use is between 50 and 1,000 volts.

 
At Westwire Electrics Pty Ltd you will find state of the art products installed by dedicated crews that have done this hundreds of times before