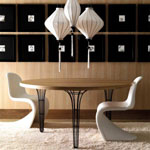 On one hand, we all know that the process of recycling is crucial in today's day and age to help combat the issue of deforestation and climate change. On the other hand, we all want exclusive style that is unique to our living spaces. Both indoor and outdoor areas are in need of furniture, whether you plan on having friends and family over for dinner, or a long awaited barbecue and spending quality time outdoors on those long summer nights we all know and love. Recycling is the planet friendly way to add unique flare to your home or workplace effortlessly, adding a touch of rustic or elegant style; the choice is completely up to you! Recycled timber furniture make great additions as they offer a great deal of functionality while they look great in any room you choose to place it in. Recycled timber furniture can come in many different forms, which adds to its natural beauty. The versatile range of timber has the ability to impress anyone, with the added advantage of being able to choose the perfect type of timber to compliment your decor and enhance the look of your space.
Available in many forms, you choose from a wide range of timber furniture including beds, tables, benches, outdoor decking and many more! The options are endless when you select timber as the new addition to your home or workplace. I have loved the look and feel that timber brings to any environment, usually enabling a sense of welcoming and warmth into the room. It can be bold, subtle, simple, or complex in style all through the favourable process of recycling. The thing I love the most about recycled timber furniture is that the timber continues to exist in many differing forms. It could go from being a timber structure used in a large commercial building before it gets knocked down to a completely transformed structure that could be the next centrepiece of your home. The idea of recycling timber intrigues me, as you are essentially placing a piece of ever-changing furniture into your home, almost like the shape shifter of furniture (artistically brilliant, right?) The many different types of timber add to the versatility of this kind of unique furniture. I have come across several different types, each that boasts its own individuality and unique stance. Some of these include Australian Beech, Sydney Blue Gum, Tasmanian Oak (a personal favourite of mine), Grey Iron Bark, Cypress Pine, Jarrah (another personal favourite of mine), Tallowood and many more spectacular types of timber that can be used as recycled timber furniture.
Many people often buy timber furniture based on its durability, style, and whether or not it serves a specific purpose for any given area. For example, asking questions like will this timber outlast the harsh Australian climate after being left under the scorching heat or harsh rain? This is completely understandable, as these factors are also very important when making a decision regarding which timber furniture is most suited to your needs. However, when looking for timber furniture, it is important to ask yourself some simple yet effective questions to help get your perspective in line. What is the piece of timber furniture I am planning on purchasing? Which type of timber will suit my living or work space? What am I looking to achieve with this piece of furniture? How will this recycled timber furniture enhance the aesthetics of my living or work space? For example the answers to such questions may look something like this: What is the piece of timber furniture I am planning on purchasing? Which type of timber will suit my living or work space? Jarrah. Possibly Tasmanian Oak. Although I do love Sydney Blue Gum too..Hmm the options are endless (just kidding, that may not be your answer unless you are just as indecisive as i am!) What am I looking to achieve with this piece of furniture? Ultimate style and elegance in my living room that will enhance and add a regal touch to my existing furniture and decor. How will this recycled timber furniture enhance the aesthetics of my living or work space? By providing my living room with a unique timber feature that will create a remarkable sense of warmth to my guests. Then, of course, it is just a matter of finding the perfect store that exceeds your expectations when it comes to bringing you innovative recycled timber furniture to compliment your home or work space.
However, I have done some research on behalf of you to save you significant amounts of time. That is, I scoured the Internet for high quality recycled timber furniture stores that ticked all the boxes; style, innovation, price, and functionality when it comes to their timber furniture. After long hours of searching, you can now have the best of both worlds when you select from the range of recycled timber furniture brought to you by Lumber Furniture. Personally, I have not encountered a timber furniture store that supplies the public with such innovative and sleek recycled timber furniture. And believe me, I searched high and low for the perfect timber furniture that did not compromise the environment. Yes, I love to try and keep the world beautiful as well as my home. Lumber Furniture are industry-leaders in recycled timber furniture and are home to some of the most sought after recycled timber including spotted gum, Tasmanian Oak, Blackbutt, and the rare Brush Box when available. And my favourite part? Customisation of selected furniture is also available to suit your needs. You can now shop with confidence and peace of mind knowing you are getting top quality recycled timber furniture from one of Australia's leading timber furniture stores, all while you do your to minimise the impact on the environment. Go green, go for Lumber Furniture for all your recycled timber furniture needs. Transform your outdoor and indoor space with the environmentally friendly choice of furniture. So what are you waiting for? Elevate the level of innovative style in your space today when you select recycled timber furniture to transform your decor.