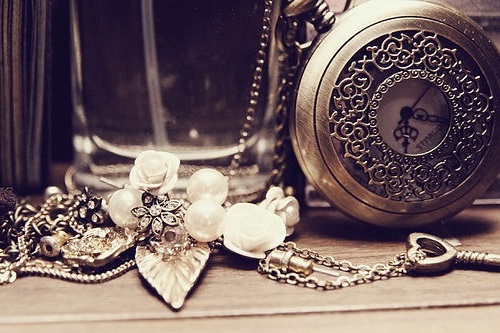 Elegant necklaces are the best and most beautiful accessories to highlight any details of your outfit. The secret to look elegant, sometimes found in a simple accessory but you need to know which one you should wear according to the shape of your face, neck or breasts.
The power of accessories for women is quite remarkable when it comes to its potential to change women's outfit, mood and even their look. Here at Love Lockets you can find some especial accessories for that unique occasion, they will completely change your look.
Types of necklaces according to materials:
Lariat: These are the long necklaces that do not have a brooch. They can be worn with several wraps around the neck like a scarf or show off their full length.
Breastplate: These are necklaces are born in the neck and are prolonged covering some part of the chest, like a bib. Breastplate necklaces can be flexible or rigid.
Gradual necklaces: These are necklaces of a single strand of pearls that grow gradually from the closure to the largest of the pearls found in the front centre part of the necklace.
Twist necklace: Formed by several strands of pearls that are twisted and entangled to generate a unique cord.
Lavalier: These are necklaces with one or more pendants that form a 'Y' design in the front.
Rosary beads: These necklaces are also "Y" shaped necklaces with a single hanging cross.
Tie necklace: It is formed with several unbroken and open pearl threads, which are knotted simulating a textile scarf achieving a surprising effect.
Torque necklace: These are usually of Celtic origin and are worn near the neck. They are made of metal accompanied by pearls or precious stones and come without a brooch. They are also open-ended in the front or in the back.
Maxi-necklace: Large collars composed of several necklaces not necessarily of the same material or style.
To choose the right necklace, you have to think about the physical characteristics of who wears it (face, neck, chest, volume and height of the person).
Size
Beaded and bulky necklaces accentuate the size of the wearer. On the contrary, the flat and without relief collars are the best option for corpulent women.
Length
The length will be determined by:
The shape of the face: If we have a long face we should avoid long necklaces. If, on the other hand, we have a round face, we will use long, V-shaped necklaces.
The shape of the neck: If the neck is long, avoid the necklaces of great length and V-shaped. If on the contrary, the neck is wide and short should not use chokers stuck to the neck or at the base of it, being more advisable the lengths that stylize more the neck.
The shape of the breasts: If we have a much breast we must use the long necklaces and V and placed just between the chest and waist, to reduce the chest. On the other hand, if the chest is not very bulky, we will use medium length necklaces that reach the breast height to provide more volume to the breast.
Types of necklaces
Traditional necklace
30 cm / 14 "
Three or more threads are used for this necklace, which indisputably is identified with the luxurious Victorian style. Fit with a classic dress or contemporary fashion following the trend of the moment.
Chokers
40 cm / 16 "
Chokers are timeless and versatile and are suitable for everything from a sport style, blouse, sweater to an elegant evening dress, complementing the vast majority of necklines. It is an ideal length to give a touch of elegance in daily dress, sensational accompanying shirts with open top button or adjusting to a cocktail neckline.
Princess necklace
50 cm / 20 "
The essential, is the most common length for pearl necklaces, is the most suitable for round and high collars. It also complements very low necklines. It is the perfect support for an earring or pearl accessory. It is an excellent choice if you do not have the certainty that length is the most appropriate.
Matinee necklace
60 cm / 24 "
This necklace is an ideal choice to accompany gala or business dresses. They are enhanced with high necklines and add sophistication to the professional look, providing luxury and confidence in style. It goes very well in wool sets of jersey and jacket. The length of the Matinée is also very suitable fantasy dresses, as well as, long summer dresses or elegant togas.
Opera necklace
80 cm / 31 "
This collar length offers several attractive options. For its length, it can be worn as a simple yarn with high or round necklines or folded into two threads to give rise to a double choker collar with style. This necklace also allows to be knotted below the neckline, giving rise to a vintage style, which gains popularity in current fashion trends. Traditionally, this necklace has been used for evening and evening dresses, giving way nowadays to more casual and informal uses using non-round pearls, and bringing freshness to the fashion style
Coco channel style
> 100 cm /> 36 "
It was Coco Chanel's favourite necklace.
This extraordinary length manages to transmit elegance and sensuality. The collar allows several laps, being usual its use to create choker, double Princess necklaces, or multi-bracelets. The length is so versatile that it allows you to make the tie style with an intermediate knot that recalls the legendary fashion of the 20s. It is easy to find today on the haute couture catwalks, garments accompanied by these necklaces to accentuate the extraordinary character of the collections that are offered.
Sometimes simple things are way more elegant than extravagant options that look so fancy until you put them on. Keep in mind that lipstick and nails are also part of your outfit and always make them look according to the occasion.
Here at Love Lockets you can find some especial accessories for that unique occasion, they will completely change your look.