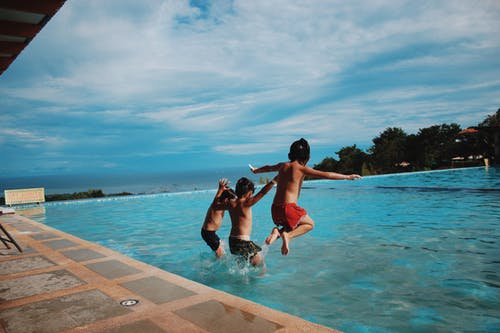 For many, having a pool in the backyard of the house is a dream to fulfil. The amount of activities, relaxation and fun areas that add to the patio of the home is tremendously wide and therefore the pools become so attractive to everyone.
Owning a house with a pool is definitely a blessing, but at the same time there are many disadvantages that you have to deal with when deciding on a home with an area of ​​these characteristics. If you are planning to build a pool in your backyard or buy a house with a pool, here is a list of the pros and cons of having a pool at home.
Remember that if you want to ensure your pool is fulfilling the requirements in terms of safety, here at Pool Certify you'll find fully accredited certifiers.
Pros
It goes without saying that having a pool in the backyard makes our summer the best of summers and that fun and outdoor entertainment reign in our home.
Having a pool in the background allows us to fill the area with green areas and give a tropical touch to our house. Also, the festive atmosphere that generates a party makes that we are constantly making meetings and celebrations given that our home will be the most suitable for large crowds of people and for high doses of enjoyment and fun.
On the other hand, swimming pools have immense benefits for our health because they are closely linked with sports. Swimming is an aerobic activity and a good cardiovascular workout. With a pool in your backyard, we will have no excuse not to play sports and not keep in shape.
Cons
The installation costs of the pools are very high, so we must be sure of being willing to make an investment of such magnitude and to be able to face the consequences.
The maintenance of a pool is a tedious job and requires a lot of effort and dedication. There are certain maintenance tasks that must be done weekly and other monthly and annually. If the maintenance is neglected, the pool can suffer breakages and also develop bacteria and algae problems.
In addition to monetary costs, the theme of swimming pools should be viewed from the perspective of safety. We must be extremely careful with young children in these areas and ensure their safety with bars, perimeter fences to the pool etc. It is important to take these aspects into account given that they are the most relevant in the end.
Taking into account these pros and cons we hope that it is easier to decide whether or not to have a pool. We cannot deny that a swimming pool turns a home into a centre of fun and that, therefore, if we are fit and aware of the responsibilities and care required, placing one in our backyard will be the best decision we can make if What we want is to create a cosy and familiar home.
The definite reasons to have a pool at home
Your garden and more specifically your pool should be synonymous with disconnection space. The rest in your pool will help you to disconnect from the daily stress to which we are subjected. Can you imagine a summer without going on vacation? Well every time you take refuge in your pool it's like enjoying a mini vacation. Although it is not exactly the same, it is a good way to relax and stop time.
Encourages social and family relationships
Make no mistake, who has a private pool one of the main reasons is to enjoy it with family and friends. If you build a pool in your garden, it will become the meeting place to spend long days of sun and disconnection.
Sports practice
Say no to sedentary leisure with a pool, in it you cannot only practice sports, but there are many water games you can do. Practice swimming, aquafitness, volleyball or put a trampoline in your pool. Besides promoting a healthy life will be your best ally to combat the heat.
Enjoy privacy
It is not the same to enjoy a public pool as a private one. Take refuge in your garden and forget the agglomerations, the squeaks, and the dives of others. Your pool will be just for you and yours.
24/365
It's your house and you put the schedules. Enjoy your pool when you get back from work, just when you wake up in the morning or during the night. In addition, there are endless options to cover your pool in winter and can enjoy all year round.
Ideal for children
It cannot be denied, having a pool at home will be the main illusion for the little ones. Always accompanied by an adult, they will have a great time.
Enjoy the weather
We live in a very hot environment, we have very long summers, good weather, and many hours of sun, so having a pool at home will allow you to cool off to fight the heat and make the most of the summer.
Add value to your house
Make the most of your garden by installing a pool, will make your home increase its value. A complete garden is not without a pool. Any reform or domestic investment allows to improve the quality of life, comfort and evidently, increase the economic value of it.
Be happy
Still have not convinced yourself to install a pool at home? You have already seen that there are many reasons and benefits that can give you a pool in your life, and remember, when you are enjoying the pool you can think that it is yours and you can enjoy it any time you want. Because you've wanted it for many years. It's time to jump into the pool and unleash your dreams. Do not you think it anymore!
Contact us here at Pool Certify and we'll be happy to assist you and answer any questions you may have regarding the services we offer for certifications.