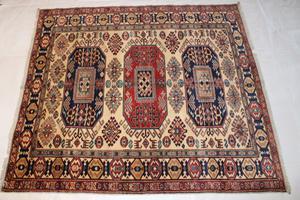 Forget the complications to keep the carpet and floors of your home in perfect condition.
If there is something that gets dirty daily at home, it is the floors and carpets. That is why keeping them clean will not only make them look impeccable, but will also scare away bacteria and viruses from your home.
The frequency with which you should clean the floors and carpets of your home will depend on the lifestyle of those who live there. If you have small children and pets it is necessary to clean them frequently for security reasons, while a person living alone or a couple without children can clean their floors once a week.
Have you ever wondered how to protect your carpet? We are faced with a decorative element that, besides being practical, is very useful to protect you from the heat and, if that was not enough, it will also help you to have a much warmer and more welcoming stay.
How to protect your carpet
The carpet is often dirty because it is usually stepped on, it is usually paid little attention to cleaning and without realizing it is not treated as it should be.
Next you will find some things that you should never do on your carpet to be able to take care of it and protect it every day, so your carpet will stay as new for much longer. Do you want to know what you should never do? And what things you can do in your place!
Find top quality carpets here at Knox Carpets, we provide second to none products at excellent prices.
Fighting the most common spots
It is necessary to vacuum the carpets at home weekly, especially in areas where there is more traffic such as entrance and corridors. Every two weeks, invest a little more time to thoroughly clean the corners, the window frames and the places where dust accumulates and which require more attention.
To prevent your carpet from getting stained or damaged, it is important that you clean it immediately after it has been watered. We tell you how to fight some spots:
Blood – Absorb with paper as much blood as you can. Then mix a tablespoon of mild detergent with a tablespoon of white vinegar in a room of warm water. Apply the solution and rub gently, then vacuum once the carpet has dried.
Coffee – Clean the remains of coffee immediately. Then mix a spoonful of mild detergent, a tablespoon of white vinegar and a quarter of warm water. Apply the solution on the stain and let it dry. Vacuum gently once the carpet has dried.
Gum – These spots can cause a mess on your carpet, but you can clean it by pressing an ice cube against the gum until it hardens. Once this happens you can easily remove it. This technique also works with candle wax stains.
Wine – If someone threw the glass with red wine by accident, the best way to avoid stains on your carpet is with white wine. Dilute a little white wine on the carpet and clean with a little cold water, then cover the stain uniformly with a layer of table salt. Wait 20 minutes and then aspirate the salt.
Floors
Depending on the material of the floors you can find the best way to clean them to preserve them and lengthen their duration. Here some ideas.
Wood floor
Use special cleaners for wood floors.
Some have a wax sealing layer to protect them, in this case you can vacuum to remove the dust or sweep them once or twice a week according to human trafficking. Later you can pass a cloth moistened with hot water. If you do not know what kind of wood your floor is made of, you can buy a special liquid for floors made of this material.
Ceramic, tile and vinyl floors
On vinyl floors, first sweep or vacuum.
These types of floors can be cleaned in the same way. After sweeping or vacuuming, you can wipe with a damp cloth with detergent, then another cloth passes to remove the detergent residue. The floors of the bathrooms and the kitchen should be cleaned at least once a week.
Concrete floors
Clean the ceramic floors with a cloth.
The garages and basements have concrete or cement floors. You can use the same method to clean ceramic or vinyl floors. If it is a garage you can use a special machine to wash the floor under pressure, since in this place usually accumulates enough dirt and dust.
Extra tips to protect your carpet
Do not rub the carpet when cleaning it
If you have had a spill on your carpet, it is likely that you will be tempted to rub it to clean it, but this is not at all adequate and will also be harmful to your carpet.
You must bear in mind that carpets are made up of fibres that have been manufactured to make it resistant. If you rub the carpet you can undo the fibres and they are not so well fitted, something that will make the stain look even bigger.
The best way to clean a spill on the carpet is to do it by removing the stain with a soft cloth to touch or wait for it to dry before getting rid of it.
Do not wear shoes on her
In our culture, we are not used to taking our shoes off when we are indoors, and therefore we do not see the need to do so if we step on a rug, but it is more important than you think.
When you want to step on your carpet it is better to go barefoot or with exclusive shoes for home use.
In this way you will avoid getting dirty with the dust and dirt of the street and you will also be rid of chemical and harmful residues that may be stuck in the sole of your shoe.
Knox Carpets is a business dedicated to providing carpets and flooring of a second to none quality and improve cosiness and decoration in your house or building.