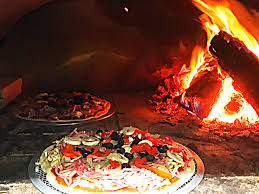 Pizza is one of the most popular and largely consumed foods in the United States, if not the most popular food altogether. It comes at every level of quality from children's microwaved pizza from last night to five-star level refinement and elegance. It also comes with a plethora of toppings, ingredients, crust types, and styles. Many pizzas are even meant to be eaten while walking around while others appear to be intended for dining in and getting a full experience. But what types of pizza are real and what kinds are just food on an edible plate with some red sauce? That's a tough question but certain types are certainly canonical, while others are apocryphal. We had a look around to see which is which.
Chicago Style Pizza
Pizza from the famous windy city tends to come with a singularly high edge around the perimeter. This is the deep dish variety. It tends to feature large amounts of cheese melted into the sauce with large chunky bits of tomato and rich, dark flavours. You need a towel for this, and you definitely won't be doing much walking around during your meal, or after.
New York Style Pizza
The famous New York Style of pizza is all about having a slice on foot while walking around the city taking in the sights. It is a versatile and mobile pizza. This is a large, hand tossed pie with a thin, broad crust and toppings spread out thin over the surface. You don't require to pile too many toppings on because you're expected to fold your slice up, hold it in one hand and go about your business. Mozzarella cheese is the commonest cheese used. The three main New York styles are 'extra topping,' 'cheese only,' and 'cheese with pepperoni.'
Italian Pizza
It is generally accepted that Italy is the origin of pizza. But historians argue that Rome actually appropriated it from either Egypt or Greece. Whoever did invent it though, had edible plates in mind as the food was eaten first by the soldiery who were not encouraged to do much sitting down. There are generally three types of pizza from Italy; Neapolitan, Sicilian, and Roman pizzas. Neapolitan features big chunks of San Marzano tomatoes and mozzarella cheese.
Asian Pizza
Pizza really went through some major transformations on its way to Asia. Asian pizzas, probably most popular in South Korea and Japan due to their friendly ties to the West, lend a distinctively Asian take on the genre with marinated meat or chicken, rich sauces, and variations with soy sauce, red curry, and other traditional Asian flavours.
At Fernandos Italian we know about Pizza and can provide you with the best pizza in Sidney. With experience and dedicated staff members to look after you, your experience with us will amaze. For additional information on our function rooms, private areas and dining experiences, feel free to contact us directly. Fernandos Italian – Italy at your doorstep!