Are you getting married? If so, first of all, congratulations! Are you planning your own wedding  day or planning to hire a wedding organiser? There are so many things you need to consider and think about. A lot of time, effort and money go into a wedding. There are all the big and small aspects that make up a wedding and the smaller nitty gritty bits are sometimes easy to forget! From venue hire, catering, wedding dress, table centrepieces, entertainment to wedding photography, organising a wedding is no simple task.
One of the most asked questions related to wedding planning is how to choose a wedding photographer. There are many aspects to consider before making your final decision on which photography to choose. Unlike the work of your other wedding vendors such as music, cake, and flower arrangements, photographers aren't things you can hear, taste or smell. You don't really know what you're getting until you see the photographs after your wedding. That means careful and thorough research and selectiveness regarding professional skills, artistic style and personal demeanour are super important when choosing your photographer.
There are certain steps you can take in choosing the right photographer for you. Most people don't want the same wedding  day photographs as their parents. They want natural, candid documentation of their wedding without interruptions to the natural flow of the day. A good photographer will be unobtrusive to you and your guests and will capture your wedding day  as it happens. To capture the best moments, the photographer will be shadowing you for most of the event so try and enjoy your big day and have fun celebrating with your loved ones!
Style
Before you begin to research photographers, you will first need to decide what type of photography style you prefer. This will immensely help determine which kind of photographer you'll want to shoot your wedding day. Each photographer has a unique style of taking photos. Not every photographer's style will be to your liking. Apart from photography style, photographers have different editing and techniques, such as the use of external lighting. This is why it is important to have a look through the photographer's work and decide on a style you like.
Documentary
Documentary style photography is a series of candid or spontaneous images of people, decor and the action. This type of style captures unique moments exactly as they happened and together tell a story. This could be photos of your guests dancing, your bridesmaids laughing, or those special moments between the bride and groom.
Portraiture
If you prefer classic portraits, you could go with a traditional photographer which specialises in portraiture. These are posed shots of the bride and groom, with your family and friends in front of various backgrounds.
Fine art
Fine art is a similar photography style to documentary photography, as it gives the photographer greater artistic license to infuse their particular point of view and style into your photographs. The photos are more dramatic but also beautiful. Usually, the people in the shot is in focus and the background appears to blur.
There are other different photography styles that you may like and some photographers have a combined style to create a unique portfolio of their work. You also may want to hire two different photographers for example for your portraits and then candid shots. But this, of course, is entirely up to you and what your budget is.
Budget
Budget plays a huge factor when deciding which photographer you will choose. However, it is important to remember not to only consider your budget as the key factor in choosing your wedding day photographer. After having a good look through the photographer's portfolio, it will give you a better idea of what you like and don't like. Also, don't jump into any commitments, this will avoid disappointment later down the track. There is nothing worse than wishing you had a better photographer or a photographer with a different style to capture those precious moments.
Quite a few brides want to have their wedding day  photos retaken. There is nothing wrong with this as it can produce some beautiful shots, but they will never be the same as the moments on the actual wedding day. Plus the extra money to be spent on the second photo shoot needs to be accounted for. Apart from the pricing, it is important to take note of what is actually included in the packages whether it is high-resolution images which you can print at your own leisure.
Research
Research, research, research! Photographers can be quite pricey so it is best to do your research thoroughly. Start your search by reading reviews from recent brides as well as checking out their websites and blogs to check out photos of other weddings they've shot. Even the design of the photographer's website will give you an idea and clues about their personality. Also don't forget to have a look through their Facebook, Instagram and Twitter pages too, if possible. On these social media platforms, you can see any feedback from previous clients and how the photographer responds.
The photographer
Once you have shortlisted a few photographers within your budget and shoot the style you are after, try and set up interviews with them to see how they are in person. It is very beneficial to meet with the photographer face to face before making a final decision. You definitely don't want to have a photographer whom you are uncomfortable with. This will affect your experience on your wedding day and if you're uncomfortable with him or her after the meeting, move on and keep looking.
During the meetup, you'd want to ask the photographer about their experience and their business. Questions such as:
How long have you been a wedding photographer?
Do you have insurance?
What backup system do you use?
Do you have a backup camera?
Do you have an ABN?
Do you have any accreditation?
How long will the photo take to finish?
Once you have discussed these questions, it'll give you a better understanding of the photographer and business as well as help you in your decision making.
See full wedding albums
During your meet up, ask to see two or three full galleries from real weddings they've shot. Don't base your decision on what you see on the photographer's website as it is usually a portfolio of their best images from different weddings. With this, you won't be able to get an idea of a full wedding gallery. By asking to see full galleries from real weddings, you can get a better idea of what your complete photo collection might look like after the wedding. Also ask to see wedding galleries with a similar setting to yours, whether you're planning an indoor wedding or an outdoor one with natural lighting.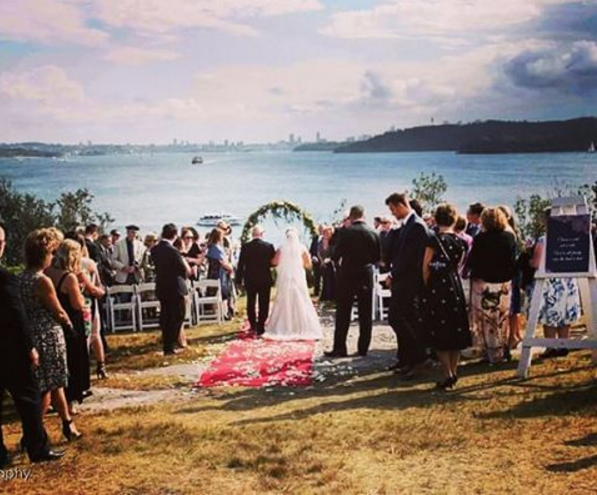 Get the post-production details
With most photographers, it takes at least a month until you receive your wedding photography. You may wonder why it takes so long for simple images to be delivered back to the client. There is actually a lot of work that goes into the end product. The photographer shoots huge raw files that give them the ability to correct the photo, however, the bigger the file, the longer it takes to upload, process and edit all those files. Many photographers spend hours editing images which are why it takes weeks for the final full wedding gallery, plus it also depends on how busy the photographer is with other clients.
Questions to ask to gain more information about the post-production details are:
How many images are expected?
Will the images be high or low resolution?
Will I be able to print the images myself?
Does the photographer have rights to the images?
You may ask more questions, but always make sure to ask whenever you are uncertain about anything. If you are interested in retouching and special effects, make sure to discuss it with your photographer and any additional costs it may incur.
Fuss Photography
As with any big purchase, you want to make sure you have made the right decision and by taking these simple steps, you can be confident with your decision. Just as with the decision to purchase a car or even a house, careful research and planning are involved in making sure you are getting the most of what you're paying for. As with a wedding, it is one of the happiest events of you and your partner's lives so having a professional photographer to beautifully capture those special moments is paramount.
At Fuss Photography, we offer budget wedding photography in Sydney. We are well known by our candid, stylish and glamorous photography. We work with a fresh and fun approach with over 15 years of experience within the photography industry. By using state of the art equipment, we are able to provide high-quality images which become our client's most treasured and valued memories. Contact us today at Fuss Photography to book an appointment and to find out more information about our premium services. We would love to hear from you about your special day!