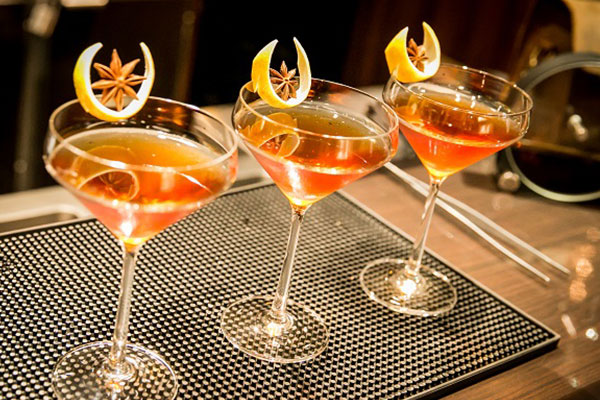 For you who want to stand out in the art of serving drinks and perfectly handle their techniques, we will tell you the best tips to be the best bartender. If does not matter if this is not what you do for a living, it is always a good idea to have some bartending skills to impress your friends or just save the night when there are no bartenders to serve proper drinks.
Here at Daiquiri Hire Melbourne we take pride in offering everything you need when you need to prepare delicious cocktails and make any night an enjoyable time for everyone.
It is important to keep in mind that in this area, creativity in cocktail making is the queen of the night, the taste of the glasses and the agility in their preparations will be the guarantee that the clients return to your place or your friends will always miss you when you are not at a party with them.
We know that the juggling and the way you move around the bar can be great attractions for your presentation at the bar, but the most important thing for a bartender is that the mix of flavours is unforgettable, seeks perfection and that each sip is better than the previous one.
Always aim to have varied ingredients for your drinks
To reach perfection you must understand discipline is essential, dedication and taste for what is done are also very important.
You have a lot of liquors to study: brandy, beer, tequila, wine, pisco, rum, bourbon, sake, cider, vodka, gin, singani, whiskey, vermouth, among many others. This you have to add their different graduations.
But cocktail making is something that goes further when you have to mix or flavour them with ginger, fruits, grenadine, herbs, flowers, syrups, sugar, nuts, juices, syrups, cinnamon, hazelnuts, coffee, ice. You must also take into account how strong or soft you want the cocktail, bitter, acid or sweet, light or thick, the decoration … Essay and error, no one is born knowing everything about cocktails.
The first thing is to develop the palate. Get on top of this!
You should also experiment and try different things, start with the known cocktails, gather a group of friends and practice your skills with them, in this way you will master techniques and improve the flavours and aromas.
Do not be afraid to make your own recipes, repeat that mixture several times until you get to the right place you want. Get inspired and create new cocktails, do not see it as a hobby or pastime, you need to study this art and turn it into your profession. You need to be sure you are able to enjoy this since it requires a lot of attention and practise in order to become the best.
Remember that attitude is also very important, whether you are the best at bartending or you just started as trying to reach the level you want, humility, sympathy, mischief, hospitality and love for what you do is what will make you stand out from the rest. It is a job where dance, fun, entertainment, taste and pleasure are mixed.
People who go to a bar or a disco just want to be happy and you must maintain that joy, that's why it's essential that you be charismatic. Treat them as your guests or friends and not as customers.
The presence will speak for you, the way you dress, the hairstyle, the make-up, the haircut, how you unwind in the bar. Everything influences when choosing the ideal bartender. Take care of the details of your appearance!
Glasses are very important
The drinks or spirits with the highest alcohol concentration are usually served in a wide and small glass, like the old-fashioned model, where whiskey-based cocktails or rocks are served. Also, for these distillates of higher rank, serves the martini glass, high, V-shaped and a fairly open glass. This is ideal for classic cocktails like the dry martini.
In the long glasses or of tube (Tumbler) the cocktails or drinks are served that take a mixture of liquor and soda drinks or juices of fruit, and that for the same, they have smaller alcoholic strength. For example, the Chilean pisco or tonic vodka.
What type of shaker do I use?
There are three types of cocktail shakers, the classic one consisting of a large metal cup and a small lid that incorporates a strainer. This is the typical amateur cocktail shaker that, although it works, has the risk that through the holes in the colander the ice chips fall into the preparation. What can cause the cocktail to be waterier.
Now, the next two cocktail shakers are the professionals' favourite ones. The Traditional (or European) Shaker that has two metal cups and the Boston (or American) Shaker that has a metal glass and a glass one. There the choice will depend on the bartender and his preferences regarding the size and its possibilities of use.
As extra tips you need to keep in mind these two aspects:
All the ingredients that you use, liqueurs, juices or fruits, must be of the highest quality. It is also preferable to use the indicated amounts and not others, so as not to alter the flavour of the composition.
Content and container are two fundamental elements. It is necessary to adjust to the formula and the indicated dose since each recipe is thought to obtain flavours, smells and harmonic colours. In addition, the model of cup or glass that is indicated must be the one used. Each drink is served in a certain container, which allows to measure the exact amount according to the graduation of all the elements.
Bartending is a very varied activity and your expertise and level of performance at it will entirely depend on how much you want to spend looking to perfect techniques.
Remember that your selection of cocktails will give your party a personal touch, you can try with Daiquiri Hire Melbourne, you can hire one of our slushy machines and make premium quality daiquiris.  We also rent many other machines that can help you boost any kind of celebration and make it memorable for you, your friends and relatives.