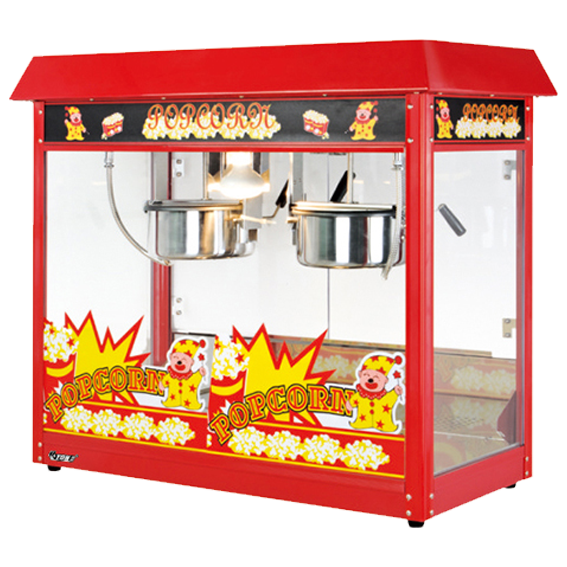 There are some smells that stick to your nose from the very first time you smell them. Making them emblematic and attached to a specific place. Such is the case of popcorn. The smell of popcorn can take people to a cinema, an amusement park or a circus. It all depends on their childhood.
However, the smell of popcorn is very well known for most of the population. The truth is that most people love popcorn. It has also be determined that they are nearly as additive as French fries and chips. The thing is that not everyone knows how to prepare them correctly, that's the main reason why there are people who only consume popcorn when they go to the movies or to the circus.
Here in Snow Flow we provide people with top-quality popcorn machines for their kids' parties, festivals and reunions. We are located in Melbourne, Sydney, Adelaide and Brisbane.
HEven though having a good popcorn machine plays an important part in the preparation of popcorn, it's important to have clear steps of how to prepare them correctly using a popcorn machine. It's important to point out that making popcorn at home is not the same that making them with a popcorn machine, so take these steps into account and fulfil maximum expertise in the field of popcorn making.
Have a Popcorn Serving Chart at Hand
Do you think professional chefs and top quality cooks improvise all their dishes? Even though improvisation is important, it is also important to have clear instructions at hand so they can guide you through the process and help you make the best popcorn ever. These charts are very easy to find and the instructions are pretty straight forward. Something like "3/4 cups of kernel, 2 table spoons of oil, 2 tablespoons, etc."
Add popcorn and oil to the cooking chamber of the machine
You need to pour the kernels and the oil in the camber, according to what the chart says. There's no way you can fail at this step of the process. The cooking chamber of a popcorn machine is very simple, it's just an empty chamber with a couple of stirring arms.
Turning it on
Once there's enough oil and enough kernels in the chamber you simply have to flick the switch to on and wait. If you look into the cooking chamber while the popcorn is cooking, you should notice the stirring arms evenly distributing the melting oil over the kernels.
Serve them into bags or in a bowl
Once your popcorn has popped and you left it for a bit more to see if there were any kernels exploding at last minute, you can proceed and serve them along with what you prefer. The most popular thing that people put to the popcorn is butter, but it's a free decision so feel free to try whatever you want.
Remember to use melted butter because solid butter will not spread properly as liquid butter would.
If you prefer popcorn with caramel you will have to star just normal, as if it were normal popcorn you're preparing. After they pop out and you have taken them out, you should pour the sugar and it should melt. It's the same process for popcorn with chocolate or with any other seasoning.
Why is a popcorn machine the perfect option for a party?
And not only for parties are popcorn machines a great choice, they are a very good option for most kinds of events as well. From patriotic events to birthday parties and so, a popcorn machine is always a good guest.
First of all, popcorn is not expensive at all. You can buy many bags, depending on how good you think your guests like popcorn and they surely all like it. Also the resources needed to have a popcorn machine working during your party or private celebration are minimal. You will only need to locate it near an outlet, have the bags, the oil and the seasonings.
The person who will operate the popcorn machine doesn't have to be any kind of expert. The only thing they would have to do is serve the popcorn and make sure there are always enough kernels being cooked. In order to operate the machine only one person is needed which is a very cost-effective investment taking into account that sadly this machine cannot operate all by themselves.
Another good thing about popcorn machines is that they come in many different models, if one does not suit your event then you'll probably be able to find a different model that does. Some may be bigger than you're expecting and some others may be smaller and easy to move all around a building, having wheels is also a great feature to increase mobility in these machines. There are models that come with two mini ovens so they will produce a larger amount of popcorn in less time, if you're expecting a lot of people going to your event then one of this machines is surely the best option by far.
Also, you don't need to acquire a popcorn machine for one event alone. You can always rent it! If you want to rent a popcorn machine to give your party or event a practical and enjoyable turn you can call us and rent one of our machines. If you want to learn more about the prices of our products for sale or hire, then don't hesitate to contact us today on 1300 SNOW FLOW and we'd be happy to help.
If you want to combine your popcorn machine with another excellent machine that can help you feed your guests with something delicious, you can see our other products here, from slushy machines to hot chocolate machines. Everything you need for your party!