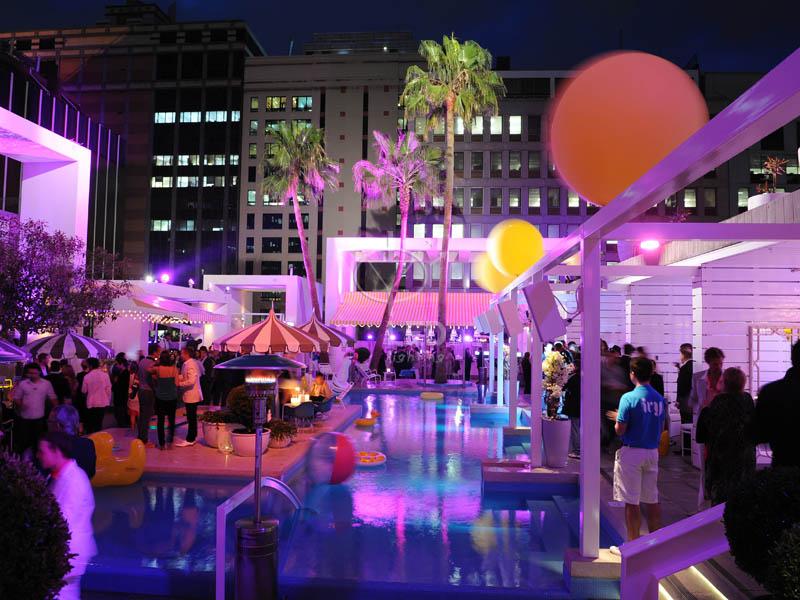 It's not a secret how beneficial LED lighting can be. The overuse of artificial lighting is a problem that has spread massively. It's such a common issue that in most cases goes unnoticed. When reviewing some of the consequences produced by unintelligent artificial lighting it becomes evident why fighting light pollution is such an important task:
Glare produced by excessive lighting can be bothersome to drivers' vision.
Wildlife and weather are affected by the unnatural heat produced by light pollution.
Prolonged exposition to artificial light may interfere with peoples' metabolism process and even cause insomnia.
There are some other benefits LED lighting can provide a business with apart from making it eco-friendly:
It's not a lie, using LED lighting right can lead up to a 75% of energy saving.
This type of lighting does not produce heat, making it unnecessary to leave air conditioners on for long periods of time.
LED bulbs last longer than traditional bulbs, meaning another standard amount being saved from time to time.
Diving a little bit more into this aspects, we can say that actually CFLs and LED floodlights have demonstrated to be extremely more efficient than traditional light bulbs. Consuming from 25% to 80% less energy but also producing way less heat than incandescent bulbs. All this makes the implementation of CFLs fundamental when looking forward to save money to your business.
Why is it important to use LED Lighting effectively?
During the night people tend to turn lights on because of the feeling of security illuminated areas bring. However, there's little to no proof that lighting actually reduces crime rates. A couple of lamps in specific locations outside may offer the visibility needed in order to spot intruders and abnormalities while not causing light pollution.
If businesses had a strict policy on turning lights off when an area is not being used they would save a lot of money in power bills. Technology advances have allowed lighting products to evolve from overheating and invasive artificial lighting devices to top quality lamps that do not sacrifice inside coolness for extra illumination.
However, the only way to start using lighting appropriately is by educating people in smart lighting, meaning timely support and assistance is required to know where lighting is actually needed, the right equipment and also the best way to install it.
Educating Ourselves in Smart Lighting
It becomes noticeable how unaware people are about the costs of traditional lighting in their businesses' power bills as well as how much damage it can cause to the planet. That's the reason why it's so important to educate ourselves and others in smart lighting and how useful it can be to improve our day to day life conditions.
People not knowing how important it is to avoid light pollution will inevitably bring heavy consequences to the world, such as:
Population growing will turn into overpopulated cities which are commonly massive producers of light pollution.
People spreading all across the globe and building cities with unnecessary amounts of artificial lighting will leave little to no places for natural nocturnal environments.
Light pollution can also cause global warming and mess up plants and people's metabolism processes as well as produce insomnia and dazzle drivers causing car accidents.
As it can be extremely dangerous for companies since:
Power bill is an unavoidable cost but it's usually a relevant one in large companies.Even though it can't be avoided there are many ways to lower its impact in income.
Laws are enforcing the use of more eco-friendly equipment in order to protect the environment.
We are not far from having unconscious and inefficient use of lighting turning into a punishable crime.
Having mentioned some of the most dangerous consequences light pollution can bring as long as people are unaware of how important this issue is, let's talk about the advantages of smart lighting:
Smart Lighting is Way More Cost-Efficient
One of the first actions taken in order to become a light-pollution evader is to start using LED lighting. LED lights are way more cost-efficient than conventional light bulbs, starting with the fact that a LED light's lifetime is 10 times greater than traditional light bulb's while it only consumes up to a third of its energy. And not only will you save money thanks to LED's larger lifetime, the lack of energy waste will cost you even 4 times less the money a conventional light bulb would.
In some cases, carrying portable lighting is the best way to reduce the amount reflected on your electric bill.
Educational Resources Available
The International Dark-Skies Association organizes an annual meeting that brings together leaders, government representatives, scientists, engineers and a wide variety of people interested in preserving and protecting the night skies. Speeches, presentations and discussions are commonly part of the material presented in these meetings and it's surely the best way someone can receive some educations on the light pollution subject and how can lighting be used efficiently by businesses.
Additional to this, for people who aren't able to attend to the annual meeting or don't want to wait that long to start researching about light pollution and how to help fighting it, there's a lot of useful information being in IDA's chapters, there are more than 50 all around the world with volunteers who are looking forward inform people about the benefits of LED Lighting.
If you are looking for assistance and recommendations as well as for products that may help you reduce the amount of money to waste on your power bills, you can contact us. Our experience in the field of smart lighting and cost-effective solutions guarantee you'll have the most suitable equipment installed in your facilities.
You can check some of the testimonies of our clients who rate our services as efficient and highly recommended. Do not allow energy consumption have a heavy impact in your profit, contact us and have timely assistance on how to buy LED Lighting.