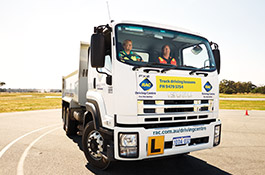 Look at where technology has propelled our society. With the rapid and extensive technological advancements we have evolved many sectors and industries. Each individual business has acquired positive results from technological gadgets and apparatus that, simply, just make our life easier! Trucks and trailers have also made adaptations that extend their functionality and fluidity. Semi-trailers, heavy machinery trucks, utes and so on have all been technologically geared to suit a variety of demands. Let's go on a retrospective journey into the evolution and changes trucks have attained over the years. It all started as a concept in 1898 by a gentleman named Alexander Winton. He was a car distributor and was constantly contemplating on how he could provide the client the car without increasing its mileage before drop-off. This revolutionary theory lead to the development of the first truck like car. This idea picked up and eventually Winton started selling the first truck that was called "Automobile hauler" as per its functionality. This then was utilised for cargo and even had some insight into the tourism industry! And a decade later, around 1914, August Charles Fruehauf designed the first semi-trailer! This was primarily used for him to tow boats. As technology advanced even further an AC system with a chain drive was also implemented and the rest is history! Although it did take until 2011 to finally implement standard air-brakes. Truck Hotline is a truck license advisory company that will assess and assist you with obtaining you truck license at dedicated truck driving schools in Sydney. Our professional approach and dedicated staff are willing to provide you with the necessary knowledge for you to obtain your truck license, easily!
Due to the complexity and variety of models and sizes modern day trucks tend to be placed in a few different categories. This will also determine your preference, hence the type of license you are seeking to acquire. In brief, the four major sectors in which truck licenses get placed are: Light Rigid (LR), this type of license tends to focus on small trucks (up to 8 tonne GVM) and mini-buses. This is directed to a more informal driver that is seeking a potential driving holiday with the family and is in need of a mini-bus. Or alternatively, industries that utilise small trucks and minivans have the LR license as a prerequisite. Following this, we bump up our trucks and give them an upgrade to 8 tonnes and a single rear axle. A classic example of, now, a medium rigid license are the normal buses utilised for transportation purposes. These require more knowledge and greater experience, hence why they need a different license. Also, this license should also be utilised for furniture removalists and food distributors as the trucks utilised in those industries surpass the ligid rigid demands. Carrying on, any rigid vehicle with three axles is considered a heavy vehicle! A heavy rigid (HR) license is primarily for larger buses and semi-trailers that have a weight greater than 8 tonnes. Classic examples of HR vehicles are tow trucks, coach drivers and refrigerated transport. This category will broaden your knowledge on trucks like never before. New techniques and driving skills will be elaborated on so you can master the wheel behind the beast! The last and more convoluted license in the truck driving school industry is the heavy combination license (HC). As the name suggests, is required for a prime mover to which is attached a single semi-trailer that has a GVM greater than 9 tonnes. Let's just state that this category engulfs those scary looking, big wheeled trucks that most drivers are afraid of on the freeway! The knowledge and expertise during the training for this license has to be extended due to the complexity of the trucks.
Truck hotline encompasses all the knowledge and experience to guide you towards success and allocate you to the finest driving instructors Sydney. With an easy online interface you can book heavy truck driving test for residents in Sydney. Truck hotline are the leading driving school recommendations company, driven by prosperity and client satisfaction. Furthermore, we always ask our clients to provide a lengthy testimonial describing our service and elaborate on the points that made them feel comfortable and anything they would like to change. Let's see what David had to say: " I had to get my HR license due to the circumstances of my new job. I spent at least 3 weeks researching appropriate truck driving school companies in Sydney, with no avail. I was treated like an amature and felt awkward in pursuing what i actually needed! This got to a point where I felt like I should give up and search for a new job! I eventually stumbled upon Truck Hotline, thankfully! I reluctantly booked an appointment to go for a meet and greet session. The overall positive attitude and determination they show their clients is out of this world. Without going into too much detail, they assessed my qualifications and with their expertise and knowledge in their industry I finally succeeded in obtaining my HR license without any stress and negativity. I would most definitely recommend Truck Hotline to anyone in Sydney that is looking for a heavy vehicle licence Sydney or any truck license Sydney! Thanks guys, much appreciated!"
Concluding, this goes to show our commitment to our industry and that we strive each and every day to provide 5-star services to individuals that require a truck license Sydney. Reliability, professionalism and integrity are the key fundamentals we have built our success upon, as well as maintaining our reputation at a high level. Feel the ease and comfort of obtaining a heavy vehicle license with the utmost credible and devoted company there is! Truck Hotline!