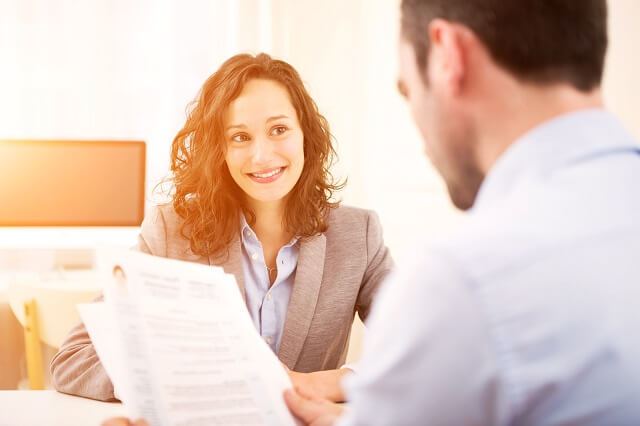 Would you like to work in a law firm? If you have been called for a lawyer job interview, it is important that you prepare it beforehand. Before going to the job interview, you should be well informed about the characteristics of the firm, its area of ​​specialisation and its achievements, information that you can find detailed in all likelihood on the website of the firm. If you go to the well-informed interview about the firm, you will make a very good first impression as well as convey interest and proactivity.
More and more law firms are looking for candidates with great learning ability, flexibility, communication and empathy as well as language skills due to their rapid internationalisation. That is why, in addition to an individual interview, many law cabinets raise case studies to their candidates and ask them to take a written test of technical-legal knowledge.
To prepare a job interview for a lawyer and successfully overcome the selection process, you can follow the advice that we indicate below. What are the questions in the most common lawyer job interview and how to address them with resolution?
However, keep in mind that here at Sydney Resumes we help you write and optimise your professional image.
Frequently asked questions in the lawyer interview and possible answers
In addition to questions regarding your studies to be a lawyer and your previous experience in the trade, other questions in the job interview for lawyer that could ask you are the following: Why did you decide to dedicate yourself to the Law? What do you think is the most important task of a lawyer? What legal situations have you had to face or would you like to resolve? In which area of ​​law is it best defended? Many selection processes for lawyers are extensive and can be organized in several days and even weeks. There are law firms that ask job applicants to take a test with technical-legal questions and from different areas, such as Commercial and Civil Law, Civil Code, Procedural Law, Administrative Law, etc. It is also possible that, both in a job interview and in an opposition of Justice, they propose you to complete a test in English to check your knowledge in this language and solve a practical case in front of the recruiters or the opposition court.
How to dress for the job interview for lawyer
If this is your first job interview, you may not know very well what to wear for the lawyer job interview. The most advisable thing is to go to the interview with a formal, elegant outfit (although without going over) and pay attention to the details (earrings, footwear, possible visible tattoos, nails, etc.). If you are a boy, we advise you to wear a long-sleeved shirt and dark blue or beige pants.
In the case of a prestigious law firm, we advise you to wear a classic suit and tie, or with an elegant suit-jacket with a skirt if you are a girl. Try not to make up too much and do not look lush prints. During the interview, keep a calm attitude and try to convey security and confidence in your response.
Skype job interview
Skype job interviews are a common practice in many companies today, mainly when the candidate and the company offering the job are not in the same country, or even in the same city. Now many companies opt for this tool when making personnel selection.
It is very normal for Skype job interviews to be conducted in English or in the language required by the company. That is why it is also necessary to know how to prepare the job interview in English by Skype. Therefore, if one day you tell yourself: I have a Skype job interview, and now what do I do? Below you will find a series of tips that can help you prepare.
Tips for conducting a job interview on Skype
Below you will find a series of tips that can help you prepare a job interview on Skype. The first thing to remember is that the fact that they don't see you in person can be an advantage or an inconvenience, it depends on how you take it.
Make sure you have a good internet connection
That the call is cut, that you are not heard well, or that you cannot understand their questions correctly due to the gap between image and sound. Any of these incidents can occur if you have a bad Internet connection, so it is very important to make sure that your Internet connection is very good. If you can avoid wearing headphones and microphone like those used by telemarketers much better.
Another point you should keep in mind is your computer. Do not have other programs open at the same time as Skype, and above all, have the program well configured.
Choose well the place where you are going to do the interview
Although only a little background can be seen through the screen, try to make it neutral, and clean and tidy. Make sure they don't bother you. If you do the interview at home, try to do it by being alone. You will avoid unwanted interruptions or noises and voices from other rooms that may distract you, the interviewers and that can make you give a bad image during the course of the Skype interview.
Clothing is a reflection of the importance you give to the interview
Even if you do the Skype interview at home, dress as if you were going to do it in person. You can make up and comb your hair. Adapt your wardrobe to the type of company and keep in mind that when doing the Skype interview, they will see you through a camera. You wouldn't hire a person in sportswear in pajamas, right?
It is convenient that you use neutral colours (think about the presenters of the news). Avoid stripes, bright colours and prints. You can give a little touch of colour with accessories, but they are not elements of distraction. Earrings, bracelets, rings, watches you can use as long as they don't make noise or use them as the "object" in which you channel your nervousness. For example, start playing in the interview with the ring or watch.
Practice, practice and practice
Just like you should never go to a job interview without preparing yourself, a Skype interview is the same and requires an extra point of preparation. Research the company, its policies, make a list of frequent pre-accounts in a Skype job interview and, above all: rehearse.
If you have a friend or family member with whom you can do a Skype test, do not hesitate to do so. Also, if you are clear that you are going to do the job interview in another language, you should practice even more, especially to make sure that the interviewer can understand you.
Take care of your body language
Even if you are at home, sit straight. Do not lose your posture and look at the camera. Do not get distracted by looking at the screen or missing points, because if you don't look at them, they see it. It can help you place the call window just below the camera.
Here at Sydney Resumes we help you write and optimise your professional resume in order to make your way to the labour market easier.