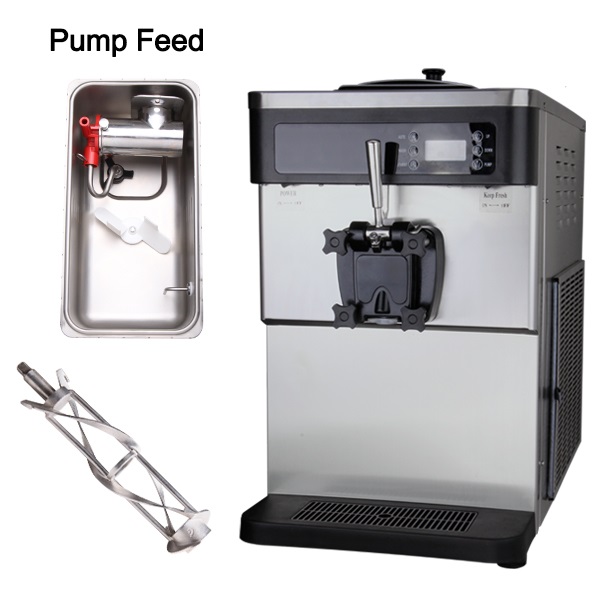 Summer evenings would not be the same without tasting some delicious ice cream while walking on the beach. It is enough to approach a business, identify if they have a machine to make ice cream and in just a few seconds enjoy those refreshing flakes. The same goes for slushies, as they are a spectacular and more practical variation of ice cream. They cannot be missing from any celebration, whether it's a birthday party or a festival.
With restaurant and slushies, the experience can be simplified easily. Their cooling action and, above all, the speed with which they work, make the ice cream machines an essential device for restaurants. Now, it is worth asking how is the internal operation that allows to test those chocolate and vanilla glasses at the correct temperature and consistency.
Remember that here at Snow Flow you will find the equipment needed for a wonderful time singing with your friends and relatives such as slushy machines to rent or buy.
How do they work?
The ice cream machine, as well as the slushy machine, both have a fairly simple mode of operation. Currently, virtually all have an electric cooling system that freezes the raw material that is deposited in their drums or containers. The mixture can have a liquid, powder or solid form, previously treated in a pasteurization machine.
Upon entering the ingredient, the ice cream machines begin to mix the sugary cream, milk or yogurt thanks to an engine that drives the beaters. The constant movement aerates the mixture, which is essential to increase its volume, give it a smooth texture and prevent ice crystals from forming that would be unpleasant on the palate.
Once frozen and mixed, the product is channelled through a set of valves that reaches the head of the machine, where it is finally dispensed in the form of soft and consistent ice cream.
Which one to choose?
If you are looking for a machine to implement your coffee shop or ice cream parlor, there are many details that you should consider making the best purchase decision.
Countertop or floor
The first big filter will be to choose between these two types of machine. The countertop or countertop will be convenient if you have a company that sells small quantities and generally a single flavour, since it takes up less space. In contrast, the floor is larger and has greater internal capacity to meet a higher demand.
Compressor capacity
In general, ice cream machines are classified by the number of servings they can produce in one minute. One that generates two or three cups or cones every 60 seconds is considered low volume. If it produces between four and five portions, it is considered medium volume; while if it is capable of dispensing at least seven ice creams per minute, it is a high volume machine.
Unique flavour vs. Multi-flavour
Another distinguishing feature is the combination of flavours in the same ice cream flake. If you have a business where ice cream is your flagship product, then you cannot do without this service. Unlike the single or double flavour dispenser, with a flavorburst machine you can enjoy up to eight flavours in a flake thanks to its injection system.
Factors to consider when buying an ice cream machine
To help you find the best supplier of ice cream machines, we share these tips so you can choose the best Ice Cream Machine for your business. There are several factors that are very important and that we should consider before buying any machine to make ice cream.
Easy to use
The ease of use is one of the biggest differentiating factors between the various forms and versions of ice cream machines, which make your job as easy as possible is considered a very important aspect by the ice cream businessmen.
There are a number of features that can provide simplicity of use. Intuitive digital screens make it much easier to determine how to operate Ice Cream Machines and find the settings exactly where you need them. Also, serving ice cream to your customers can be done simply and quickly to provide good service.
Ice Cream Machine Capacity
Acquiring an ice cream machine with sufficient capacity is crucial, also take into consideration the processing time of the ice cream to prepare the batches that your business requires. Paying good attention to your clients and providing good service is primordial.
Texture and consistency of the ice cream produced
For many customers, these are the most significant aspects that they take into consideration when buying an ice cream machine. The flavour of ice cream is very important but it will depend on the ingredients you use or if you use ice cream base the quality of this base is of the utmost importance.
Ease of cleaning
All the machines you use to create ice cream should be washed after each use and should be easy to clean so you can provide your customers with hygienic ice cream. Investigate the process of washing the parts of the ice cream machine and make sure it is easy to clean and wash.
Soft ice cream machines
Another aspect, although not very important but which is often taken into account is the noise generated by the ice cream machine, it is normal for these machines to make some noise when operated but this must be similar to the one produced by your refrigerator.
Appearance of the machine
Take into consideration the appearance of the ice cream machine and the decoration of your ice cream shop, although the design is not a primary factor will help the ice cream machines you acquire have an attractive and modern look.
Here at Snow Flow we offer you an excellent chocolate fountain, karaoke equipment or slushy machines that you can rent or buy today, along with that you will also find many different types of equipment you can use for your events.