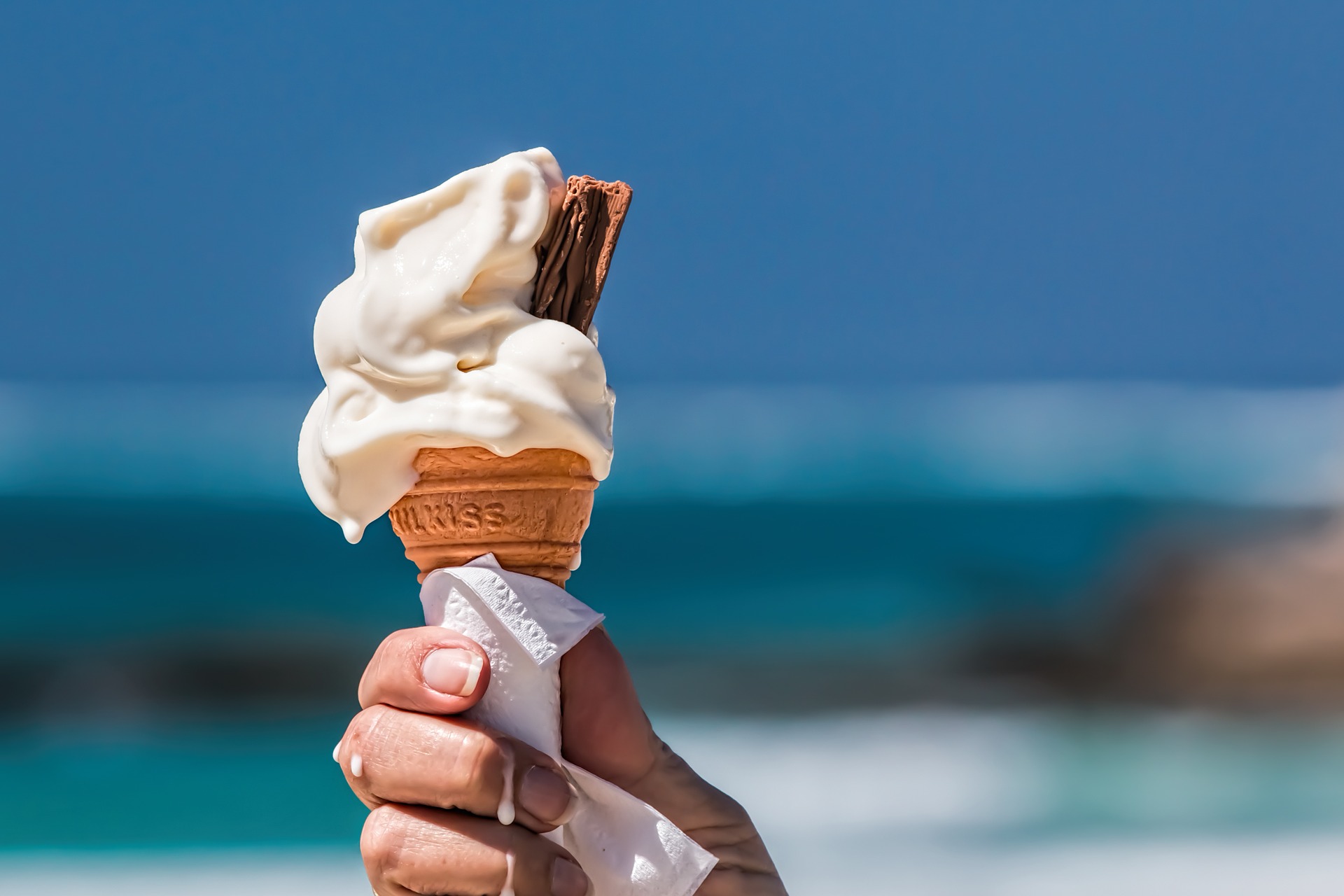 Eating ice cream has always been one of the most enjoyable moments, so it did not seem possible that there was a more fun way to enjoy this dessert. Then the ice cream wafer appeared. The story speaks of many men attributing the invention of this cone of biscuit, and there are even certain references that locate its appearance in eighteenth-century France. However, an old legend tells a completely different story than we imagined.
On a summer's day, during the St. Louis World's Fair, a Syrian immigrant named Ernest Hamwi was selling a crunchy waffle-like paste called zalabia in his small stall. The day was not being as fruitful as Ernest expected, contrary to what happened in the next station, where Arnold Fornachou did not stop selling his ice cream. However, as quickly as he sold, his reserves of containers to serve them were totally exhausted, for which he accepted the proposal of his neighbor to offer ice cream cones made with zalabia.
This story was published in the Ice Cream Trade Journal of 1928, long after Ernest originated the Cornucopia Waffle Company. Although the testimonies of those who claimed to be the creators of the waffle are varied, from Frank and Charles Menches to Nick and Albert Kabbaz, history places Fornachau and Hamwi as the pioneers of this wonderful type of ice cream.
You can rent a top chocolate fountain for hire in Adelaide today here at Snow Flow which will make the right topping for your ice-cream.
And what happened next?
The ice cream cones gained so much popularity that the ideas to mechanize the preparation process, as well as to originate their preservation, made it possible for the respected inventor of Portland, Fredderick Bruckman, to create and patent a special machine to roll up these edible cones. But, it was not until 1959 that the Italian ice cream maker Spica, perfected the preservation process so that the cone could maintain its flavor and crispy texture even after being stored in a freezer.
The result?
It was the establishment of the Cornetto brand registered by the same Italian company. Although the beginnings of Cornetto in the market were marked by a notable drop in sales, this changed during the decade of the 70's when it passed into the hands of Unilever. The value of the ice cream cones, usually varies according to the amount of ice cream in it and there is a variant with flat base that facilitates the process of eating it without danger of it dripping or falling.
Crafting the cones is simpler than you think, so it's not surprising that many companies devote themselves to practicing it instead of using industrial machines. Waffle makers, for example, represent an easy-to-use alternative that can guarantee great results. This, combined with a large funnel, a little oil and the classic waffle recipe, are effective tools to create a delicious ice cream cone.
The first step is to preheat the waffle maker by choosing a medium toasting mode, and then grease all the areas with a brush dipped in vegetable oil. The next thing is to prepare and add the mixture with a spoon in the center of the waffle maker. Once ready, the dough is quickly wrapped around the funnel, taking care to bend the opening in the lower area and pressing both parts of the cone to fix them. Finally, let it cool before sliding it to repeat the operation with the rest of the preparation and that's it!
The ideal topping
Is there anything more incredible than enjoying a good ice cream on a hot day? Maybe add to that ice cream the right amount of additional ingredients to make it even more eye-catching and delicious. This is what happens when we risk giving our desserts a different twist and add something of our own personality in order to improve the recipe, fill it with colour and accentuate its flavour. In this sense, palettes and wafers are perfect if you want to try new ways of eating the same recipe you used to enjoy in your youth and offer them to those you love the most. Ready to discover some interesting ideas?
Chocolate cover
Eating a lollipop or wafer without adding a delicious chocolate coating may be the biggest mistake we can make. Chocolate is that type of complement that not only makes our desserts more attractive, but also fills them with an unmistakable flavour. To incorporate this ingredient, you only have to melt the chocolate in the microwave and cover your ice cream. Just remember to take it quickly to freeze, so that the chocolate will adhere well and the ice cream will not melt. If you wish, add some coloured noodles and enjoy!
Fruit surprise
If you love ice cream with classic flavours like vanilla, but you want to completely reinvent the way to enjoy them, adding a little fruit to your waffle can be the best alternative. Fill the cone with pieces of fruit in syrup and add a little chocolate syrup before incorporating the ice cream. Besides easy, it is a nutritious and very fast option. Do you dare to prepare it?
Fruit cereal and cookies
If there is something better than a delicious ice cream, it is a delicious ice cream with bits of cookies, especially if they are chocolate. The craved crunchy touch that we like so much, we can get it in a simple way by adding some pieces of cookies in our cone along with a little chocolate and hazelnut cream. Of course, this type of combination tastes better with a neutral flavour ice cream like vanilla or the same chocolate. Another twist you can give your dessert you will get by sprinkling fruit cereal on top. You sign up?
Nuts
It is impossible not to mention the nuts in this small list of toppings. Regardless if you prefer them in their natural state, caramelized or toasted, this ingredient will be your best ally when it comes to decorating and flavouring your ice cream cone or palette. In the same way, you can combine it with other elements, including syrups or dulce de leche. You will achieve an indescribable taste in a matter of minutes!
Here at Snow Flow we offer you an excellent chocolate fountain in Melbourne that you can rent or buy today, along with that you will also find many different types of equipment you can use if you want to plan a different party or event.