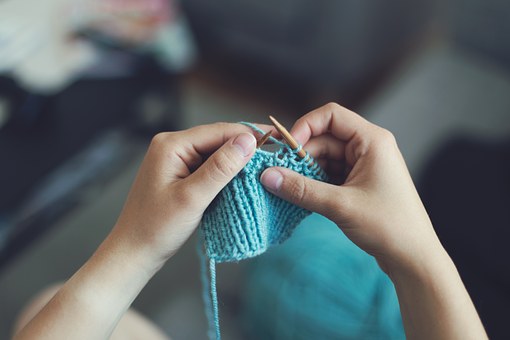 With the arrival of autumn, the desire to start weaving more winter projects comes, and many times we are charged with conscience because we want a thousand new balls, but we know that we have many remains of wool accumulated. Today we give you some clues to know how to get the most out of it and take advantage of every rest we have at home from some practical examples.
In the first place we think that to take advantage of the remains of wool that we have at home we need a little bit of willpower, since working with remains always requires a bit more imagination, ingenuity and some previous work that we have to take out, instead of letting ourselves be dragged by the novelty. Following a series of guidelines will help us to move forward on our weaving path and realise that there is no ball or thread that we can take advantage of.
We can distinguish 2 phases of work: first, investigate, divide and select, and second: devise and put into practice. It all starts by gathering materials. Here at Yarns on Collie you'll find second to none wool that absorbs and releases moisture to cool or warm the body.
Once you have all your remains, you should consider these details:
Thickness: separate according to the thickness of each strand, make groups of those that can be woven with the same needle, and keep in mind that if you have some thinner thicknesses you can use them double to join them to others and that they are equalised.
Composition: Do not lose track of the composition of each ball, the ideal is to work together those that are similar. This is important for the care of the garment and washing, priority will always be given to the most delicate material when washing.
Weight: Calculate the weight to find out how much material you have and thus know what type of project you can carry out.
Colour: works the colour ranges and creates those that combine with each other. An ideal way to take advantage of the remains is to combine it with a base colour, so that the leftovers help you to create drawings, unifying the rest through only one colour.
Points: select points that work with each other, taking into account the number of points that you must mount, that match if they are even or odd, and studying through the samples if you get the same width for all so that deformities are not created and the result is homogeneous.
Technique: one of the most common options is the work of drawing through stripes or lines, however if you know how to cross the strands with the Intarsia or Jacquard technique, a world of infinite possibilities opens up, in which to work with wool remnants It is pure fun.
What are the advantages?
We weave a garment that has many more possibilities than the previous ones, its edges are homogeneous, the most successful colour range, the use of the base colour gives life to the remains. Many times, it is better to buy a pair of clews or use 2 complete clews to weave a neck and give out your leftover threads, than weave impossible blends.
In conclusion, if you have wool remains, you can create and knit worthwhile garments, keep in mind the keys we have seen: weight, colour, composition, thickness, stitches and technique.
Although you still don't know more than knitting rectangles and rectangles (maybe just right) there is something that you can do very, very EASILY: give a touch of joy to your garments by weaving with two strands (two different clews) as if they were one.
Marled: Two strands of the same thickness and different colour
Degraded: Threads of the same thickness combined to form a chromatic scale
Thick + thin monocoloured: Thick strand + thin strand in same tones
Marled
This type of texture is very fashionable these days, especially using contrasting colours (such as white plus black) or the same colour in different tones (such as light brown plus dark brown).
There are wool that are already composed of two strands of different colour (wool marled) but at home you can make the combinations you want with the wool you already have. If the needles recommended for wool are 4 or 5mm, when you join the two strands (of the two different clews) to knit them as if they were one, you can use 6mm needles.
Degraded
Gradients are another current trend. To do this, you need balls of the same thickness and the same colour only in a different tone. For example, in the image we use light lilac, medium lilac, dark lilac and violet (we use 4, you can use 2, 3 or 10, whatever you like).
How is it done? The trick is to ALWAYS knit with two strands at a time and go combining a part with a single colour (two strands of the same colour) followed by a part with two mixed colours.
If you only have one ball of each colour, make small skeins to be able to have a second mini-ball of each of the colours. So, when you have to work with 2 strands of the same colour, you will use one of the main balls and one of the mini-skein that you have made.
If the needles recommended for wool are 4 or 5mm, when you join the two strands (of the two different clews) to knit them as if they were one, you can use 6mm needles.
Idea
Why don't you dare to make a rainbow? Or a yellow-orange-red or white-grey-black change or … imagination!
Thick + thin
Combining a thick strand (wick type) with a thin one is another very easy option to give texture and colour to your clothes. In this case, you don't even need to change knitting needles, use those recommended for thicker wool and simply knit the two strands (thick and thin) as if they were one.
We have made two combinations that we especially like: one is to use a very thick wool of a neutral colour (white or raw) with a finite wool of powerful colour (and can be varied). Another option is to continue in single colour mode and use two shades of the same colour.
If you add a change of point to this combination of thinner thickness, it can already be the pump … you can try the elastic 1×1 point that will give you a very beautiful texture. And so far, my introduction to the world of textures and colour. As you can see, that you are just learning to knit is not a problem to start playing and do something different.
Find top quality wool and more for your creations here at Yarns on Collie. If you need more information to get started in the world of knitting you can contact us and we'll be happy to help you. Contact us today for more information about our products.