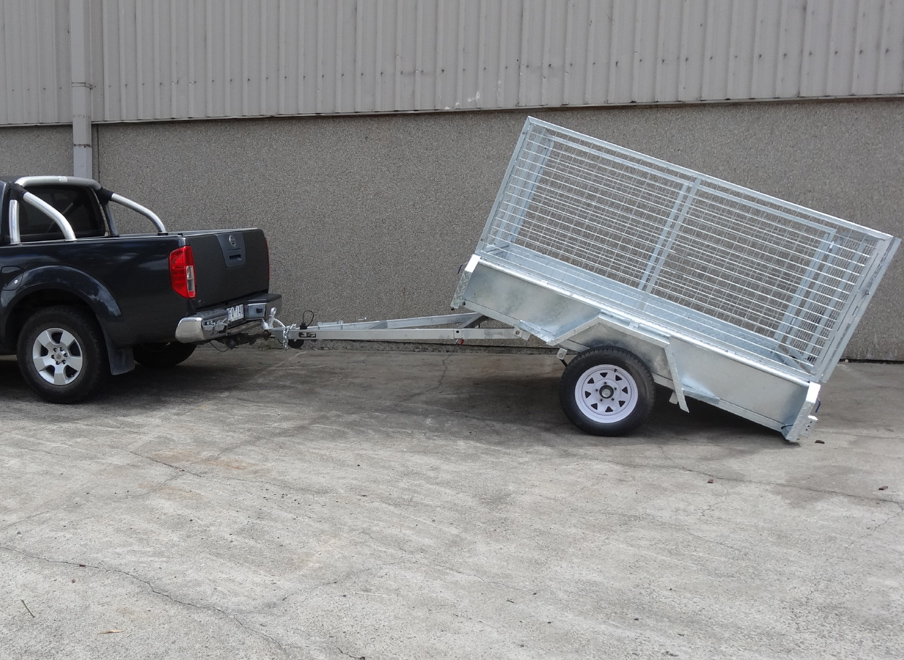 When we talk about moving or relocating, trailers are a good option as they are cost effective and require less maintenance and run smoothly like before. Trailers for sale in Melbourne are an excellent choice to go when you consider such benefits. Still, it is mandatory to check the trailer's working, and whether it requires any servicing or not.
We have mentioned some tips below so that you can check and maintain your trailer properly.
#1 Check the air pressure
For any vehicle to work properly, the first thing we should check is its air pressure in the tyres. You should verify the tires and check their state at an appropriate inflation level. It should also be checked that there are no leaks and holes on the tyre.
However, these guidelines are important warrants attention.  Checking of a hose-pipe network to the tire is necessary. The above check should be done frequently regularly. The leaks should also be reviewed occasionally. There are other simple checks for the better performance of the trailer- verification of correct settings for system pressure, auxiliary battery switch (ABS) or auxiliary power fuse check, checking the position of the system cut off valve. Other than these, it is important to check regulator pressure and power fuse, every month or every quarter of a year. The system shut-off valve also needs to be verified every time you check the trailer.
One issue you might face regarding tyres is the wear despite having proper inflation. It may be due to the cause of undercarriage, suspension, shock absorbers or axle alignment.
#2 Suspension inspection
The visual inspection of suspension is important to keep track of the wear and tear of the trailer. Irregular wear, tear and air spring cracks due to heat are not okay and need to be treated. Some other things which need to be made sure are- nothing should reach and make contact with the suspension, and the air springs should possess apt and equivalent pressure.
The air suspension possesses a well-organized ride height position which should be kept right. If it is damaged, then the performance of your trailer is sure to get spoiled. Higher air ride can interfere with overpasses which are safely navigated. Very little air will lead to the trailer riding on suspension's bumpers which can damage other suspension parts.
#3 Proper lubrication
Proper lubrication is essential for proper trailer working. Grease is used as the lubricant for vehicles, which has three characteristics that can affect the functioning of the trailer. The thickening system and performance quality, are important for selecting the appropriate grease for your trailer. The more viscous the grease, the better its grade will be. Due to this, NLGI is the most commonly used grease.
One thing to make sure is that old grease should be removed properly before putting a new one, as the debris sticking to the old one makes it ineffective.
#4 Brake inspection
One effective way of checking the brakes is checking the angle formation by air chamber push rod mechanism and slack adjuster. The chamber push rod and the slack adjuster should be mutually perpendicular to each other when the spring brakes are applied. If the angle formed is not 90 degrees, the brake brakes out of adjustment mechanism and needs fixing process. Other thing which needs to be checked is the condition of the drum while servicing the wheel end service or while culminating the brake performance task. There should be enough material to be present until the consequent maintenance check occurs. Otherwise, it should be replaced.
#5 Check for corrosion
Corrosion is not good for the electrical system. The de-icing agent like liquid salt attacks the electrical wire connections at a problematic state. Hence, it is necessary to depreciate corrosion from spreading throughout the vehicle and making it inoperable. Regular inspection of lights, wires, and harnessing systems is necessary for this purpose. Even custom trailers in Melbourne face this issue.
#6 Keeping it clean
Along with electrical connections, metal parts of the body should also be checked. These de-icing materials can cause harm to the metal parts too. Routinely washing the chemicals off the equipment, especially from the underside, is most important.
Overall cleaning and washing of the trailer should also be done to check for other trailer problems easily. The custom trailers in Melbourne also require a professional inspection in every 45-60 days. Checking of debris that might catch into the trailer parts, especially hydraulic system, is necessary to avoid toxic accidents.
#7 Inner check of the trailer
Taking an inside peek into the trailer occasionally prevents many problems. For example, roof holes, and broken aluminium cross members are some problems which might catch the eye. The trailers for sale in Melbourne are also checked thoroughly to keep them running.
#8 Proper security check
Proper inspection of chains, straps, winches, etc. is necessary for full security measures. Holes, cuts, tears, loose stitching, entrapped strap particles, etc. should also be checked. Although dirty things may be cleaned up, washing down nylon tie-down straps is not advisable. Regular lubrication of winches should also be done for proper functioning. Even when you buy enclosed trailers for sale, they should be checked.
#9 Prevention is always better
Although it is an old saying, it still fits for regular checking of your vehicle or the trailer. Many accidents or mishappenings can be prevented if the inspection is thorough and detailed. An occasional professional opinion should also be sought. Even if you're renting or buying custom trailers in Melbourne, these things should be taken care of.
People at Trailer Supplies are dedicated towards the proper maintenance of their trailers so that the people buying or renting trailers for sale in Victoria or Melbourne feel safe while driving them. Their trailers are galvanized and taken proper care of to increase their durability. They are practically designed and made of heavy-duty metals to impart high strength. They provide the trailers at reasonable prices and according to customer choices. If you are looking for covered trailers for sale or custom trailers in Melbourne, Trailer Supplies is a perfect choice!