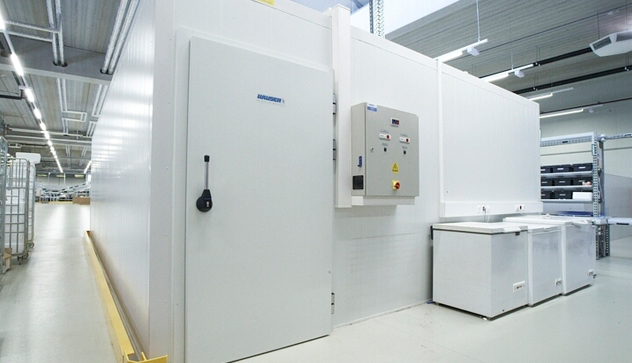 Cleaning a cold room  is always a difficult task, but you should not forget about points to keep in mind. Here we propose the keys for optimal maintenance through effective solutions. You will be able to verify that through these steps, you will not only get a good result, but also, you will be able to discover details that will help you know your cold room, even better.
Contact us today for more information about the services we offer related to cool rooms and everything related to refrigeration.
Establish a periodicity to clean the cold room
With this measure you set mandatory deadlines for its maintenance. Create a document that tells you who, when and what tasks should be performed, what were the products or disinfectants used. It can be a good solution, create a table in sight and protected, which can be placed next to the door of the camera itself, in which the days are marked, the person in charge and the possible incidents detected, helping to track problems and look for their solutions. Do not forget that the technical part (the refrigeration equipment) is important. Having the telephone number at hand of the Maintenance Service will speed up the solution of detected problems. Be effective in the periodicity of the reviews, keep up to date with the appropriate documents, guarantees and legalisations. Proper maintenance is a sign of long life for your cold store.
Remove frost and remove water
Frost is a big problem in cold stores. Its appearance indicates that something is not going well, in addition to increasing energy expenditure improperly. Consult the manual of the refrigeration equipment, in order to know if there is a predetermined defrost system or not, in your equipment, but do not use aggressive methods, let the ice melt and if this is repeated, contact the Technical service to solve the problem.
We will proceed with the cleaning
Choose good products and, above all, suitable for stored merchandise. Avoid contact of cleaning products with stored goods, for which it is important to read the labeling of soaps and disinfectants. Move the merchandise but remember not to break the cold chain. Use a suitable clothing for cleaning, taking into account the time to be used and the products stored in the chamber, while isolating you from the low temperatures.
Although in the chambers themselves, the appearance or expansion of bacteria is difficult due to the low temperatures, it is normal that there are unwanted propagations, hence the importance of being cleaned properly.
For sandwich panel cleaning
Practical advice on waste disposal in sandwich panels
Clean from top to bottom with a soft cloth or sponge.
Clean the panels thoroughly with clean, hot water (30 ° C to 50 ° C)
Use chemical cleaning agents, which have a pH between 4 and 9.
It is not recommended, under any circumstances, the use of pressurised water, since the joint between panels is insulated but it is NOT waterproof, and quantities of water that can subsequently freeze and crack or oxidise the panels can remain.
Do not allow the cleaner to be on the surface for more than 5 minutes.
Never and under no circumstances use abrasive agents.
Do not mix cleaning products as they can cause chemical reactions on stored goods and on the panel itself.
Always rinse, after cleaning, with clean water.
Make a review of the sealing and riveting elements in order to avoid oxidation and breakage that accumulate dirt.
Superficial or deep scratches are places of oxidation proliferation, clean well and paint with epoxy paint (polyester based) of the same colour, will prevent further deterioration.
The sandwich panel, its care and its finishes
Each sandwich panel has a finish (final coating) that can be of the following elements:
Polyester coating
PVDF coating
Plastisol coating
PET coating
Stainless Steel Coating
Each finish has a different chemical composition and a different suggested use.
Be careful in cleaning by applying the following points: Be scrupulous with the mixture you apply as a cleaner because a high concentration damages the surface of the sandwich panel causing oxidation and various damages.
Excessive cleaning can damage the panel finishes, it is logical in the periodicity of cleaning.
The use of vaporisers, as we said before, damages the coating, due to the high temperature. Do not use them.
Never use cleaning products that contain chlorine or similar.
And it is very important that you do not mix with cleaning products.
Cleaning is important, but also disinfect
Keep in mind that cleaning and disinfection are different concepts.
Remember that fungi love to live in the corners of a cold store. So, let's go get them!
It is very important to consider the elimination of fungi in the cold stores.
Do not forget about cleaning, likewise, in furniture, shelves and boxes where merchandise is contained, since these places are natural habitats of possible fungal colonies.
For this section, the use of ozone can be extraordinarily effective as a disinfection method. It is harmless, when we use it in a fair proportion; recalls its wide use in the treatment of water in swimming pools or cooling towers, in tanks, in operating rooms, in the process of curing Hams, in the meat industries, and used, at the same time, as an deodoriser and environmental purifier.
Consider the introduction of an ozone generator, as a high-efficiency preventive element, since its benefits are interesting, and it helps to extend the product's shelf life, avoiding weight losses and also avoiding the transmission of odours between goods.
Another very effective method is the use of sanitisers. Sanitisers are compounds that reduce, but do not completely eliminate, the microorganisms that may be present in a certain medium (in this case the cold room itself). They are widely used for cleaning of places where there is contact with food. The sanitiser's mission is to reduce the number of microorganisms until they reach a safe level. It has germicidal and antimicrobial properties and its use is intended to destroy microorganisms, through a process known as disinfection or sanitisation.
Here at PR Cool Rooms you will find a team of professionals ready to assist you with any issues or consultations you may have regarding cool rooms.