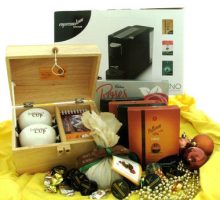 Finding a great gift for friends and loved ones can be often difficult and leave many in stressful situations, when really, this process should be something that should be enjoyed. Upcoming events such as birthdays, anniversaries, holidays such as Christmas and Easter, a new birth, graduations, and other great occasions that should be celebrated with gift baskets and joy.
Finding gifts for events such as these can be difficult as we may find gift-giving quite confronting for most, or all situations. This can occur due to not knowing what the other person may like or enjoy (especially when it comes to picking out gifts for the opposite sex). This can be highly frustrating and can usually make the gift buying process drag out much longer than necessary. After all, I'm sure you can all relate to how much of a negative experience shopping at peak times (especially Christmas time) can be. The last thing we need is to be uncertain of what to buy that special someone, family member, or friend. Take my disastrous situation as a prime example (yes, I turn my misfortunes into great lessons for myself and my readers).
It was a situation that had come up after my husband and I had received the news that my father-in-law was finally retiring. He was so happy that we decided to throw him a surprise party to welcome him into retirement with a bang. We had spent a solid week looking for a suitable venue (we had very large numbers), and the catering was also taken care of. Everything was ready. You might all have a burning question: what about the gift? Well, good question. I began to ask my husband what his father may like as a gift. I wanted it to be something unique, and something that we did not previously get him over the many years I have known him. The gifts we got him in the past have been all the general types of presents men of his age may receive in general including after shaves, clothing, unique alcohol, gadgets and other similar things. But this was one of the most important milestones that he had reached as a result of all his hard work, energy and time he had put into his career. We had to think of what to get him.
After searching high and low across multiple shopping centres, we had found absolutely nothing suitable for my father-in-law. The stress levels were beginning to rise, and the frustration was beginning to go through the roof, even leading to a few arguments with my husband along the way. It was definitely a successful way to drain the fun out of gift shopping and turn a pleasant experience into something that was highly negative. It was actually becoming something that I was dreading. After only a few days remaining until the big retirement party, I was browsing the Internet for general ideas about how to setup party venues. During my search, I had come across a brilliant gift idea that ticked all the boxes. Unique? Yes. Would my father-in-law like it? Yes. Was it something we had never gotten him before? definitely. Now, after all the stressing and petty arguments we were getting into, I ran upstairs and immediately informed my husband (who was still quite upset) that I had found the perfect gift for his father. He asked me what it was, and I answered "a gourmet gift hamper!" He was stunned, and looked at me for a while before he told me I was a genius.
Well, I guess that meant we had finally made up which was good news. Our day just kept getting better. The gourmet gift hamper we chose from thebasketpeople.com.au was amazing, with gorgeous arrangements and a delectable variety of both sweet and savoury selections accompanied by two bottles of wine. My father-in-law was going to absolutely love this! My husband was also looking for other gift baskets and hampers for other upcoming events, with a few involving co-workers and family friends. We were shocked at the large range of gift hampers that The Gift Basket People Hamperage had on offer, and believe me, my husband and I are not usually impressed easily. They had a wide variety of gift hampers that were suitable for many occasions, including birthdays, holidays, and other events. This was just the perfect way to send someone you care about a thoughtful gift that is both unique and a great accompaniment to any event. The edible gift hampers are a great option, as well as the other gift hampers that are filled with baby products such as towels, toys, jumpsuits, and other necessities for a newborn child.
The Gift Basket People Hamperage also give you the added convenience of being able to customise your own gift baskets! What does this mean for you? Basically, you can mix and match what you would like in your gift basket before it gets sent out with the available stock showcased on their website. You can choose from a range of wines, ports, liqueurs, chocolates, nuts, fruit, biscuits, crackers, flowers, cheese, soft toys, and many more! The options are endless, which makes finding or building your gift hamper from the comfort of your home a piece of cake. The chance discovery I had made that day while searching for something else on the Internet had truly been my saviour.
On the day of the retirement party, the gift hamper we had ordered online was sent straight the venue as a surprise. The delivery of the gift hamper we had chosen was very quick and affordable, which meant we were able to spend a little extra on other things such as party favours and more food (although almost all of us were in a food coma by the end of it). My father-in-law was highly impressed with the gourmet gift baskets hamper we had given him, and had already finished half a bottle of wine and most of the food in it before a few hours. The gift hamper was the star of the party and was a stunning gift that kept on giving!