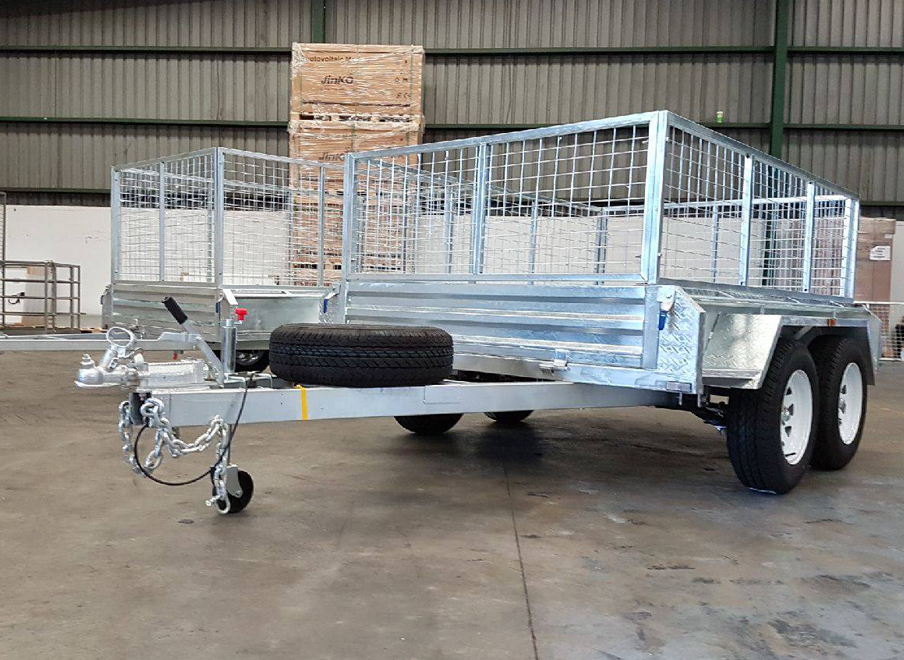 Trailer is one of the best solutions which can carry the heavy materials that you need to transport. A box trailer is one of the most important vehicles which are used for transportation purposes. These trailers have heavy duty design and take complete care holding heavy objects. Trailers should possess safe and secure structural design to hold the proper structure and assist people in lifting the loads. Trailers can be non-zinc coated or zinc coated. Non-Zinc coated, or non-galvanized trailers are made of steel without an external coating of zinc. Galvanized or Zinc coated trailers are made of steel, and they have an additional layer coated with zinc to prevent the material from various physiological and chemical factors like oxidation and reduction. Galvanized box trailers have vital advantages over other material trailers in numerous ways. Non-galvanized box trailers are cheap and easily available in the market. Let us look into the contrast between the two types and see which of them is better.
What Is Hot Dip Galvanized Steel?
Hot dip galvanized steel is nothing but steel covered with a coating of zinc to protect the steel from external factors like oxidation or corrosion. It has three basic steps namely surface preparation, galvanizing, and inspection. Surface preparing is the most important step in the metal coating process. It is the stage that determines the quality of the final product. The galvanizing process involves cleaning of the steel and placing it in a bath of molten zinc at a high temperature of the order of 450 degrees. The inspection stage is the stage in which the galvanized product is checked for standards and qualities. Galvanized trailers for sale incorporate this process for galvanizing the steel materials. It results in a hard-outer coating of zinc, thereby protecting the inner steel from the moisture and other factors.
Galvanized steel vs Non-Galvanized Steel
Galvanized Steel

Galvanized box trailers resist corrosion in various environments for a longer time than the other materials. The core never gets corroded. Galvanized box trailers would not corrode due to oxidation. The metal coating protects the steel without making it get oxidized.
Galvanized box trailers are strong and physically resistant to the forces, fractures, scratches, and others. But the cost of galvanizing is higher than painting and other simple elements.

Non-Galvanized Steel

Non-Galvanized steel doesn't resist the corrosion and gets corroded with time due to oxidation and other chemical reactions. The material gets worn out in time. So, these materials are protected by coating a layer of paint which is the conventional way. But painting coats are vulnerable to physical damages.
Non-galvanized steel especially painted steel is not resistant to scratches and other physical factors. They don't last long.
Advantages of Non-Galvanized Steel Trailers
Non-Galvanized steel is usually prevented from corrosion by painting the steel trailer. Painting is one of the most cost-effective systems for preventing corrosion. Simple trailers can incorporate painting for protection.
Non-Galvanized steel trailers are cheaper than galvanized steel trailers and aluminium trailers. They provide an efficient response to the cost. New box trailers for sale cease to use this method which is a simple method.
Non-Galvanized steel trailers are readily available everywhere. This availability makes simple groups to buy and use it frequently for loading and unloading.
Advantages of a Galvanized Steel Trailer
If you are loading and unloading near coastal areas, animal waste prone areas, and regularly washed areas then it is advisable to use Galvanized Steel Trailers because of their ability to withstand the chemical reactions. Certain specific areas demand the use of Galvanized box trailers. Galvanized trailers for sale have various advantages.
Thick Coat: The galvanized coatings on the trailers are thick and strong enough to resist any physical damage.
Minimal Cost: Galvanized box trailers costs lower than most commonly available corrosion protection coatings for steel. The maintenance cost is also less. These save a ransom in your pocket.
Lifetime: Galvanized coatings on the trailers are last for a longer time due to its excellent physical and chemical properties. It also protects the trailers for a long time nearly for 30 years.
Simple Maintenance and Protection from Damaged Areas: Galvanized coatings are strong and reliable. The damaged area doesn't require touching up in case of the galvanized coatings. The maintenance costs of galvanized box trailers are low as the hot-dip galvanized coatings are thick and long-lasting.
Fullest Protection from salty and organic chemicals: The galvanized box trailers are the most preferred ones for transporting the goods which are rich in salts and organic compounds. Since they are extremely corrosion resistant, they are the best choice for transporting organic compounds.
Capacity to hold heavy weights: The galvanized box trailers can house heavyweights due to the material property of the steel combined with zinc. Galvanized steel trailers have balanced load composition that allows you to work with more load. Additional load carrying ability is also an important ability that makes Galvanized trailers a better option.
Apart from the aforesaid advantages, galvanized trailers maintain their resale value and hence can be made to sell at high resale prices before buying a new one. Galvanized box trailers can be sold a nice value because of its various other physical strength and sternness and chemical advantages like low oxidation rate.
Galvanized Trailers or Non-Galvanized Trailers
With our discussions about galvanized and non-galvanized steel trailers, we can predict comet confidently to a conclusion that Galvanized Steel trailers have various advantages over the non-galvanized steel trailers though the former is slightly expensive than the latter. Galvanized box trailers have several other advantages and the maintenance cost required for Galvanized trailers is really low, and hence we can select the Galvanized Steel trailers are the best option for you to select your trailers. Australia warrants trailer suppliers who never compromise in their quality and who provide the best graded galvanized trailer for sale. Trailer Supplies provide high-quality new box trailers for sale at very low costs online. Trailer Supplies also take care of selling strong, invincible, reliable and spectacular steel trailers online. Trailer supplies manufacture their trailers in Australia by following the proper rules and standards of the Australian manufacturing standards and design rules and perfectly comply with the efficiency of the galvanized box trailers.