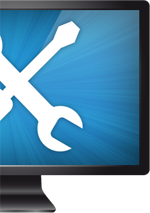 Less surprisingly your desktop computer/laptop is mandatory for your personal and professional work. At times, all of a sudden, your system might breakdown due to several reasons faulty computer. Some of the reasons are over computing (not enough resources in your computer to cope with your usage), malicious software installed to your computer while you are browsing the web, hardware conflict, badly installed software, power supply problems and many other possible sources of potential hazard to your PC.
In most cases, a computer or laptop can be repaired without loss of data, keeping existing things intact and at minimal cost. However, the decision of buying a new one or repairing the existing computer depends on several other attributes such as cost involved, time, necessary software installation in new computer, data migration and other factors faulty computer. If there is allot of data to be transferred to your new computer without missing any vital data, you would you would require a data migration expert who can streamline the process for you. Ourtechs data migration specialists is the place where you can find that service.
Installation of required software to your new computer is mandatory to ensure your new PC or Laptop can run effectively. So the decision of buying a new one or repairing the existing computer depends on these factors. If you are not a computer expert, you might get help from your friend or relative who can help you with the decision making process. There are several IT Companies which will provide diagnose service. Nevertheless, be careful and choose the company that offers fixed diagnose rates. A computer repair technician should be able to diagnose your computer in most of the cases and can approximate the amount of time and money it would demand to fix it. This will help you to make a valuable and appropriate decision. It is worth spending a few bucks rather than guessing in the dark!
In the past few years, we have had experience in dealing with many customers and helping them to make the best and most cost effective decision. So next time if your computer crashes or start behaving abnormally, do not hesitate to contact computer repair diagnose specialist from Ourtechs. The best thing about our service, we operate onsite and 24/7 helping you to get service done at your convenient time and without worrying about dismantling your computer. After initial diagnose, if the cost to repair is within your budget it and can be done at quick time, it is time to go a step further and look for a company that offers computer repairs service with a no fix no fee policy.
This is very important thing you will have to look at when you are considering a service for computer repairs. Sometimes a simple looking computer repair might take several hours or cannot be repaired due to damage of several hardware and software resources. We keep that in mind and try to offer our computer repairs service to our customers with an assurance of no fix no fee. For any kind of computer repairs service or diagnosis, please contact your local computer repair technician for the best advice and most cost effective solution.