Diabetes. Diabetes is serious. We all know that much. It's a complex condition which can affect the entire body, including our feet. Of course, we rely on our feet every day. They literally get us from one place to another. If you are someone who has diabetes, you know that this condition requires daily self-care. If complications arise and develop, diabetes can significantly impact your quality of life and even reduce life expectancy. That is the scary reality of this serious condition. You now may be wondering,
How does diabetes affect the body?
When someone has diabetes, their body can't maintain healthy levels of glucose (sugar) in the blood. Unhealthy levels of glucose can lead to long and short term health problems. In order for our bodies to work properly, we need to convert glucose that we obtain from food, into energy. Insulin (hormone) is essential for the conversion of glucose into energy. Insulin is no longer produced or is produced in insufficient amounts in those who have diabetes, therefore when diabetics eat glucose, it can't be converted into energy. As a result, instead of the glucose being turned into energy, the glucose stays in the blood and increases the blood glucose levels.
How does diabetes affect the feet?
Since diabetes can cause damage to the nerves in your feet, blood circulation and infection, your feet are at risk. Having diabetes can also increase your risk of foot ulcers and even amputations. These types of damages are more likely if:
You don't exercise and are inactive
Smoke on a regular basis (smoking causes reduced blood flow to the feet and wounds heal more slowly)
You've had diabetes for a long period of time
Your glucose levels have been very high for a long time
Foot care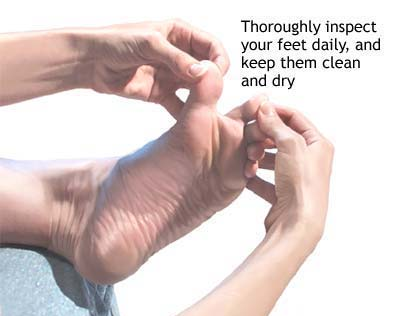 If you have diabetes, it directly affects your feet. By saying so, you have to really take care of your feet every single day. Taking care of your feet includes checking your feet for any changes or problems, even if those changes are small, they can indicate something larger later on. By caring for your feet on a daily basis, you can prevent serious complications. If you feel like your feet are at a high risk, visit a podiatrist annually or more frequently than once a year for a check-up. A professional podiatrist will be able to help you out and offer you a preventative treatment.
Daily checks
By checking your feet on a daily basis, you will be able to notice if there are any changes. If you notice any of the conditions below, it is best to seek medical treatment the same day, if not, it can make the problem worse and complicate the condition even further.
Unusual swelling
Blisters
Redness
Ingrown toenail
Cuts or bruising
Ulcer
If you notice any of the following conditions on your feet, it is best to seek medical treatment within seven days.
Callus
Corn
Cracked skin
Toenail colour changes
Change in foot shape
Broken skin between the toes
When seeking medical help, ensure you visit a professional. They will be able to provide you with the information and advice you need.
At Mint Foot Care, we provide expert and quality care delivered by our team of highly qualified podiatrists. Offering a broad range of comprehensive podiatry services for both adults and children, your podiatry needs will be covered.