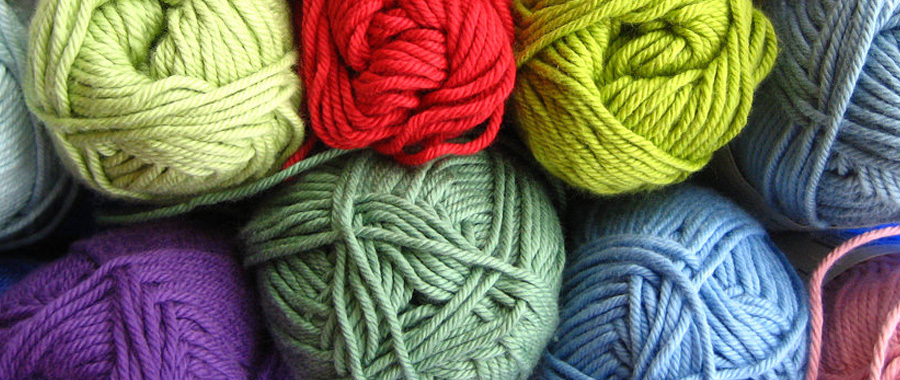 The wool is a 100% natural fibre, existing in around 8,000 qualities. Each fibre is curly and elastic, resulting in stable and long-lasting textiles. Elasticity is also the reason why wool garments do not shrink as easily as synthetic or cotton garments.
Top quality fibres are a complex framework covered with small overlapping scales, which are hydrophobic. Within this layer of scales, the fibre is highly hydrophilic, with great absorption capacity. Here at Yarns on Collie you'll find second to none wool that absorbs and releases moisture to cool or warm the body. It will feel hot quickly, but not overheated, thanks to the exceptional properties of fabric transpiration. Synthetic fibres such as polypropylene or polyester do not have this ability to transpire, absorb or release moisture.
Since the diameter of our fibre is only a fragment of the diameter of a traditional wool fibre, our wool, in contact with your skin, will give you a feeling of lightness and softness. This type of wool is also a protective fibre. The presence of keratin in the fibre makes it a natural flame retardant, since it prevents it from becoming inflamed or melting. Our wool also provides high protection against the sun and, environmentally, is a non-polluting and renewable material.
Absorption of moisture
Our wool is a highly hydrophilic fibre and can absorb large amounts of moisture, when compared to synthetic fibres. You will only begin to feel your body wet when the merino wool contains more than 35% moisture. This means that a garment of 100% quality wool can absorb moisture equivalent to 35% of the net weight of this garment, without feeling wet. Therefore, you will feel dry and hot in these clothes, even when the wool is wet.
Insulator and regulator of the temperature
Top quality wool garments insulate extremely well. This fibre is curly and this fibre structure produces millions of tiny air cavities in the fabric. These air pockets maintain body heat and create a barrier against cold.
Wool works naturally with the heating and cooling system of your body. Regulates the temperature by absorbing and releasing moisture. When the environment is cold and humid, this fibre absorbs moisture and gives rise to a process where the fabric produces internal heat ("heat by absorption"). In a warm environment, merino wool will regulate the temperature through the process of "evaporative cooling". This is the same principle that our body uses: it expels sweat to reduce cold.
Cleans naturally
This wool is resistant to stains naturally, thanks to the protection layer that each fibre of this material has. Therefore, it is much easier to keep clean.
Odour control
This wool has a permanent natural resistance to microbial growth and odour retention, being able to be used for several days without smelling. The reason is a combination of merino wool with excellent moisture absorption and irregularity in the surface of the negatively charged fibres. The smell caused by bacteria prefers the flat, positively charged surface of the synthetic fibres.
Active fibres for a peaceful sleep
Sleeping is one of the most important vital functions, even more so in infants and young children but the wool we provide also works fine for adults. Our wool controls humidity and maintains constant body temperature, its fibres act as a natural shock absorber, ensuring optimal rest for the baby.
What you need to know before learning to knit
Many people want to know the basics before starting to knit. For example, what sticks or crochet to use, what does yoke mean, what fabric is best to leave, how a pattern is read, among a lot of other things. But let's go little by little. The first thing is to tell them about the tools to learn how to weave.
What needles should we choose?
In fabric stores you will find everything from the typical scissors to toothpicks that seem to come from NASA. But do not panic. Yes, there are plastic, wood and metal sticks, continued (those that have a cable that connects them) and the typical ones, wool of hundreds of colours and thicknesses, but everything is a matter of taste. If what you want is to learn to knit, we recommend the continued ones because that will allow the wool to run easily and have less worry.
Types of needles and crochets
On the left, beautiful crochets. On the right, we use double-ended needles.
Once you have chosen your needles or crochet, they will discover a host of other materials that will make their lives easier and that will make them fall in love with the fabric. As with this happens the same as with planners, notebooks, diaries or desk items: they are addictive and make you want to have them all.
In the case of weaving, you will find small pom-poms for making pom-poms-tiny, ultra-tender pompoms-counters for stitches and turns, bobbins for storing wools, protectors for stick tips, thimbles of all kinds, buttons for embellishment, needles for different thickness, colour and function, auxiliary sticks and tack.
Bear in mind the following expressions:
Pick up points: "take out", with the help of a crochet or needle, from each point a new one and with a new thread of wool to continue weaving on them.
Knit the stitches as they are presented: for example, if by the right of the garment a stitch was knitted as a right stitch, on the reverse it will look like a reverse knit and that knitting should be knitted.
Hide and finish threads: cut the strand of wool and pass the loose end through the last remaining stitch. Thread that wool line and enter it in the fabric in such a way that it is hidden in the framework. Cut the remaining strand flush with the fabric weft.
Find top quality wool and more for your creations here at Yarns on Collie. If you need more information to get started in the world of knitting you can contact us and we'll be happy to help you.