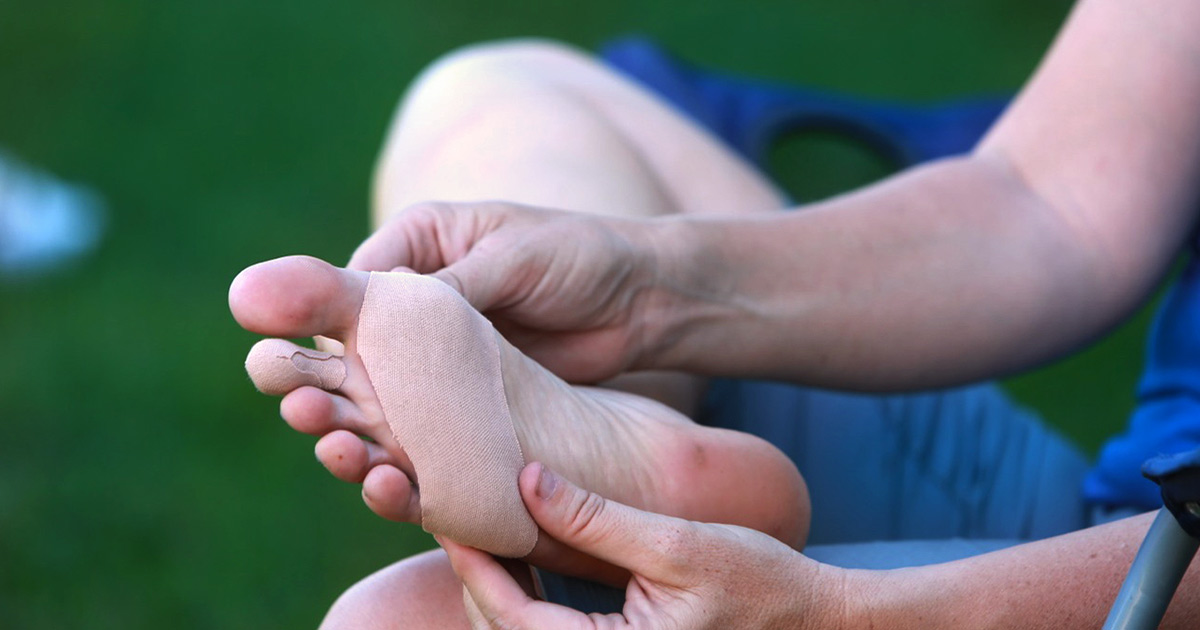 All of us have ever suffered blisters or chafing on the skin of our feet. This uncomfortable injury can prevent us from enjoying such daily activities as taking walks, going for a run (without noticing pain in every step), touring cities doing tourism or practicing our favorite sport. To prevent this from happening again, in this blog we tell you everything about this pathology.
Bear in mind that here at Happy Feet Pedorthics we will help you feel comfortable wearing the right type of shoes according to the activities you do.
What is a foot blister?
A blister is an accumulation of clear or bloody fluid resulting from repetitive rubbing, either with shoes or between the toes (skin to skin). It is a defense mechanism of the skin to protect its inner tissue, since this bubble that arises from an irritated area, forms in the first layer of the skin known as the epidermis.
Causes. Why do you get blisters on your feet?
The appearance of blisters and chafing on the feet can be due to several factors. Here we list some of them:
– Continual rubbing or friction. The main cause of chafing and blisters on the feet is the friction of the skin against the footwear, especially when we make long journeys or when we release shoes. This injury can also occur from skin-to-skin friction, and then the injury usually appears between the fingers.
– Burns. Sun, chemicals or high temperature fluids, such as boiling water, can cause blisters (both on the feet and on other parts of the body).
– Athlete's foot or foot fungus. Foot fungus, as in athlete's foot pathology, can also cause blisters.
– Calcaneal spur. The growth of the heel bone generates an excessive rubbing of said area with the footwear. This friction leads to the aforementioned skin lesions.
– Others. Allergic reactions, skin diseases like dermatitis or skin infections like chickenpox can also cause blisters.
In short, the main cause of blisters is the continuous friction of the skin with the shoe, especially if the shoe is new.
Symptoms. How do I know if I am going to have this skin lesion?
The blisters on the feet are located in a specific area of ​​the skin. We can know when we are going to have an injury of this type by paying attention to these symptoms:
– Intense heat in that area.
– Redness of the skin and discomfort when touching that part of the foot. This will be the sign that will indicate that the blister will appear in a short period of time.
– Softening and lifting of the skin. At this time, we will see the blister formed.
The blisters on the feet are located to a greater extent in the plantar arch, between the toes and, above all, on the heel.
Treatment. Should I explode the blister?
If it has not been possible to prevent it and a blister appears on the skin of the foot, we must follow the following 4 steps:
Wash the area with soap and rinse with plenty of warm water.
Dry well with gauze and apply chlorhexidine or povidone iodine.
Cover the area with a non-stick gauze (to prevent sticking) and cover with a paper adhesive (it has better breathability).
In case the blister is large and prevents us from walking because of the pain it causes (the liquid is the cause of this discomfort), we must open and drain it, and never remove the skin. If the lesion is left exposed (without skin), we will clean the area to disinfect it and place a specific dressing of what are known as "second skin" or "artificial skin" (it will have to completely cover the injured area) of the damaged area a dressing that contains adhesive, since when we take it off we can further damage that part.
Prevention. Tips to prevent blisters and / or chafing on my feet
The blisters and chafing are produced, as we have already explained, by repetitive friction in one area of ​​the foot. For its prevention, we give you 4 tips to keep in mind and thus avoid its appearance:
Hydration
Keeping the skin well hydrated throughout the year with specific foot creams is essential to avoid chafing. Dry skin develop wounds more easily, making a wound more likely to appear.
Socks
Socks are our great allies and must be used throughout the year, even in summer, if we are going to go for a walk or run. Currently, there are socks on the market made with technical materials and without seams that help breathability and ventilation, creating better conditions to avoid friction and moisture, an important aspect to avoid skin injuries.
Correct footwear
Footwear is the most important element and that most influences the appearance of blisters on the feet. Therefore, several aspects related to this topic must be commented:
– To wear on a day-to-day basis or to practice sports, we must buy footwear late in the day, when the feet are more dilated.
– It is not advisable to wear a new shoe for walking or playing sports. To carry out activities in which we are going to walk more than normal, we must always wear footwear that is already adapted to our feet, or else gradually adapt it.
– If we have the shoes stored from other seasons, they should be used several days before going for a walk or making a longer outing than normal. The material can "dry" and cause injury.
– Choosing the right footwear for each activity is essential since we will not only avoid chafing but also more serious injuries that affect other parts of our body. If we are looking for running shoes, we usually recommend one size more than what we wear in street shoes, thus avoiding pressure, friction and blisters.
Vaseline
On many occasions, if we wear shoes or we are going to take a long walk, it is advisable to wear shoes made of petroleum jelly or specific lubricants known in the market as anti-friction cream, applying more quantity in areas prone to chafing.
Here at Happy Feet Pedorthics we can help you find the best option for you, we'll assist you in the selection of shoes for your daily routine.