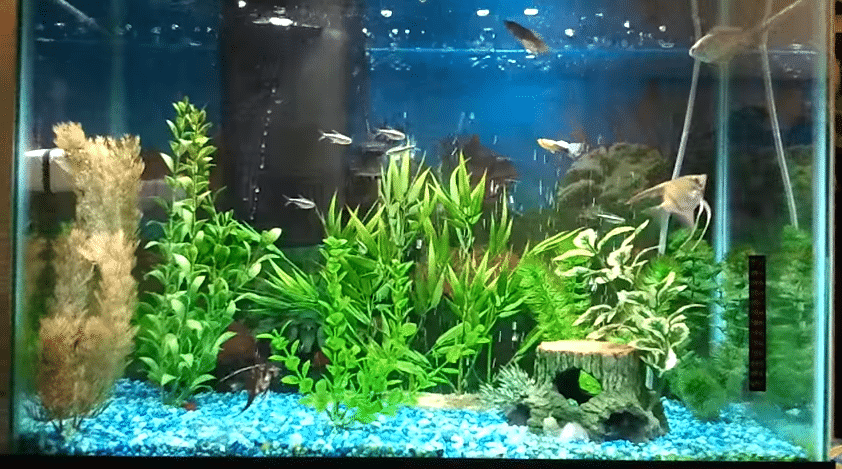 Animals today are more than ever considered life partners. And, for children, living with a pet can be a great help for their emotional development. But the choice of such a pet should not be random. Of course, since it would have to be accompanied by an analysis of the commitment involved.
"Children acquire responsibilities such as feeding and care at an early age. And aquariums have become an excellent option to stimulate their capacity for empathy, recognizing that others also have needs that differ from their own, "says Catherine Mora, Marketing and Communications Manager of Grupo Mor.
Remember that if you are looking for an online shop where you can buy anything you need for your aquarium from the comfort of your house, here at Guppy's Aquarium Products you will find them.
The maintenance of an aquarium is very simple. Therefore, experts advise parents to allow their children have a fish as their first pet. This, in order to stimulate their responsibility. The fish do not require attention 24 hours and given the space they occupy, they can be in apartments or houses.
The aquarium or aquarium is one of the most popular hobbies in the world, and for good reason. This exciting hobby has many benefits that go beyond beauty and aesthetic attraction. There are some studies that have shown the benefits of aquariums, here are some of these benefits:
They help and calm children who suffer from hyperactivity, behavioural disorders, such as difficulty for socialising, excessive aggressiveness, poor school performance or little confidence in oneself.
The elderly is a group to which the company of animals encourages and revitalises them. This happens because they have to take a responsible position with them.
Remembering the schedules and needs of the fish is a good exercise for memory and concentration.
Effects of aquariums on Alzheimer's disease. Studies have shown that people who have this disease denote a variety of health benefits simply by observing an aquarium. They experience an increase in appetite and require fewer supplements after placing it in the dining room. They also show less aggressive behaviours characteristic of this ailment.
Several studies indicate that those who enjoy an aquarium at home have their blood pressure below the values ​​of those who lack aquarium.
It is shown that watching an aquarium carefully, the rhythmic movements of the fish, the swing of the plants with the water in motion, the soft sound of water waves or air bubbles relaxes and calms the people.
In many medical offices, especially dentistry and after relying on several medical studies, aquariums have been introduced: the parsimonious swim of the fish relaxes to the point of exerting a real anaesthetic effect, acting as a kind of background music producing less anxiety and pain to patients.
The fish remind us of water. These small animals are associated with nature. The bright colours of the fish are an excellent antistressor, neutralize aggression and transmit good humour. They reduce the tension of daily life and help fight insomnia.
And it is that the therapies with aquariums have been very effective, seeing the fish "floating" usually focuses and keeps all the attention of the patients in them, which can make them forget their situation or their ailment for a while, helping him to divert his attention to something else.
The state of "contemplation" that causes us to be in front of an aquarium. It is a unique state of stillness, relaxation and tranquillity that we experience.
What is needed for a good aquarium?
What do you need to create a perfect and comfortable house for fish?
A fish tank well equipped and preferably rectangular, since it facilitates the maintenance of the fish. Consider approximately 4 litters of water per linear centimetre of fish.
Locate it in a place that complements your home. Do not leave it exposed to direct sunlight, as it can cause unwanted growth of algae. Also, make sure that the support is strong according to the number of litters your aquarium has.
A good filter will help the optimal and continuous care of the aquarium so that it stays clean. The ideal is to buy a quality one so that it lasts a long time and you have no problem of operation.
Accessories and plants (natural or artificial) are key to beautify and add a personal touch to your aquarium. It is also a place that offers shelter to the fish, helps to resist diseases and relieves them of stress.
It is advisable to add gravel, which you will find in different shapes and colours.
It is also recommended to buy a heater and a thermometer to constantly monitor the water temperature. Fish are sensitive to sudden changes in temperature and feel comfortable at approximately 18 ° or 20 ° C.
To start you must wash the tank, gravel and decorations with running water. But, avoid soaps and detergents because they are toxic.
Fill with water to the middle of the aquarium gently so as not to stir the gravel. It uses AquaSafe, a water conditioner to neutralise in seconds the harmful substances found in running water. After having put the decorations, finish filling the tank.
When you introduce the fish, make them float in the bag in which they come so that the temperature equals that of their future home.
Let about 20 minutes for the fish to adapt and then introduce them gently with a net. It is recommended to change the water once every two weeks only a quarter of the total litters of water, in addition to continuously examine its quality and temperature.
Feed them twice a day with an amount that they can consume in a few minutes, otherwise the quality of the water and the health of the fish could be affected.
Remember that Guppy's Aquarium Products is the top online shop where you can buy anything you need for your aquarium.