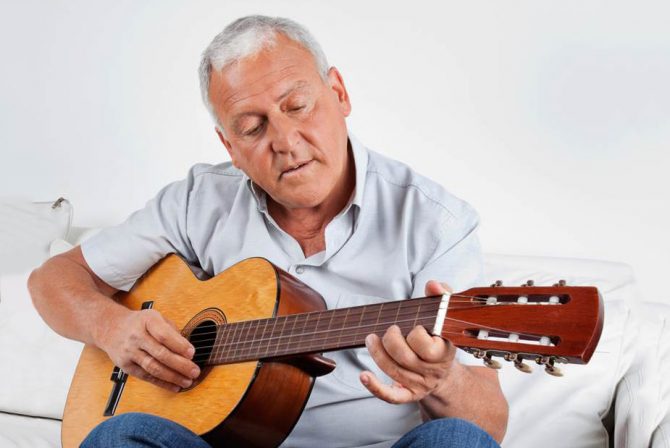 In addition to entertaining and giving you hours of satisfaction, learning guitar will help you to have a good sense of coordination. If you want to hire the services of a professional in Melbourne, you can learn to play the guitar using new techniques and ensuring you can play any rhythm or solo from any song you want, check our website!
– Help improve memory
The fact is that playing the guitar will make you have to learn a series of chords and the names of some strings. This will make you start working and improve your memory.
– Stimulate your creativity
When you begin to learn and memorise the chords, you will begin to try to mix and create your own melodies. Your creativity will come to the surface to achieve learning some new song.
– Increase your self-esteem
The guitar is a complex instrument. At first it will cost you to get some songs, but when you do you will feel very good and you will realise that trying can get great things.
– Socialise with others
Starting to play the guitar with people you do not know is an excellent way to make new friends. You can start meeting two or three times a week with certain people to start playing.
– You will be more coordinated
When you play guitar, the fingers of one hand will have to be coordinated with those of the other in order to achieve a melody. Performing different actions at the same time will make your brain coordinate each movement more precisely.
– Your mind will be more agile
When you have time to start playing guitar you will start to get the chords of the songs just by listening to them. Your mind will go further and your fingers will already know what string they should play for some particular melody.
But once you are really motivated to play the guitar you may worry about how long does it take to learn to play the guitar? There is no easy answer to this question. There are a lot of factors that influence how fast you progress will be. These stand out among them:
Your level of dexterity when using your hands
Are you a skilled person with your hands or not so much?
Your level of motivation
Your learning method
Are you willing to take some guitar lessons or do you prefer to learn things randomly? It is easy to realise that people willing to take guitar lessons will learn faster
Your practise habits. How many hours a day do you practise your lessons?
These are just some of the elements that can affect your progress. Notice that you are the one in control of almost all these factors.
The answer to how long it takes to learn to play the guitar is also different depending on the type of skills you want to develop with the guitar.
Do you want to learn some simple chords so that you can accompany yourself with your guitar when you are singing?
Do you want to play solo guitar in a band?
Is your goal to be a semi-professional or professional musician?
Factors + Objective = Estimated time
If you put the maximum of the factors that have been mentioned before, these are some general terms of what it takes to learn to play the guitar:
A.- If your goal is to learn some simple chords to accompany your voice, it will only take around four to six weeks to start playing.
The biggest obstacles to overcome are:
The pain in the fingers.
Learn simple chord and switch between them fast enough.
Understand how chord progressions work so you can learn and memorise songs.
After a week of daily practise, you will be able to play a basic song. It will not sound perfect but it will be recognisable.
B.- If you want to play the guitar in a band and be able to be in a stage it will take twelve to eighteen months to lay the foundations.
C.- If you want to play the guitar like a professional you need to know that it is a lifelong study that never ends.
How much do a course and daily practise influence how fast someone learns how to play the guitar?
The importance of following a structured course and above all of a daily and conscious practice is vital. A novice guitarist who practices every day for at least one or two hours with some kind of guitar or teacher course who practises for at least 30 minutes in a somewhat inconsistent manner going from two to four days between sessions. That he plays the guitar very occasionally without a fixed schedule or plan.
Within two months he will be able to play a variety of chords and have a basic understanding of how to play the guitar. In addition, he will be able to play at least one song from beginning to end. He will be able awkwardly strum a song from beginning to end. But it is likely to get stuck and make a lot of mistakes. However, he will be making progress. You will be wondering why learning to play the guitar has to be so difficult.
Within a year he will be looking for a band to play or to start your own band. He will be able to play several songs in front of his family with hardly any problems. He may be able to strum at least one song to the end.
These are general deadlines to show a simplified view of how long it takes to learn to play the guitar. Each person is a different world and progress depends will depend on that. What is completely evident is the importance of organised daily practise.
If you want to ensure the results of your learning process are as effective as possible, here at Melbourne Guitar Teacher you will find professionals ready to assist you throughout this process.