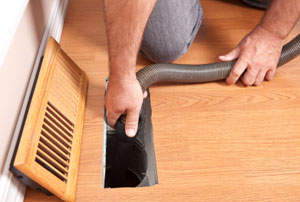 In the summertime when the weather is high, you can reach right up and.. clean the air conditioning ducts? No, that was not how the song goes. But now that I mentioned it, it is something really important not to forget. You may find yourself reminding yourself or getting reminded to "get those air conditioning ducts cleaned" but it just never seems to happen. It may even be on the bottom of your to-do list or may not even be on it at all. That is usually the case because we only see the air conditioning vent. But there is a whole other vital component that make up the inner workings of the air conditioning system, that component being the duct. It is part of rich Australian culture to enjoy the scorching heat that we get in the summer season, usually spending countless hours on the golden sand of our beautiful beaches or enjoying the cool breeze from the air conditioning right in the comfort and privacy of our homes. Air conditioning systems within the home and other larger settings such as offices, aged care residences, hospitals and other facilities are considered to be necessities in order to keep workers, patients and visitors cool during times of extreme heat. However, safety always comes first, especially before you begin to crank the air conditioning to stay comfortable in the sweltering heat.
Air conditioning ducts are highly prone to gathering dust, dirt and other debris that can easily collect over time if not looked after. Each time you turn on the air conditioning, harmful particles float through the air and get inhaled by you and your family, potentially leading to major health issues that can impact the respiratory system. After all, keeping homes, workplaces or other public facilities safe and healthy lead to safe and healthy environments. Just like taking your car to a service for an oil change and check up, your air conditioning system is also in need of constant care and maintenance to ensure you get the most out of your air conditioning. By doing so, you can also improve the coolness of the air blowing out of your air conditioner and save on your power bills significantly after maintaining and cleaning the ducts as less energy is consumed due to higher level of functioning which increases efficiency. Going back to the car servicing analogy, similar to how servicing your car ensures smoother travels, it also ensures less fuel is consumed. Energy consumption is the equivalent of fuel to your air conditioner. Makes sense, right? Of the many advantages of getting your air conditioning ducts cleaned and maintained on a regular basis, there is another that is highly crucial to keep in mind. Unfortunately, devastating situations such as vicious fires arise within family homes and workplaces all throughout Australia each year that cause serious injury or even death. Many official bodies throughout Australia heavily recommend that heating and air conditioning ducts are well looked after by getting a professional to inspect and clean them in order to ensure they are maintained in line with strict Australian standards. The collection of unwanted debris builds up over time and can be easily ignited during times of air conditioning use in times of heat, especially during times of peak usage which is during summer. Dangerous fires caused by air conditioning systems are usually prone to spreading much quicker due to the air pushing the sparks and flames toward each of the vents installed throughout your home and workplace. This means that the fire can spread to all of the rooms with a vent installed, which usually is for most, if not all the rooms present within the home or workplace. Such occurrences can be easily avoided by following the recommendations of the official bodies within Australia regarding usual inspections and maintaining of the air conditioning ducts. To do this the right way without putting yourself and others at fatal risk, it is best to look for a professional company with years of experience.
Many of my friends and relatives recommended different companies who claimed to professionally clean and maintain both heating and air conditioning ducts. However, personally I found them not to be as effective as they claimed. I say this after I noticed dust and other unwanted particles were floating around each time I turned on the air conditioner not long after I had it inspected by a professional company. I was quite disappointed and continued my search to find a duct cleaning specialist company who delivered outstanding results at great prices. You may be pleased to know that I have now found the solution to our air conditioning duct cleaning situation; that is Total Duct Cleaning! One day, I finally had enough after inviting several guests over for a celebratory dinner. I turned on the air conditioning and to my dismay my house was instantly filled with a peculiar odour which my friends and family quickly noticed. I was highly embarrassed and apologised to my guests, making me feel angry and annoyed that I did not receive what I was promised by another duct cleaning company. Total Duct Cleaning Melbourne quickly rectified to issue in one quick and easy visit on the same day I called them.First they had told me that they will apply pressurised air through the ducts in order to powerfully blow away all the dust and dirt caught up inside before deodorising the system to ensure a pleasant and refreshing smell would take over.
The team at Total Duct Cleaning are equipped with the necessary knowledge and skill set to ensure that your air conditioning, as well as heating ducts are cleaned to the highest standard which is why I have personally recommended them to many of my close friends and family. They also assist with repairing ducts should they have any cuts or damage to them to ensure your ducts are in perfect order right before the scorching summer time. ducIt's as simple as can be when you choose the industry-leaders in duct cleaning. Keep your friends and loved ones happy and healthy, as well as those all important lungs when you discover the Total Duct Cleaning difference!