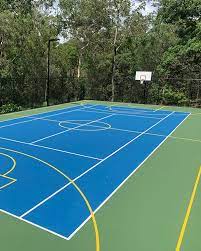 Tennis courts have come a long way from the traditional green or red clay surfaces. Today, tennis court resurfacing is as much about aesthetics as it is about functionality. Whether you're a tennis enthusiast, a facility manager, or a homeowner with a private court, staying updated on the latest design trends in tennis court resurfacing can enhance your playing experience and add an attractive touch to your property. In this article, we'll explore the evolving world of tennis court design, highlighting the key trends that are shaping the industry.
Understanding the Importance of Tennis Court Resurfacing
Before delving into the latest design trends, let's revisit why tennis court resurfacing services matters:
Safety and Performance: A well-maintained tennis court ensures player safety and optimal performance. Cracks, uneven surfaces, or faded lines can lead to accidents and affect gameplay.
Durability: Resurfacing extends the life of your tennis court. Regular maintenance prevents costly repairs or complete replacements.
Aesthetics: A visually appealing court not only enhances the overall property aesthetics but also attracts players and adds value to your home or facility.
We've established the significance, now let's explore the design trends transforming tennis court resurfacing.
1. Vibrant Color Palettes
Bold and vibrant colour choices are becoming increasingly popular in tennis court resurfacing. While traditional green and red hues remain classics, courts in shades of blue, purple, and grey are gaining traction. These vibrant colours make a statement and provide excellent contrast for ball visibility, enhancing gameplay.
2. Custom Logos and Graphics
Personalization is on the rise. Many tennis court owners opt for custom logos and graphics to add a unique touch to their courts. Whether it's the initials of a private homeowner or the branding of a tennis facility, these customized elements can turn a tennis court into a work of art.
3. Multi-Sport Versatility
Tennis courts are no longer limited to just one sport. Resurfacing with multi-sport capabilities is a growing trend. These courts are designed to accommodate sports like pickleball and basketball, expanding their utility and appeal.
4. Environmentally Friendly Surfaces
Sustainability is a key concern in modern design. Environmentally friendly court surfaces made from recycled materials or low-impact coatings are becoming increasingly popular. Not only do these options reduce environmental impact, but they also provide excellent performance.
5. Advanced Court Lighting
Playing tennis after dark is now easier and more enjoyable thanks to advanced court lighting systems. LED lighting not only saves energy but also enhances visibility and safety, making evening matches a common occurrence.
6. Texture and Court Speed Variability
Texture matters in tennis court design. Some players prefer a smoother, faster surface, while others like a bit of texture for better grip and control. Modern resurfacing techniques allow for adjustable court speeds, catering to different player preferences.
7. Smart Court Technology
Integrating technology into tennis courts is a trend that's gaining momentum. Smart court features include embedded sensors for ball tracking, instant scorekeeping, and even live streaming of matches. These innovations make the game more engaging and interactive.
8. Low-Maintenance Solutions
In today's busy world, low-maintenance surfaces are highly sought after. High-quality acrylic coatings and sealants reduce the need for constant upkeep, allowing players to focus on the game instead of maintenance chores.
9. Vintage Aesthetic
Nostalgia meets modernity in the form of vintage-style tennis courts. These courts use classic design elements, such as muted colours and subtle textures, to evoke a sense of nostalgia while maintaining contemporary functionality.
10. Resurfacing Overlays
When an old tennis court surface is beyond repair, resurfacing overlays are an efficient and cost-effective solution. These overlays provide a fresh, new surface without the need for complete reconstruction.
Choosing the Right Design for Your Court
With these design trends in mind, it's essential to consider your specific needs and preferences when resurfacing your tennis court. Factors like location, budget, and intended use should guide your decision-making process.
Before embarking on a resurfacing project, consult with professionals who specialize in tennis court design and construction. They can provide expert guidance and help you choose the best materials and design elements to achieve the desired aesthetics and functionality.
Remember, a well-designed tennis court is more than just a place to play; it reflects your passion for the sport and commitment to creating an inviting space for players and spectators alike.
Conclusion
Tennis court resurfacing Brisbane has evolved far beyond its practical roots. Today, it's a fusion of art and functionality, with design trends that cater to both aesthetics and performance. Whether you're looking to upgrade your home court or enhance the appeal of a commercial facility, staying informed about these design trends will help you make the right choices for your tennis court resurfacing project. Ultimately, the perfect court design is one that not only meets your practical needs but also elevates the overall experience of the game.