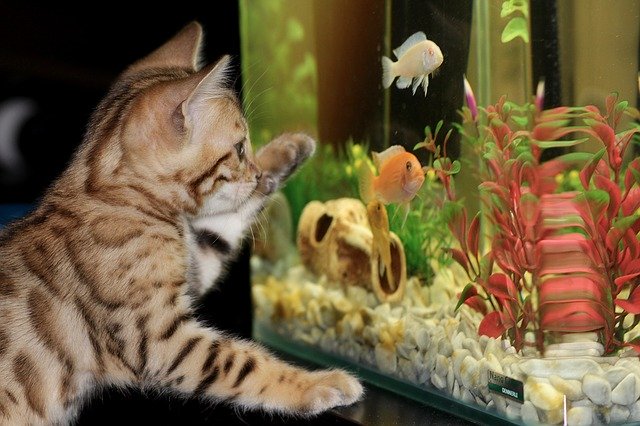 Having an aquarium is a good idea to deal with anxiety. In addition, they recommend it to stimulate the sense of responsibility of the boys.
Having a pet brings many benefits, in addition to stimulating responsibility, habits and empathy. Dogs and cats are the most common choices, but what if we consider a fish? Although its benefits are many, you must pay close attention to your needs.
Experts say "thanks to the fish, children acquire responsibilities such as food and care at an early age." And they add: "Aquariums have become an excellent option to stimulate their capacity for empathy, recognizing that others also have needs that differ from their own."
Interestingly, unlike cats and dogs, the fish itself will not demand attention or require personal care. Energy should be directed to maintain its properly conditioned place. It is recommended that the fish tank be rectangular because it facilitates the maintenance of the fish. Acquiring a good filter will be key to keeping the water clean, as well as a heater and thermometer to monitor the temperature of the new fish habitat.
Remember that Guppy's Aquarium Products is the top online shop where you can buy anything you need for your aquarium from the comfort of your house and have the most remarkable and eye-catching fish tanks.
Do you live in an apartment? Definitely the best pet option for you
Part of the appeal of a fish tank is the color. Therefore, decorating it can contribute to enjoyment. It is recommended to add gravel to later accommodate the accessories and plants, which can be artificial or real, and which will beautify the aquarium. Remember not to leave it in direct sunlight for a long time to avoid unwanted algae growth.
A well-established aquarium helps and calms boys suffering from hyperactivity and behavioral disorders. It stimulates habits and responsibility because they force to comply with feeding times and cleaning regimen. And the sound of the water, the colors and movements of the fish are an excellent anti-stress.
Fish, the first ideal pet for children
Having fish at home can bring great benefits for children and people with stress, addicts and the elderly.
If you are looking for the first pet for your home, fish could be the best option, as it turns out that these animals directly benefit children, who take responsibility and learn to love animals. Fish farming is used as therapy in rehabilitation centers, in care centers for people suffering from diseases such as leprosy and even with the elderly.
In the case of people with addictions, fish farming helps to learn something new and make hospitalization and hours spent in rehabilitation centers less intense. And for the sick and the elderly, it is a way of feeling still useful to society, so that it increases self-esteem and develops more self-confidence.
What are the advantages of having fish at home?
They don't make noise
They don't litter the house
They don't need any training
They are not expensive
They give peace of mind
They don't need a lot of space
If you have dared to have fish as a pet, here are some tips.
Choose. There are freshwater fish, ideal for beginners, and tropical water. Ideally, you should choose the ones that are small in size because they are easier to care for and require less care.
The aquarium you buy must have the capacity to comfortably accommodate the fish, so that they feel as in their natural habitat. For example, a 2.5-centimeter fish needs a 4.5 liter water.
The aquarium should be placed out of direct sunlight and noise. The temperature is not important, because it will be regulated from inside your new home.
It is very important to regulate the temperature of the aquarium with a thermostat, since the fish need a climate that oscillates between 22 and 28 degrees Celsius.
Another important element is the filter, which will avoid having to clean the aquarium every two days, but it will be necessary to change it every month and remove with a soft sponge the dirt that accumulates on the crystals.
It will also be necessary to make a kit to measure the pH of the aquarium once a week.
Regarding food, fish only need to be fed once a day and in small amounts.
As you can see, fish are simple animals to care for that do not require too much attention, but that can give you more than you think.
The initial treatment of the space is of vital importance
Clean the aquarium very well, without any toxic product that can leave residues.
Place the filter.
In the event that you have opted for a hot water aquarium, place the thermometer.
Put the gravel in the bottom of the aquarium.
Fill it with water: The first time, you can put tap water since in the first fill you are not going to put the fish directly but you are going to treat it so that they can live in it. To do this, you will have to buy bacteria known as nitrifying bacteria, which are responsible for eliminating the harmful substances contained in the water. These bacteria will take 4 weeks to do their job.
Light is essential for life
Fish need light to survive, although it does not necessarily have to be sunlight. We recommend that you buy a fluorescent light that simulates natural light since it is not advisable for sunlight to shine directly on the fish tank.
Fish must be friends
Although your fish tank is very large, not all fish get along with each other. Many times they are aggressive towards each other, for this reason we recommend asking the store manager in advance.
Remember that if you are looking for an online shop where you can buy anything you need for your aquarium from the comfort of your house, here at Guppy's Aquarium Products you will find them.