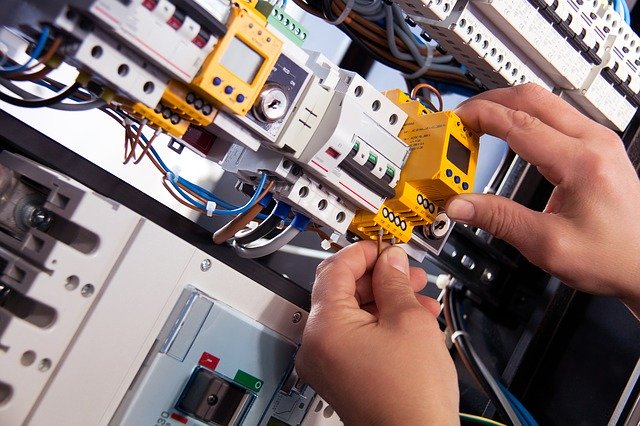 This time we tell you some useful tips to make electrical cables installations at home and not make mistakes that can result in short circuits, injuries or fires.
If you have any questions, Westwire Electrics has qualified personnel to advise you and provide you with everything you need for your electrical installations, contact us by clicking here
Make connections without electrical boxes
Error: Not using an electrical box
Cables should never be connected outside of electrical boxes.
Of the many errors with electrical installations, this one is extremely dangerous as any spark or heat generated will not be contained. Definitely a latent fire hazard.
Solution: Add an electric box
To prevent electrical hazards when the connections are not contained in an electrical box, you must disconnect them, install the electrical box, and reconnect the cables within it.
The electrical boxes just protect the connections from accidental damage and contain sparks and heat from a loose connection or a short circuit.
Cable cut too short
Error: Cables too short.
Cables that are cut too short make wire connections difficult, extremely difficult to handle, and dangerous since the connections are likely to be poorly made.
Solution: Extend the wires
Cables should extend approximately 3 inches out of the box.
Adding connectors makes it possible to extend the cables, you should make sure that the screws on its connector are tight.
You could also add 6 inches by making extensions on existing cables.
Leaving the cables with plastic cover unprotected
Error: Cable not protected.
Plastic sheathed cables are easily damaged.
That is why all cables for electrical installations must be protected, particularly in vulnerable areas such as when running on or under the wall or ceiling frame.
Solution: Install a 2 x 2 adapter.
Protect the exposed plastic-coated cable by nailing or screwing in a 1-1 / 2 in. Plate. thick along the cable. Do not staple the cable to the card.
Overload of electrical boxes
Error: Box too small.
Too many cables packed in a box can cause dangerous overheating, short circuits, and fire.
There are regulated minimum box sizes to reduce this risk.
Solution: Install a bigger box.
To calculate the minimum required box size, add the items in the box:
1 – for each hot wire and neutral wire entering the box
1 – for all combined ground cables
1 – for all combined cable clamps
2 – for each device (switch or output, but not lighting accessories
The total must be multiplied by 2.00 for 14-gauge wire and 2.25 for 12 gauge wire to obtain the minimum required box size in cubic inches. Then choose a box with at least this volume. Plastic boxes have the volume stamped on the inside, usually on the back.
Reversal of live and neutral cables
This is one of the most common electrical installation errors. Currently, outlets are color-coded.
The bronze color is for live or black cables and the silver color is for neutral or white cables. Connecting the black wire to the neutral terminal of an electrical outlet creates the potential for lethal shock.
The problem is that you don't realize the error until someone is surprised, because the lights and most other plug-in devices will still work.
They just won't work for sure.
Solution: Identify the neutral terminal
Always connect the white wire to the neutral terminal of outlets and lights.
The neutral terminal is always marked. It is usually identified with a silver or light-colored screw.
Recession of the boxes behind the wall surface
Error: Exposed combustible materials
Electrical boxes must be flush with the wall surface if the wall surface is a combustible material.
Boxes embedded behind materials such as wood present a fire risk because the wood is exposed to potential heat and sparks.
Solution: Add a box extension
The solution is to simply install a metal or plastic box extension.
If a metal or plastic box extension is used, connect the metal extension to the ground wire in the box using a grounding clip and a short piece of wire.
Inadequate support for sockets and switches
Error: Loose output.
Loose switches or plugs don't just look bad aesthetically, worse, they're dangerous.
Loose power outlets can move, causing cables to loosen from terminals. Loose cables can burn and overheat, creating a potential fire hazard.
Solution: Add rigid spacers.
Secure the loose plugs by wedging under the screws to create a tight connection to the box. Special spacers are available in lighting houses or hardware stores.
Installing a three-slot outlet without a ground wire.
Solution: Install a two-slot outlet
It happens that if we have two-slot plugs we tempt ourselves by replacing them with three-slot sockets so you can connect three-pin plugs. But do not do this unless you are sure there is available land.
Use a tester to see if your outlet is grounded. A series of lights indicate if the outlet is connected properly or what is wrong.
These testers are available at lighting houses and hardware stores.
Installing a GFCI Backwards
Among the errors with electrical installations, the most common when installing GFCI is to mix the line and load connections.
The outlet will work, but will not activate if there is a ground fault.
Solution: Connect the power to the "line" terminals
GFCI (Ground Fault Circuit Interrupter) outlets protect you from a fatal shock by turning off the power when they sense slight current differences. They have two pairs of terminals. One pair, labeled "line", for incoming power from the GFCI output itself. The other set is labeled "load" and provides protection for downstream outlets.
And finally, always remember to turn off the switch before working on any electrical circuit and if you are unsure how to fix problems with electrical installations, call a qualified electrician.
We are Westwire Electrics, a third-generation electrical cables contracting company proud of offering businesses and house owners in Melbourne an option to increase profitability with the installation and maintenance of second to none equipment with advanced technology.