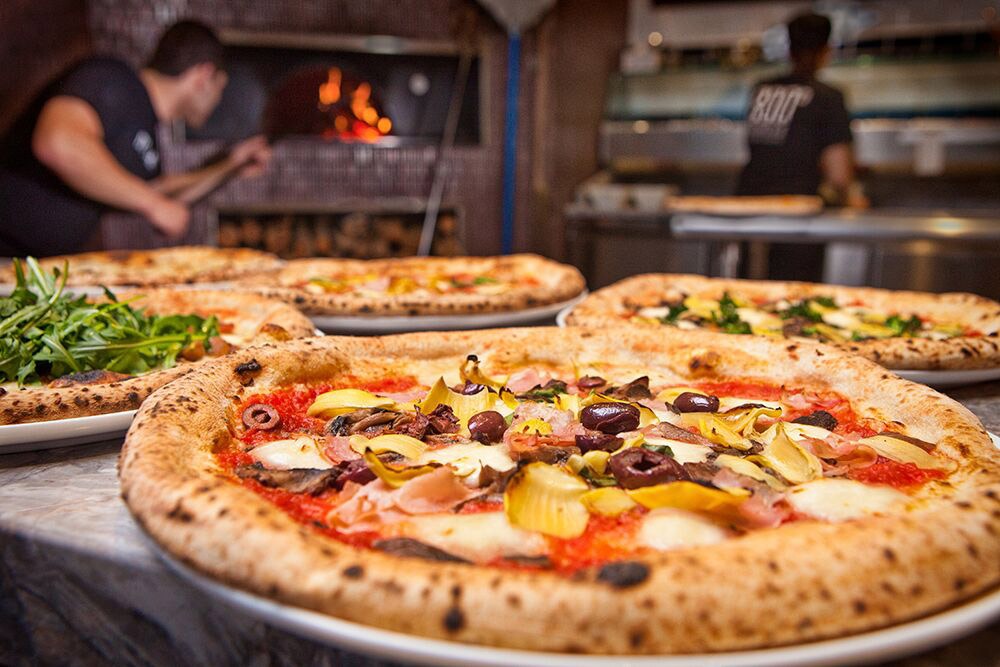 On any day of the week, at any time and in any place there is no objection to a good pizza. Magical word that becomes the rich mass with ingredients, which has conquered us all.
For those who wonder who came up with something so simple and so exquisite, we have to go back to the Etruscans, who kneaded flat buns stuffed with cheese and honey that were prepared in abrasive stones.
But the first pizzeria in the world was opened in 1738 in the city of Naples: the pizzeria Port'Alba, which is a restaurant from 1830 until today.
The connoisseurs maintain that there are served the two real pizzas, the Marinara and the Margherita.
We like many types of pizza. In this article you will find a list of the different pizzas that are made around the world, of all styles and for all tastes.
Eat a delicious pizza here at Romeo's Woodfired Pizza and enjoy an excellent meal any day of the week.
A list of the best pizzas from around the world
The marinara
It is the oldest pizza, with tomato sauce, oregano, garlic, olive oil, basil and a pinch of salt. Its main characteristic is that it has no cheese. Its name is because the sailors chose it to take to the high seas for its conservation properties.
If we want to do it in our house we need:
160 g of Flour type 0 or 00
100 ml of warm water
1 teaspoon of salt coffee
1 tablespoon of olive oil
5 or 6 g of fresh yeast or 2 g of dry yeast
To prepare it, keep in mind that the first thing to do is dissolve the yeast in warm water and pour it into a bowl where the flour and salt are and stir until it forms a homogeneous mass. Then we stretch on a smooth surface and when it is somewhat dry, we form a bun that is smeared with olive oil and then knead again. Once this is done, we separate the buns that we are going to use and put them in a container to take. Once the necessary time has passed, it is ready to be extended in a pizza machine.
Before placing the ingredients, a pre-bake at 250ºC between 1 or 2 minutes is recommended.
Once the pizza is removed from the oven, pour the tomato, a few slices of skinless garlic and a little oregano, over which you pour a little olive oil and some fresh basil leaves. Bake 15 minutes at a temperature between 200 and 250 degrees.
La Margherita
La Margherita remembers the Italian flag: green for the leaves of basil, white for the mozzarella cheese and red for the tomatoes.
Its preparation is very simple. Cut 4 tomatoes, already peeled, drained and without seeds, and sauté them together with 2 cloves of garlic, chopped and crushed and ½ teaspoon of salt in 2 tablespoons of olive oil.
On the other hand grease with a brush the dough with some oil. And place on it 225 grams of shredded mozzarella cheese, tomato and basil and sprinkle with oil. Cook in an oven at 260ºC for 8 to 10 minutes or until the crust of the pizza gets brown and the cheese begins to bubble.
When we remove from the oven, cover it with ¼ cup of grated Parmesan cheese and enjoy it!
The Sfincione
Although for some experts La Margherita and Marinara are the real pizzas, the rest of Italy did not take it for granted and let other tastes proliferate in their regions. This is the case of the Sfincione which a spongy, square pizza is, 1 cm thick, which is typical of the city of Palermo in Sicily.
It differs from the Neapolitan in that it is a thicker mass and has a square or rectangular shape. We prepare it with 1 onion cut in julienne to which it is fried in three spoonfuls of olive oil. Then add 400 grams of crushed natural tomato, season with 2 teaspoons of fine salt, a pinch of sugar and a sprig of fresh rosemary. We cook for 20 minutes, remove and temper. Then we take out the rosemary sprig and place the anchovies that we passed through the masher.
Place the sauce on the pizza dough and add 6 mushrooms in slices, 200 gr of shredded chicken and 200 grams of idiazábal cheese in flakes. Spread the thyme and oregano with a thread of olive oil and bake at 200ºC for 15 minutes.
The fugazza
Born of Italian pizza, in Argentina, another kind of pizza was invented: La Fugazza. It should be noted that here also the dough is different from the Neapolitan as in Argentina is placed more yeast, having to wait only 3 to 4 hours at room temperature so that light, and making it more spongy.
The fugazza with cheese
We prepare it by cutting two red onions and two sweet onions with a little salt that we put in a pan with olive oil until they are sautéed. Then remove from heat and place the mixture on the previously pre-baked dough, sprinkle with Parmesan cheese and oregano and baked again. Then, before serving it, we decorate the fugazza pizza with green olives.
The option of Fugazza with cheese is the same as the previous one, but we added it on the onion, mozzarella and then the parmesan.
The fugazzeta
And the Fugazzeta put the mozzarella on the dough and cover it with another pizza dough on which the onion and Parmesan are placed, as is the case with the fugazza.
Chicago Pizza Style
Italian immigrants were also responsible for Chicago, in the United States became another legendary city pizzera. Here the Chicago Pizza Style has a dough with a little corn flour and is baked inside a metal plate whose bottom is covered with olive oil. Its edges are raised to fill and the bottom is toasted to support the weight of the tomato and mozzarella.
Of course, its ingredients are a juicy tomato sauce as a cover, on which we place the mozzarella, the pepperoni (salamim-like sausage) and the sausage, which is a kind of sausage.
New York Pizza Style
Also, from the United States is the New York Pizza Style whose dough also contains wheat flour and water, sugar and olive oil. We prepare it by covering well the centre of the dough that should be very thin with tomato sauce and leaving 2 or 2 centimetres on the edges, then we add the mozzarella cheese and the pepperonis. Bake 10 to 12 minutes.
The Flammkuchen
From Germany comes the Flammkuchen pizza. Peel and cut an onion in thin rings and fry with 4 tablespoons of oil. Then place it on the dough, season and distribute 200 grams of bacon in slices and covered with a glass of cream or cream. We bake at 180ºC for 20 to 30 minutes. Out of the oven we place on the mixture sheets of arugula previously washed and drained.
Mexican pizza
With strong and spicy flavours comes from Mexico, your typical pizza. Chop an onion and pour over five tablespoons of oil in a pan, when it is a little cooked add a pepper cut into small pieces and the garlic also chopped, after which we must add 350 grams of ground meat. Once cooked, season with salt, pepper, sweet paprika and 1 tablespoon tabasco.
Once the dough is covered with the sofrito of meat, sprinkle with 150 grams of grated mozzarella cheese and turn the pizzera into the oven at 200ºC. When the cheese is browned, cut an avocado in half and sprinkle with a little lemon juice so it does not rust and cut it into thin slices that we put on the pizza. We leave it another minute and it is ready to serve.
Remember that here at Romeo's Woodfired Pizza you'll find an excellent selection of delicious pizzas made using only premium ingredients