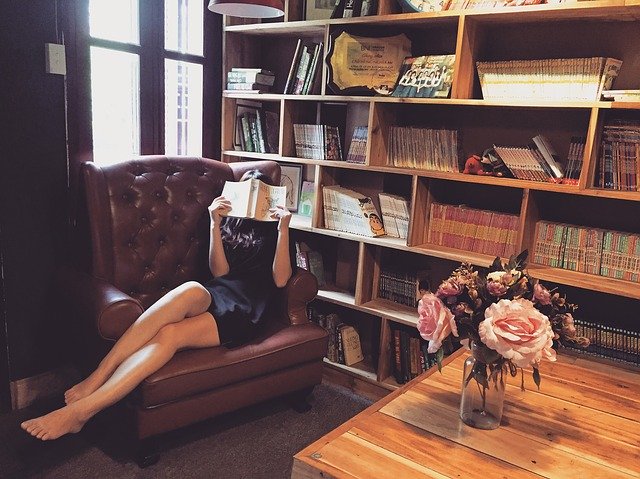 If you are passionate about reading and at home you have a large collection of books, but you feel that you do not have enough space to keep them in order, we will give you 8 key tips on how to organize your library at home. Remember that here at Davis Furniture we provide second to none furniture pieces, including our special libraries, take a look at them, they may be the perfect addition to your personal studio!
How to organise a home library?
From so many books you have, you feel that there is no place for one more or that when looking for one you lose a lot of time in locating it.
Here are some tips for maintaining an organized home library that allows you to save time and enjoy a place to read.
Remove all books from shelves or tables where you have them, gather them and clean them, they will surely have dust. Also take the opportunity to clean the shelf (s) where the books were.
Decide how you want to organize the books, it can be by topic or genre, author, publisher, alphabetical order. If you chose to order them by author, place an identifying band with their name under the corresponding shelf. If you decided by topic, do the same by adding the corresponding genre.
After deciding how to order the books on the shelves of the library you have, separate them accordingly and place them on a table or in temporary boxes.
The location of the furniture for the books is also important. Try not to be covered by other furniture in the room, take advantage of the walls and try not to recharge.
If you lack space and do not want to leave your home library, you can consider renting a mini deposit to store there; furniture or other large objects.
You should also take care of your books from excessive sunlight and protect them from excessive moisture.
What do you need to make a home library?
In addition to your book collection, you will need the following items:
Shelves
They are a fundamental element to make a home library. Count your books to calculate the amount of shelf space you will need for your library.
If you want it to look elegant, choose closet cabinets with drawers, doors and other storage options.
Lighting
It incorporates lights that illuminate your shelves. If you can use recessed lights much better, but if you don't get it, use LED lights. In a library, having a good light is essential to read without forcing our eyes.
Furniture or chairs
Add chairs that are comfortable to read and a bench or desk to support your books.
Accessories
It includes other elements such as flowers, plants and paintings that will give that unique touch to your library.
5 Ideas of small libraries at home
The smallest of spaces can be converted into a beautiful library, if you take advantage of these ideas from small libraries at home. At present, due to the large reduction in space in houses, the site for books can be a problem in those homes where reading is a consolidated habit.
Fortunately, there are models of small libraries at home, which in addition to serving as a stay for books, are also elements of home decor.
1.- Libraries to assemble
The libraries to assemble are a fantastic option for those who want to solve the theme of a home library quickly and without great efforts. In the market there are models of different materials, choose the one that best matches the decoration of your home
2.- Under the stairs
If you have stairs at home, taking advantage of the space under them may be a good option to install the library.
3.- Take advantage of the high areas
The high areas of your house are good options to place long and narrow shelves where books will be fully integrated into the decoration and do not occupy large spaces.
4.- Use shelves of different shapes and sizes
If you want something more current, different and in a unique style, you can buy shelves in different ways to place your books.
5.- Library in your home office
If you don't have a room to create a mini library you can use a part of your office to dedicate an area in it for your books. A wall will be enough to attach a piece of furniture with divisions and fill each of its spaces with books, offering comfort when it comes to research, or simply reading your favorite book.
The importance of having a small library at home
Reading is part of the lifestyle and values ​​that parents teach their children on a day-to-day basis.
At home we learn our reference model for the future. The family transmits to the children the values ​​that will guide their life: industriousness, generosity, the spirit of service … And those values ​​are transmitted basically with the example of parents and grandparents or uncles who live at home.
The children observe everything that dad and mom do, and learn to the extent that they see how they act: who sets the table, who gets up to look for something missing, how we leave the bathroom and shower after using them, use of mobile phones when we are with family.
Among the numerous things children can learn at home is the habit of reading. It must be said that television series do not help us much. Have you seen that the majority of television series that take place in a living room do not have a bookcase with books? It seems silly, but everything is spread, good and bad.
Remember that choosing Davis Furniture as your provider of beautiful pieces of furniture with unique colours and textures which is a great choice that will surely exceed your expectations.
Contact us today for more information.